A spike in wives filing petitions to divorce their husbands in Central Java is being blamed on a growing passion for bird racing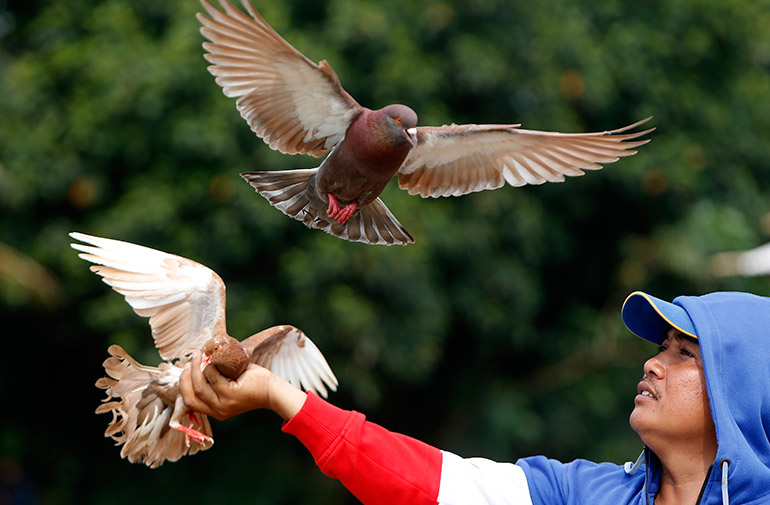 Flocks of pigeons hurtling their way across the sky is a common sight in the Purbalingga area of Central Java, brown blurs against green fields, racing to their destination with money riding on the result.
As impressive as the flight may be, with pigeons moving at speeds of up to 140 km per hour, it's not a welcome sight to the women of Purbalingga. The increasing popularity of pigeon racing has too many men neglecting their wives in order to spend time training and racing their birds, according to The Jakarta Post.
As a result, dozens of married women have filed divorce petitions, some apparently out of envy as their husbands have become ever closer to their prized pigeons.
"His bird is the first thing he grabs when he wakes up. At around 10 o'clock, he goes out with his friends to play with their pigeons in the fields nearby," a woman named Sartini said of her husband.  
In July alone, the Purbalingga Religious Court office recorded more than 90 divorce petitions, a jump from only 13 in the previous month.
According to Nur Aflah, a clerk with the court, the financial strain from the sport has placed additional pressure on marital strife, with money going into everything from bets on particular competitions to investments in birds to be sold later on.
"Most of the petitioners are wives who have filed divorce petitions for economic reasons because their husbands are too addicted to pigeon racing," she told the The Jakarta Post. "In Purbalingga, there are many female workers while most men are unemployed."
There's no doubt that pigeons can be pricey.
According to a 2014 article from The Jakarta Post, to stay in top condition, pigeons are fed kibbled corn, red rice and green soy beans. Spending about $4.25 a day on a small flock is common, a sum that is double the income of about 15 percent of Indonesia's population.
Although pigeon racing is reportedly on the decline in some countries – India's The Hindu Newspaper reported a terminal decline of the sport in an article this year – it still maintains at least some of its worldwide allure.
The Million Dollar Pigeon Race in South Africa is in its 21st year and pits 4,300 birds from 25 countries against each other for a share of $1.3m in prize money.