Days before 27 countries are set to meet in Manila to discuss how they should best deal with an increasingly threatening North Korea, the Philippine president said the 'chubby-faced' leader's 'nuclear war' must be stopped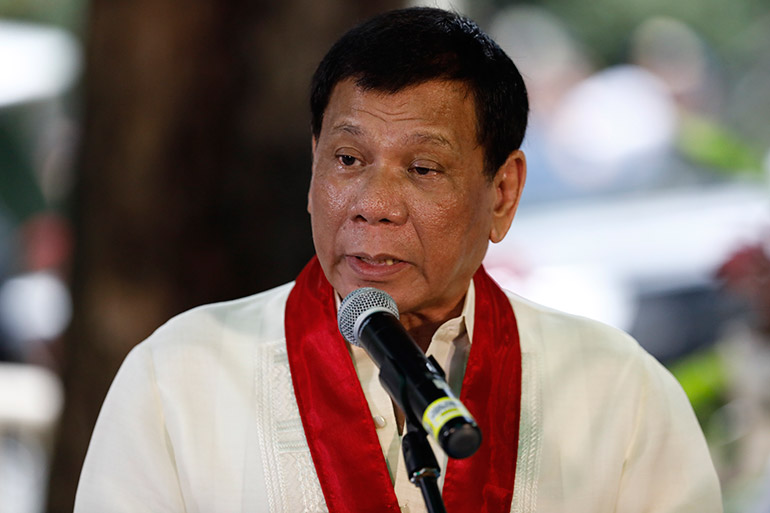 The Philippines' pugnacious leader stirred up further controversy on Wednesday by launching a foul-mouthed tirade at North Korea's leader, Kim Jong-un, a man he has previously said "wants to end the world".  
"He is playing with dangerous toys and this crazy man, do not be fooled by his face, that chubby face that looks nice," Duterte said of Kim in a nationally televised speech.
"That son-of-a-whore maniac, if he makes a mistake then the Far East will become an arid land. It must be stopped, this nuclear war, because [if] a limited confrontation blows up here, I tell you the fallout, the soil, the resources, and I don't know what will happen to us."
Duterte's characteristically coarse diatribe comes just days before the Philippines is set to host the Asean Regional Forum, a diplomatic gathering involving Australia, China, India, Japan, Russia, North Korea, South Korea and the US.
Duterte's public airing of his disdain for Kim follows comments from US secretary of state Rex Tillerson on Tuesday that he wanted a dialogue with the rogue state, stressing that the US was not seeking regime change.
Duterte's warring words are backed by little substance, as the Philippines and North Korea continue to have close ties.
In 2016, Manila was Pyongyang's third-largest trading partner. It also continued to serve as a hub for methamphetamine coming from North Korea, and the regime's other criminal activities. An FBI agent stationed in the Philippines revealed in May that North Koreans allegedly funnelled $81 million in stolen funds from the Bangladeshi Central Bank into a casino in Manila last year.
Most Southeast Asian nations have enjoyed strong relations with Kim Jong-un's unpredictable regime since the 1990s when the nuclear power made efforts to forge business connections with regional countries. In return for the economic benefits, countries in the Asean bloc have historically remaining silent on the regime's human rights abuses and aggressive foreign policy.
Kent Boydston, a research analyst at the Peterson Institute for International Economics, said that the quid pro quo arrangement had proven extremely beneficial for North Korea.
"Southeast Asia's collective insouciance has helped Pyongyang fly mostly under the radar, fill its coffers, and keep its criminal enterprises afloat," he told CNBC in May, before expressing concern about the presence of North Korean embassies in all Asean countries.
"It has long been known that North Korea runs its networks of nefarious actors and entities out of its embassies abroad."
However, the UN has been applying pressure on countries to curtail their diplomatic relations with Pyongyang, and the assassination of Kim Jong-nam, the half-brother of the North Korean leader, at Kuala Lumpur International in February, seemed to mark something of a turning point in regional relations with the pariah state.
The upcoming regional summit will show how seriously the region has reviewed their relations with North Korea, and whether Asean members are prepared to take a harder line toward harder line toward Kim's regime moving forward.