Poised to become the largest Southeast Asian e-commerce market by 2018, Indonesia presents big opportunities for online shopping startups
For technopreneurs Krishnan Menon and Christian Sutardi it all began with a shoe rack – one of those chipboard and laminate contraptions that looks great for a while and then falls apart.
Sutardi bought the unit from a popular retailer for $350. Four months later, it was broken. Meanwhile, whilst on a visit to his hometown in India, Menon's sister approached him for advice on furnishing her home.
"Christian and I always knew that we would launch an e-commerce startup and were looking at Indonesia," says Menon. "In those two moments, we realised that there was a market for high-quality furniture at affordable prices."
No strangers to the Indonesian tech scene, the pair quickly wrangled in two of their friends, Marshall Utoyo, founder of the popular Jakarta co-working space Conclave, and Srinivas Sista, who had previously worked with online retail giant Lazada.
Last June, the four partners launched Fabelio – a Jakarta-based e-commerce platform that offers affordable, locally designed furniture for the Indonesian market. "Across the board when you see e-commerce, there is a huge lack of a creative element. We wanted to solve this issue," says Menon.
Last July, Fabelio got its wish, successfully raising $500,000 in seed-round funding led by early-stage venture firm and accelerator 500 Startups. Investment firms KK Fund and IMJ Investment Partners also pitched in, alongside two angel investors.
"With Indonesia being the fourth biggest market in the world, e-commerce is heating up super-fast," adds Menon. "We can already see it with all the different startups that are coming in."
Rising incomes, a huge consumer base and growing access to technology, including the increasing availability of smartphones, has made Indonesia's e-commerce market ripe for expansion, according to Menon. Adrian Vanzly, chief executive of Ardent Capital – a venture capital firm headquartered in Bangkok – agrees.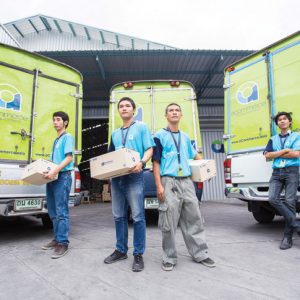 "Six concurrent factors are creating the perfect storm that we're in right now," he says. "It's smart phone penetration, mobile broadband, GDP and disposable income, and fulfillment and logistics… The moment you have all this, you can start making commerce transactions online."
With roughly 75 million internet users in a country of 250 million people, Indonesia is becoming one of the fastest-growing digital economies in Southeast Asia. In 2015, an estimated 5.9 million people had shopped online, with sales reaching $3.5 billion, according to an e-commerce report from Singapore-based global logistics firm Singpost. By 2016, Singpost estimates that the country will have 8.7 million online shoppers, with internet sales forecast at just under $4.5 billion.
Consulting firm Frost & Sullivan estimates that Indonesia is poised to become the largest Southeast Asian e-commerce market in 2018, generating over 40% of regional revenues.
"We know what's coming – the competitive landscape is relatively immature, capital is plentiful and the growth rates are staggering," says Vanzly.
Adding fuel to Indonesia's e-commerce ecosystem is m-commerce. In a country where mobile devices are king, consumers are taking to their smartphones and tablets to make online purchases.
"Most people have access to the internet with their smartphones, and smartphones have opened up access to the internet to people who would otherwise not be able to afford a computer," says Mitch Padua, an angel investor and director of Sesura, an online shopping platform based in Singapore. "It's been a real game changer."
The trend is being seen region wide. In a poll of 11,760 respondents from 13 markets in Asia-Pacific, Visa's 2015 Regional eCommerce Monitor Survey found a 22% increase from 2014 in the number of respondents shopping via their mobile devices. Indonesia, China and Taiwan reported the highest rates of growth over the year at 36%, 34% and 28% percent respectively.
Recognising that Indonesia may very well be on the cusp of an online retail revolution, a growing number of venture capitalists are following the lead of pioneers such as Germany's Rocket Internet, which backed major online retail players Lazada and Zalora. The Lippo Group, a large Indonesian conglomerate, has invested in several startups, including MatahariMall, an online version of one of Indonesia's biggest mid-priced department stores.  Global venture capital firm Sequoia also boasts an impressive investment portfolio, which includes Indonesia's 'Uber for motorcycles' service Go-Jek and Indonesian online consumer-to-consumer marketplace PT Tokopedia.
While Indonesia is very much in the limelight, other markets across Southeast Asia are also seeing robust growth, thanks to a growing number of netizens and e-shoppers.
"Having competition in the market helps to educate customers, suppliers, the whole eco-system to adopt more and more to e-commerce," says Fabian Wandt, vice president of supply chain for Lazada Vietnam.
"All of the markets in the region [Thailand, Singapore, Philippines, Vietnam and Malasyia] are perfect for e-commerce given the young population, density in cities as well growing buying power," he says.
"Southeast Asia's online penetration is also increasing day by day, which enables the best fundament for a successful e-commerce platform."
Work, however, still has to be done. According to an e-commerce report entitled, Southeast Asia B2C E-commerce market 2015 by yStats.com, business-to-consumer e-commerce markets in Thailand, Vietnam and the Philippines currently account for less than a 1% share of domestic retail sales. Over the next several years, the Germany-based market research firm expects double-digit growth rates across all these markets.
"Comparing Southeast Asia, especially Vietnam, with our neighbour China shows that we are still five to 10 years behind the developments and internet penetration happening right now in China. Vietnam is roughly at 0.5% online shopping penetration, and we expect to reach 5% by 2020," adds Wandt.
To spur growth, Asean has created an ICT (information and communication technology) Masterplan for 2015 that addresses issues such as broadband access, online security, e-payments, logistics and supporting local talent. But, with the plan yet to be implemented, e-commerce players are left finding their own solutions.
"E-commerce is still very much in a nascent stage. There are bound to be some challenges," says Padua. "But we are seeing a transition where companies are beginning to fulfill end-to-end transactions and delivery."
One such firm is aCommerce, which nabbed $5 million in investment in 2015 from Ardent Capital, Indonesian conglomerate Sinarmas and Bangkok-based Inspire Ventures. With offices and distribution centres in Indonesia, Thailand, the Philippines and Singapore, aCommerce handles everything from platform development to warehousing, delivery and logistics, working with companies such as L'Oreal, Hewlett-Packard and Lazada.
However, Vanzly says that cash-on-delivery (COD) is still used by many online retailers in the region, and remains a major hurdle. "It's difficult, expensive and prone to theft and loss. We need the equivalent of Alipay [a Chinese operation akin to PayPal] or credit card penetration – a single solution for the region, and we don't have it," he says.
Meanwhile, at Lazada, Wandt indicates that building trust can aid the transition from COD to other methods, saying: "The strength of cash-on-delivery is to easily win trust of customers, as customers don't need to invest upfront to receive their order. The usual customer behaviour is to start with COD purchases, to be more flexible, and reject products if needed.
"Once being able to convince customers that Lazada is offering a trustful service, the use of credit cards or ATM cards is increasing, as customers have less concerns to purchase online using non-cash on-delivery payments."
And despite the challenges, venture capitalists and local startups alike clearly see the potential, with Singapore and Indonesia figuring prominently on investors' radars. In Indonesia, 2015 saw e-store Elevenia secured $23.4 million in Series-B funding, while electronics e-store Bhinneka walked away with a $22 million investment. In the Philippines, real estate marketplace ZipMatch raised $2.5 million Series-A investment.
"As an entrepreneur or an investor, the opportunities over the next couple of years will never be repeated. This only happens once in an adoption cycle," says Vanzly. "If you're an entrepreneur and you are wondering what to do with your life, I think the message is pretty clear." 
Keep reading: "Luxury brands court Southeast Asia's consumers" – The world's most prestigious brands are working hard to attract the region's swelling middle class.