The 2016 Cambodia Property Awards will be handed out to the country's top developers and projects

Following on from a stellar year for property development, the 2016 Cambodia Property Awards will be held tonight at the Sofitel Phnom Penh Phokeethra hotel. A total of $33 billion worth of construction projects were approved last year, a 33% increase on the previous year, as real estate growth continued its relentless advance.
Asia Property Awards, which was established in Thailand in 2005 but has since expanded across the region, rewards the top real estate projects in Southeast Asia. Winners from each country will go head-to-head in a regional ceremony in Singapore on 27 October.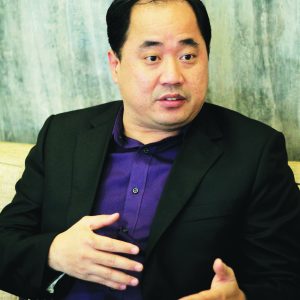 Already announced is the winner of Cambodia's Real Estate Personality of the Year, with tycoon Rithy Sear picking up the gong after being selected by the editors of Property Report. Ahead of tonight's event, Southeast Asia Globe sat down with Sear – the gregarious chairman of WorldBridge Corporation and the face of The Peak, Phnom Penh's most expensive condominium development at $580 million – to discuss the property sector.
****
When you target the local market, what are your selling points for investors?
Very simple – trust and confidence. I always tell investors that when you buy property, you have to look at three points. First, location. Second, who's your developer? Third, the after-buying service. Who is the main management, the property management? This is very important.
Generally the world is seeing an economic slowdown—oil prices are down, China's economy is slowing. Do you think this will have an effect on Phnom Penh's property values?
You see the world economy impacted because oil prices have dropped and the stocks have changed. But you have to think about this: Cambodia so far hasn't had a big [investment] group come yet. If those big groups are not coming, you don't have to worry. Because now we split [the property] to all of the middle-range investors who have a few million dollars, $50 million or $100 million, who see the opportunity here. They come to invest. It's about how Cambodia receives those investors; the middle ones, not the high ones. Because if those oil prices or stock markets fall, it impacts those big companies. Not those small ones. I don't see any impact for Cambodia in this area… If you look in this region, Cambodia's still a hot [place] for property investment.
Some people are predicting there may be a residential property bubble starting in Phnom Penh. Do you think this is true?
I can say that 30% of this is true, but 70% is not. In Cambodia we need about 25,000 houses per year. But so far we can develop about 8,000 to 9,000 houses. But Cambodian people, traditionally, only want to live in houses with land. They don't want to stay in skyscrapers. So, because of this, people feel that the property market may be in a bubble. But, in fact, it is not.
You have to let people understand that if they want people to buy a house with land, where they can buy? In the city? No way. It cost at least half a million dollars in the city. This is for three bedrooms. If you want to buy it, you have to go to the outskirts of the city. But then how do you get into the city? A lot of my friends say that they leave home 6:30am and arrive at the office at 8:30am.
I have seen terrible traffic in Phnom Penh while driving in my truck. Spending at least three hours per day in the car. It makes people think, "Why don't I buy a condominium in the city, near my office?" That's why I say that before you never see condominiums, skyscrapers. But now you see them.
This is an area where developers have to think carefully. But at the same time, I'm pretty sure that Cambodian people will change their minds – from buying houses with land to condominiums.
"Cambodia Property Awards 2016: shortlist announced" – With Cambodia's development continuing at an astonishing pace, the country's leading developers are going head-to-head