Human Rights Watch and the UN have detailed alleged human rights abuses by the Myanmar military in a months-long crackdown in Rakhine State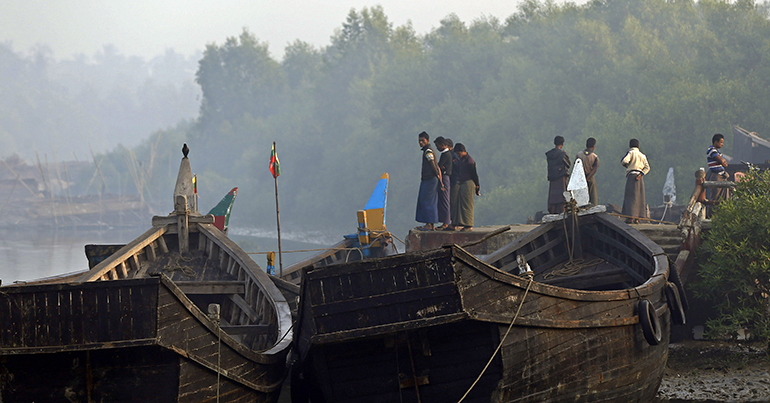 International rights groups have accused the Myanmar military of a host of human rights violations, including gang rape, looting and indiscriminate killings, as part of its ongoing military crackdown on the country's Rohingya minority group.
On Friday, the United Nations released an investigation that claimed Myanmar forces had "very likely" committed crimes against humanity while conducting military raids on villages populated by the Muslim minority.
The report included interviews with more than 200 Rohingya, among an estimated 69,000, that have taken refuge in Bangladesh since the Myanmar army began a violent crackdown following alleged attacks on border posts by Rohingya in October. Since the crackdown began, independent journalists and observers have been barred from visiting the army's operation zone in northern Rakhine State.
The report is rife with harrowing descriptions of violence and sexual assault carried out against the Rohingya by the Myanmar military. The UN said the vast majority of the interviewees had witnessed killings, and half of the women interviewed said they had been victims of sexual violence.
Several women interviewed told investigators how their children, including a newborn, were trampled or cut to death. Myanmar military forces were also accused of opening fire on fleeing people, setting fire to entire villages and deliberate destruction of food and sources of food.
This morning, Human Rights Watch also issued a statement accusing Myanmar military forces of committing rape and sexually assaulting ethnic Rohingya women and girls as young as 13 during recent military operations.
The New York-based rights group claimed that members of the Myanmar army and Border Guard Police took part in rape, gang rape, invasive body searches and sexual assaults in at least nine villages in Rakhine State's Maungdaw district between 9 October and mid-December.
They called for an independent international investigation into the alleged abuses and said that the Myanmar government should punish army and police commanders if they did not stop troops from raping and sexually assaulting Rohingya women.
"These horrific attacks on Rohingya women and girls by security forces add a new and brutal chapter to the Burmese [Myanmar] military's long and sickening history of sexual violence against women," Priyanka Motaparthy, senior emergencies researcher at Human Rights Watch, said in the statement. "Military and police commanders should be held responsible for these crimes if they did not do everything in their power to stop them or punish those involved."
Christopher Lamb, president of the Australia Myanmar Institute, told Southeast Asia Globe that any independent investigation would have to be accompanied by discussions with the Myanmar military.
"I think what the international community needs to do… is engage the Myanmar government and the agencies, engage the Tatmadaw [Myanmar armed forces] in the search for long-term solutions," he said.
"It [is] important for those organisations and governments which have the capacity to do so to reach out to the Tatmadaw," he added, "bring them training, bring them support, to do what I know their senior officers would want them to do – to build the country's reputation as a protector of human rights and humanitarian values."
Myanmar's government, led by state counsellor Aung San Suu Kyi, has largely dismissed claims that soldiers raped, beat, killed and detained civilians while lighting fire to Rohingya villages, saying that a lawful military operation is underway against armed Rohingya insurgents.
But according to Zeid Raad al-Hussein, the UN high commissioner for human rights, Suu Kyi promised on Friday to investigate the allegations.
"She informed me that an investigation will be launched. She said that they would require further information," he told Reuters.