When Nguyen Ba Hai graduated from a Korean university with a PhD in biorobotics, he didn't bother hanging around to collect the certificate for his hard-won doctorate. "I don't have time to wait for that," he tells Southeast Asia Globe at his undergraduate alma mater, Ho Chi Minh City University of Technology and Education (HCMUTE). "I just flew back here."
Indeed, after spending a couple of hours in his company, it is difficult to imagine Hai ascribing great value to a piece of ornamental paper. Dressed in an airy, blue shirt and loose, grey trousers, eyes blinking emphatically behind thick-rimmed glasses, the boyish lecturer looks like someone who might effuse about the efficacy of PDFs. Information technology certainly falls within his areas of interest, but he is also keen to expound on mindfulness, football, politics and a future controlled by robots. It would be tempting to describe him as the Neil deGrasse Tyson of the programming world, an ad hoc philosopher and bona fide inventor determined to educate his country.
Spurning lucrative job offers in the Korean automotive tech industry and further afield, 33-year-old Hai returned to HCMUTE as head of the Invention and Startups Department, where he began running four-hour, $1 courses on computer programming that have attracted young and old.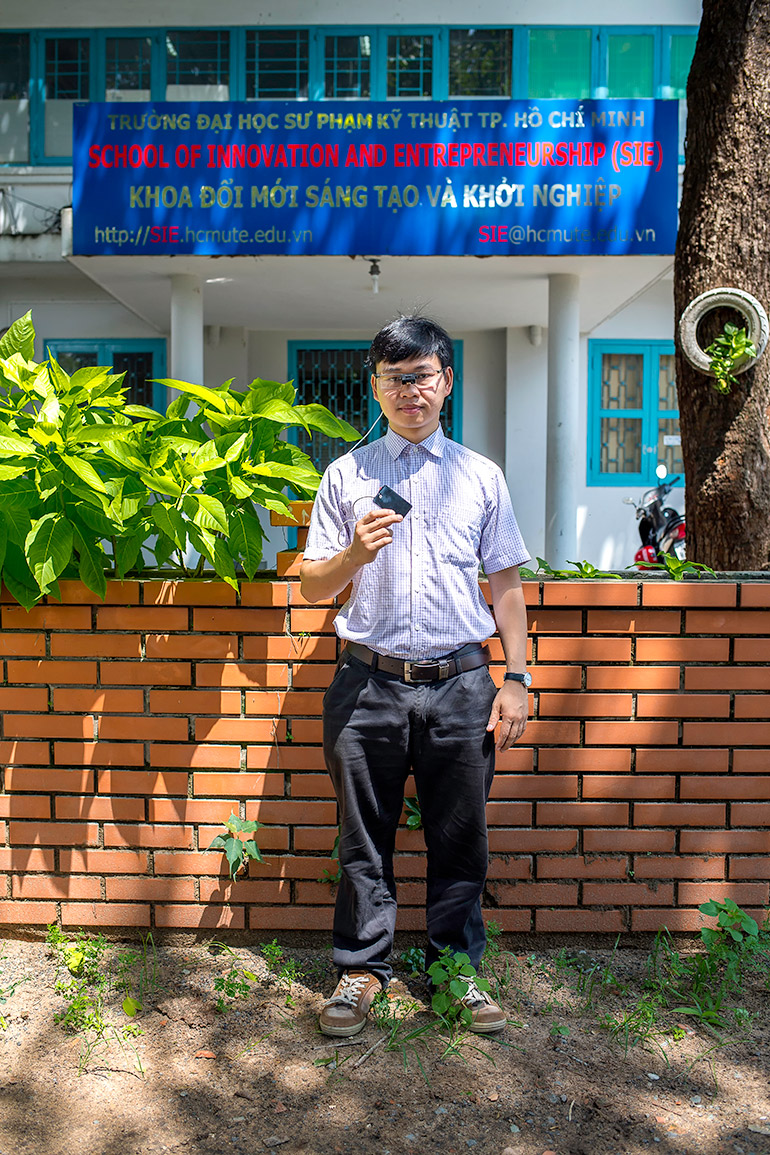 "I feel I have more energy to work with them even though we don't get money. It is a kind of spiritual energy that has helped me feel more happy and, like my work, can be sustainable," he says, adding that he hopes young programmers will one day carry on his vision and continue to "build Vietnam".
Building "magic eyes"
Although still a work in progress, Hai's legacy is likely to be significant. At the age of 28, he invented glasses for the visually impaired called 'haptic eyes', which have sensors that detect objects and send vibrations to the sides of the frame, allowing the wearer to dodge obstacles.
"The robots [that are sent to] the moon have no ears, no eyes, but still can avoid obstacles by sensor," Hai explains. "I started to do sensors for the blind like these robots."
Haptic technology recreates the sense of touch by sending vibrations from an electronic device or computer to the user and is implemented in the fields of remote-controlled robots, mobile phones and, most recently, virtual reality. Dubbed "magic eyes" by some users, Hai's innovative spectacles vibrate when close to any obstacles at eye level, complementing rather than replacing a cane. Hai is also trialling haptic sensors that are attached to canes and belt buckles.
"My target is to work on this technology until the blind can see a flower," Hai says, pointing to a yellow blossom outside. He plans to develop the sensors until they can recognise colours, with each hue sending a different frequency of vibrations, essentially "converting colours into music".
According to a 2014 World Health Organisation report, there are about 300,000 blind people and 1.2 million who suffer varying degrees of blindness in Vietnam. The cost of the latest technology for visually impaired people, such as eSight's $15,000 headset that beams enhanced video images to screens, renders it unaffordable for many.
To keep their product accessible, Hai and his team of 20 volunteers set out to create low-cost haptic glasses, and they sometimes give away the devices for free. The first model weighed 2kg and cost $1,000 each. Five years and eight modifications later, Hai has brought the weight down to 200 grams – not much more than regular glasses – and reduced the price to $100. It takes four volunteers one hour to assemble a pair.
To date, 1,500 people have been fitted with the spectacles and now enjoy greater confidence in walking Ho Chi Minh City's busy streets, though Hai hopes to have 10,000 users by the end of 2017. Twenty customers have even travelled from abroad to buy the invention.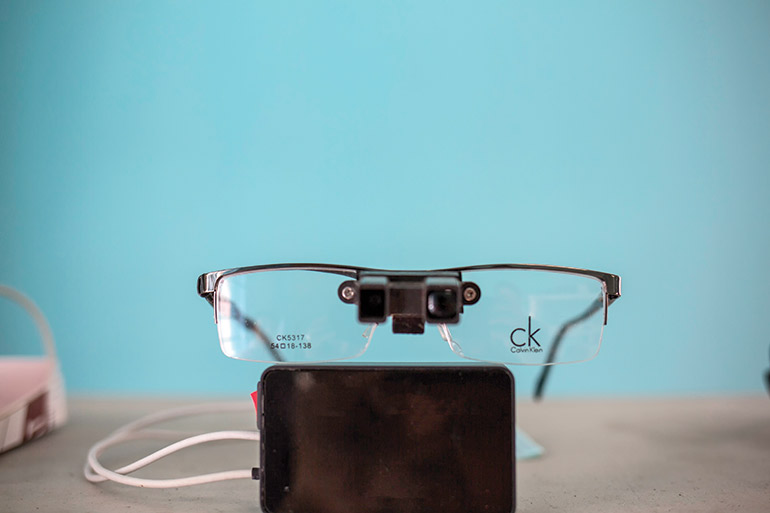 "There are some blind American people and Germans that have flown to Vietnam to buy it. We say: 'Just $100,' and they say: 'No, I'll give you $500, you should help other people also,'" Hai says. "Humans are the same everywhere… We help people not only because they are Vietnamese but because they are human. Now my biggest dream is how to help all the blind in the world, not only Vietnam, but India, so huge, China and also America."
Looking up from behind his own thick glasses, Hai recalls that the seeds of his idea were planted when he was a university student walking past the local blind association on his way to class 15 years ago. The scene had been set for an unlikely journey.
A common humanity
Hailing from a poor farming family in the central province of Thanh Hoa, Hai moved from helping his father with the family's four cows to searching for learning and academic success in Ho Chi Minh City. Hai's student life became a revolving door of side jobs, among them selling watches, glasses and other knick-knacks while also working as a welder. In the classroom, his precocious talents led him to become the top graduate of automotive engineering, and he won a scholarship for a master's degree to pursue biorobotics at Korea University of Technology and Education in Cheonan, South Korea.
At the age of 28, Hai had not only earned his PhD but also had five certified inventions to his name, including bus seats that massage passengers using haptic technology. Ownership of three of his inventions is shared with Korean companies who fund his research into commercialising the products.
However, Hai has so far shunned offers from companies for his haptic glasses because he believes they will increase the price and distort the project's focus on helping those with limited funds. Hai even turned down a corporate offer of $150,000 to buy the glasses' copyright in 2012. The money would have been enough to buy two properties similar to his family's rented one-bedroom apartment.
Then came another opportunity: in September 2015, Hai was invited, along with other young scientists, to meet then-Prime Minister Nguyen Tan Dung. At first he was reluctant, but friends convinced him to attend. Within ten minutes of their meeting, Dung decided to pump $1m into producing and improving the haptic glasses. The government also helped Hai copyright the invention in his name.
"[The government's investment] is a very good message for the young generation," Hai says. "Scientists – you should work hard and care about people, then we can make life better."
For Hai, though, the haptic glasses are just one of several projects he is juggling. We look around his base at the university, where every furnishing is labelled with its English name to emphasise the importance of grasping the language. Next to a table stands a motorbike with stabilisers, the latest incarnation of perhaps his most ambitious project of all: a motorbike for blind people. He says it will involve haptic technology but is a long way from completion. Upstairs, two academics fiddle with flickering lightbulbs embedded in wooden toys, an invention inspired by his 18-month-old son that teaches children about electrical currents. In an adjoining room, coffin-like boxes line the walls and, upon peering inside of one, I am fixed with the vacant stare of a life-sized silicon doll. These, Hai explains, will be turned into robotic waitresses for coffee shops.
Near the entrance, Huynh Xuan Phuong, 42, who has been blind since birth, tentatively tests a haptic device buckled to his waist. Phuong, a skilled guitarist who earns a living selling lottery tickets, could be one of the first users of this tool after recently being robbed of his 'magic eyes'. Invented and modified by Hai over the past year, the new device can detect obstacles five metres away compared with the glasses' 1.5 metres.
With the tour of his nerve centre over, Hai offers to drive me home half an hour away. Books on philosophy cover the dashboard of his jeep. Flicking through them, I ask if he idolises anyone.
Elon Musk, the famed co-founder of PayPal and Tesla Motors, is Hai's answer – he hopes the two of them might get together to brainstorm inventions one day. Such a dream might seem a little outlandish – almost as outlandish, perhaps, as helping a blind person see a flower – but Hai has beaten the odds before, largely thanks to his intense desire to improve the lives of others.
"Here I feel I have a meaningful life," Hai says. "We [are hugely] motivated and… if we can [solve] a little bit of a problem, we have a reason to be a human and continue to live."