The most recent Asean Summit was marked by significant clashes between the Cambodian chair and civil society organisations. Is this a new trend, or just an old habit?
By Frédéric Janssens
It looked like an attempt to force destiny: while Southeast Asian officials gathered in April at the Peace Palace for the 20th Asean Summit in Phnom Penh, 1,200 civil society leaders from the region convened at the Lucky Star hotel. The two events were situated no further than two kilometres apart, yet the exchanges between NGOs and the Cambodian presidency were characterised by neither 'peace' nor 'luck'.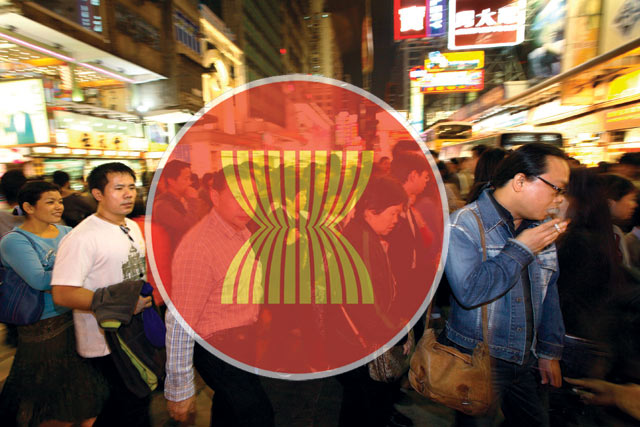 When Cambodia invited regional governments to select their own civil society representatives to attend a meeting with Asean leaders, hundreds of independent NGOs and grassroots organisations boycotted the dialogue session, setting up their own gathering independent of government bias. Consequently, two separate Asean Civil Society Conferences (ACSC) were held simultaneously in Phnom Penh: one supported and massively attended by the Cambodian authorities; the other self-sidelined from the official summit and – according to its organisers – forced to cancel workshops on land grabbing and events in Myanmar due to political pressure. An avalanche of mutual recriminations and public name-calling quickly ensued.
"This kind of clash is unfortunate, but it's nothing new in the history of Asean-civil society relations," says Consuelo Katrina Lopa, coordinator of the Southeast Asian Committee for Advocacy, a regional NGO coordinating advocacy efforts of Southeast Asian civil society organisations (CSOs). "Since the very first interface dialogue held in 2005 in Malaysia, appointments of 'friendly' civil society representatives or exclusion of critical voices occurred at every session, leading to an increased distrust towards the whole interface process."
According to Lopa, countries such as Vietnam, Laos, Myanmar and Cambodia have increasingly imposed their own delegations into civil society meetings, making null and void the very concept of CSO dialogue. "Government-led NGOs were becoming part of the CSO organising committee, making it difficult for independent voices to discuss touchy issues like Myanmar or land evictions," she says. "In 2010, a workshop on democracy was packed up by the Vietnamese delegation, defending the position of its government. Last year, Myanmar appointed police colonel Sitt Aye as representative of its civil society. It is this increasing government intrusion that pushed independent CSOs to organise their own conference this year."
The "mirror of differences"
However, Asean is by no means a monolithic bloc, and inter-government tensions on the role CSOs should play in building the Asean Community are present. According to political scientist Thi Thu Huong Dang, author of a study on CSO engagement in the Asean Charter process, three different groups co-exist inside Asean.
"The first consists of the Philippines and Indonesia, which are willing to consult civil society and welcome its input into the Asean decision-making process. The second are Malaysia and Thailand, who have accepted limited interaction. The third group includes mainly the regimes of Myanmar, Vietnam, Laos, and most of the time Singapore, Cambodia and Brunei. These regimes would wish to stop the Asean-civil society engagement."
A striking example of these tensions was recently given in the drafting process of the Asean Human Rights Declaration, a long-awaited and major political instrument for the region. While the governments of Indonesia, Malaysia, Thailand and the Philippines decided to hold national consultation with their civil society, other Asean countries did not see the value in initiating such dialogue.
"CSOs' role is a mirror image of Asean's differences in democratisation and regime types," says Thitinan Pongsudhirak, director of the Bangkok-based Institute of Security and International Studies, and organiser of the CSO-leaders interface during the 2009 Asean Summit in Thailand. "But their impact on Asean policies is also very much dependent on Asean chairmanship. We saw this with Thailand's chairmanship in 2009 when CSOs had an engaging interface with Asean leaders. It was more limited in 2010 under Vietnam but expanded to full vibrancy under Indonesia's chairmanship in 2011. Now under Cambodia in 2012, the CSOs' role is hemmed in."
Their own worst enemy
If the lack of democratic space and the absence of transparent consultation mechanisms remain major issues, states are not the only ones to bear responsibility for marginalising CSOs from the policy-making process.
"In many cases, CSOs are their own worst enemy," says Lim May-Ann, contributor of a 2011 study on civil society engagement in Asean. "There's still poor or no involvement from national CSOs in Asean or on Asean-related issues. Besides, organisational issues are often the bane of many institutions and CSOs are no exception. Building the capacity and professionalism should be one of the first institutional steps that all CSOs should take."
A point that Consuelo Katrina Lopa agrees with candidly. "There is a clear lack of capacity of CSOs to deal with some Asean issues," she says. "For 30 years, CSOs simply ignored the Asean process as the majority of them were focused on the democratisation of their own societies. An important debate emerged then between those advocating for involvement and those defending opposition to Asean. Today, most CSOs agree on the necessity to engage with Asean, but the disparities in civil society development and the lack of resources for research make it hard to react quickly to policy developments."
Myanmar chair ahead
Despite the problems and challenges encountered so far, CSOs' role in shaping Asean policies is definitely growing, little by little. Over the years, Southeast Asian CSOs have managed to build thematic platforms to engage with Asean officials, with some successes on social or humanitarian policies for instance.
But with Brunei and Myanmar assuming the next two Asean chairs, it is easy to fear a rolling back of this trend.
"Brunei is an absolute monarchy, and the space for CSOs' interface with Asean leaders is likely to be limited," warns Thitinan Pongsudhirak. "The litmus test for CSOs may be in 2014 when Myanmar assumes the chair. CSOs will press hard as there is a pent-up groundswell of frustration over two decades of military repression in that country. By that time, Myanmar's democracy will either show signs of solidifying democratic transition or signs of fatigue and disillusion. The CSOs must keep their expectations reasonable for 2014 as Myanmar could be the pivotal player and tipping point for democratisation in Asean which would be beneficial to regional CSOs in the long run."