With pickup truck demand rising across the region, Matt Bradley, president of Ford Asean, believes the company is on the fast track to success
By Jennifer Meszaros
Ask any truck enthusiast why they love their pickup and the answer will likely be power, comfort and utility. Gone are the days of rickety rides, vinyl bench seats and hand-cranked windows. Today's trucks not only pack some serious horsepower, they also offer a smörgåsbord of creature comforts that rival most luxury vehicles.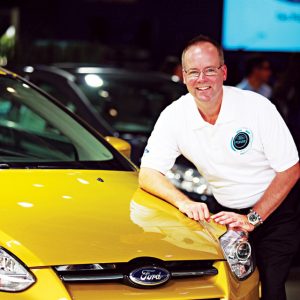 "The pickup truck is more than a pickup truck – it's really a utility vehicle," said Matt Bradley, the president of Ford Asean. "Now pickups have four doors, can fit five passengers quite comfortably and have the utility of the loading bed in the back. I think the pickup truck is a great product for emerging markets and a great vehicle for first-time customers."
Bradley should know. He has been steering Ford's business operations in Southeast Asia since 2012 and has witnessed a rise in sales across the region thanks to a new breed of customer with an appetite for power and dependability.
"Across Asean there is economic strength and rising income levels. It's a great recipe for growth, and vehicles such as the Ranger are certainly benefitting from it," said Bradley. "Its rugged appeal, versatility and overall capability attract a wide range of customers across Asean and serve the needs of their lifestyles."
In 2014, Ranger sales across the region rose 10% from the previous year to 50,190 units, accounting for roughly half of Ford's total vehicle sales in Southeast Asia. Overall, the company's sales grew by more than 5% to 100,824 vehicles, led by rising sales in the Philippines, Vietnam, Malaysia, Cambodia and Myanmar. In Thailand, despite an industry-wide slowdown on the domestic front, Ford saw its market share increase in the country with full-year sales of 38,087 units – roughly 40% of its total regional sales.
In a region dominated by Japanese brands, Ford Asean has made some impressive gains. Though perhaps, given Southeast Asia's abundance of potholed roads, it should come as no surprise that the Thai-built Ranger is growing in popularity, especially in high-growth emerging markets.
"The current infrastructure in countries such as Cambodia and Laos requires high ground clearance and the ability to go through rain, floods and mud," said Bradley. "If you look at some of the smaller countries, trucks are going to be very important, and that's just for the consumer. The other situation is that, as countries invest in infrastructure, there's going to be a demand for commercial vehicle trucks – construction-type vehicles and vehicles that can bring workers and tools to the work site. It's a lot easier to drive a Ranger than a Fiesta on the roads of Cambodia."
Strategically speaking, the company looks to be in a good position to meet market demand. In addition to an assembly plant in Vietnam, Ford boasts two manufacturing facilities in Rayong, Thailand, including a state-of-the-art $450m factory and a joint-venture plant with Japanese automaker Mazda.
"The enabler for growth in any emerging market is to have the right cars and trucks for your customers, and that has to be supported by the right manufacturing capacity and the right retail capacity, which is the sales and distribution network within the country," said Bradley. "Our capacity today satisfies the demand."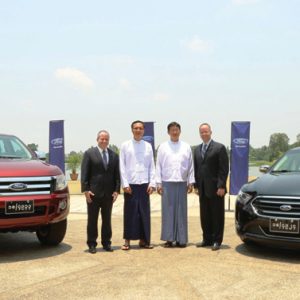 Bradley remains bullish about the region's growth prospects. Besides launching a new Ranger this year, Ford Asean is banking on its new Everest SUV and the continued success of its recently launched EcoSport compact urban SUV, which went into production in Thailand early last year. A total of 18,149 EcoSports were sold throughout the region in 2014, making it Ford's second bestselling model in Thailand, the Philippines, Vietnam, Malaysia and Indonesia.
Also on the agenda is a $600m investment under phase two of Thailand's eco-car project – a government scheme to increase the production of small, fuel-efficient vehicles by 2019 in a bid to turn the country into a hub for so-called green cars.
"Consumers are fairly aware of the value of fuel efficiency. From a government perspective, any policy that drives people to reduce their carbon footprint is positive and makes for a better world," said Bradley. "Globally, Ford uses eco-boost technology in our engines, which does exactly what some of these policies are trying to do. Small displacement engines with good fuel efficiency and a low carbon footprint. It establishes us as a green player in automotive technology." 
Keep reading:
"In all shapes" – Lavi Lev, senior vice-president of Ultra Clean Holdings in Asia, discusses the region's burgeoning 3D-printing industry and the plans that could revolutionise the sector