Every month, Southeast Asia Globe features stories from organisations around the region taking action to reduce plastic use. This month, we highlight Footprint Cafes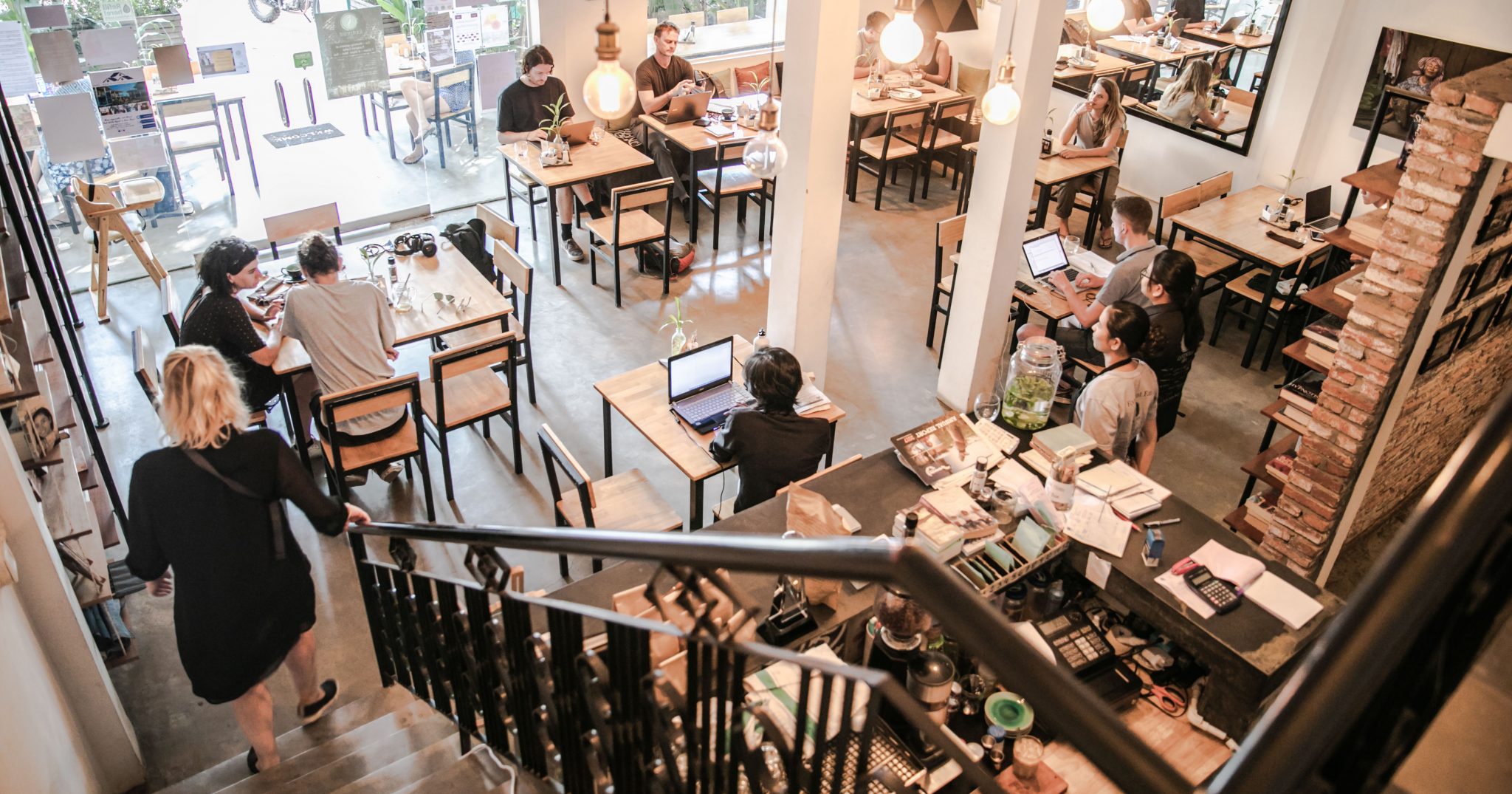 Footprint Cafes, a small social enterprise with big dreams, puts sustainability at the heart of its mission through its commitment to the 3Ps 'People, Planet, Profit'.
As well as donating 100% of net profits back to the local community as educational grants and looking after 'its people' through training and excellent employment conditions, the social enterprise cafe promises to always operate as environmentally sustainably as possible in order to protect our planet.  Footprint wants to become a global brand, linking mass tourism to empowered local communities.  The social enterprise is a product of Cambridge University's Social Ventures programme which promotes and supports social innovation and enterprise around the world. So how does Footprint deliver on its promise to our planet?
Plastic straws are banned in the cafe, instead all customers enjoy an array of delicious fresh smoothies and juices through metal reusable straws or plant based biodegradable straws with take-outs. Footprint has inspired and supplied other restaurants so they can do the same. Customers can also buy Footprint canvas bags and reusable water bottles which they are welcome to refill with drinking water for free at anytime.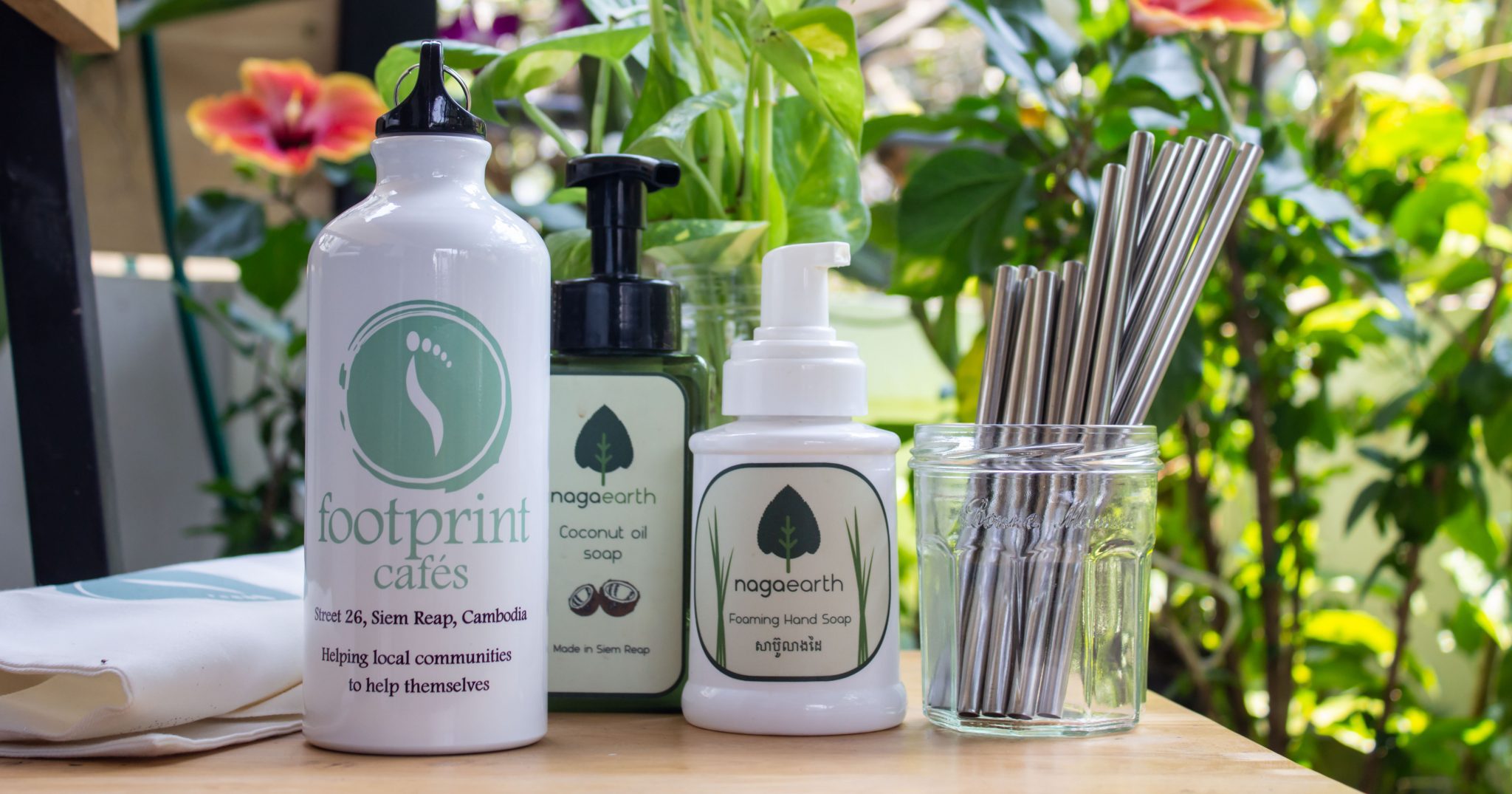 Thanks to its partnerships with local business Naga Earth, Footprint's bathrooms are filled with soap made from its used cooking oil. The café donates its old cooking oil to Naga Earth who turn it into a variety of soaps and biodiesel, which is better for our environment, to sell locally.
Footprint actively seeks out local suppliers with environmentally sustainable models, including its coffee supplier, Feel Good Coffee, which promotes fair trade and chemical free farming.
All take-away orders are in biodegradable sugarcane boxes and carried out of the café in bags made from plants. Any plastic bags the cafe receives from its supply chain are donated to re-hash trash, another local social enterprise providing employment to vulnerable women. The donated bags are then turned into 100% recycled, beautiful household objects by the all female re-hash trash team.
Footprint tries to encourage wider industry change too. As one of the founding members of The Café Collective, Footprint, along with others, encourages other businesses to charge extra for take-out orders and give a discount for anyone who brings in their own takeaway cups. The aim is to change customer's behaviour and reduce waste.
An environmentally minded café in Siem Reap is just the beginning for Footprint. 2019 will see the model expand to Thailand with the bigger dream of Footprint one day being as large and as famous as Starbucks. Its newly opened enterprise hub/co-working space, above the café in Siem Reap, wants to encourage others to do the same. It's off to a fantastic start with Cambridge University's Dr Belinda Bell, Director of the Social Ventures programme, visiting Cambodia to launch its workshop programme on social innovation. Dr Bell's visit marks the beginning of what Footprint hopes will be the start of international collaboration and new investment to grow the social entrepreneurial and environmentally sustainable sectors in the region.
About Footprints Cafes
Footprint Cafes was established in April 2016 as a UK Charitable Incorporated Organisation, Charitable Number: 1166664.
Footprint Cafes was founded by Georgina Hemmingway, alumna of Cambridge University and graduate of Cambridge Social Ventures
Footprint's three Trustees are: Dr Darrin Disley OBE, Prof Alan Barrel and Mr Michael Carter.
Footprint's first social enterprise café officially opened in Siem Reap, Cambodia in November 2016.
Footprint Cafes, Siem Reap is headed by General Manager Pheakdey Yon
Footprint Cafes made its first grant distribution to 4 local organisations in August 2018: Free to Shine; Caring for Cambodia: Ponheary Ly Foundation and Grace Community House
Footprint's commitment to 'People' includes: performance based bonuses, matched fund savings scheme, health insurance, equal maternity & paternity leave, personal development plans and a personal development budget for each of its employees.
For further information, please contact: Georgina Hemmingway, CEO of Footprint Cafes CIO, +447960655227, georgie@footprintcafes.org
---
Are you a business also committed to anti-plastic initiatives? Let us know and you may appear on our website! Contact us at info@globemediaasia.com