Japan's first foreign geisha heads to Southeast Asia for a dose of Muay Thai
By Alanna Cole-Baker
In a Muay Thai gym in Chiang Mai, a fair-skinned blonde is heatedly pounding a punch-bag that swings erratically from the ceiling under her rigorous attack. She delivers a final, perfunctory kick, and turns triumphantly to her trainer standing by. "Don't ever mess with a geisha," she jokes.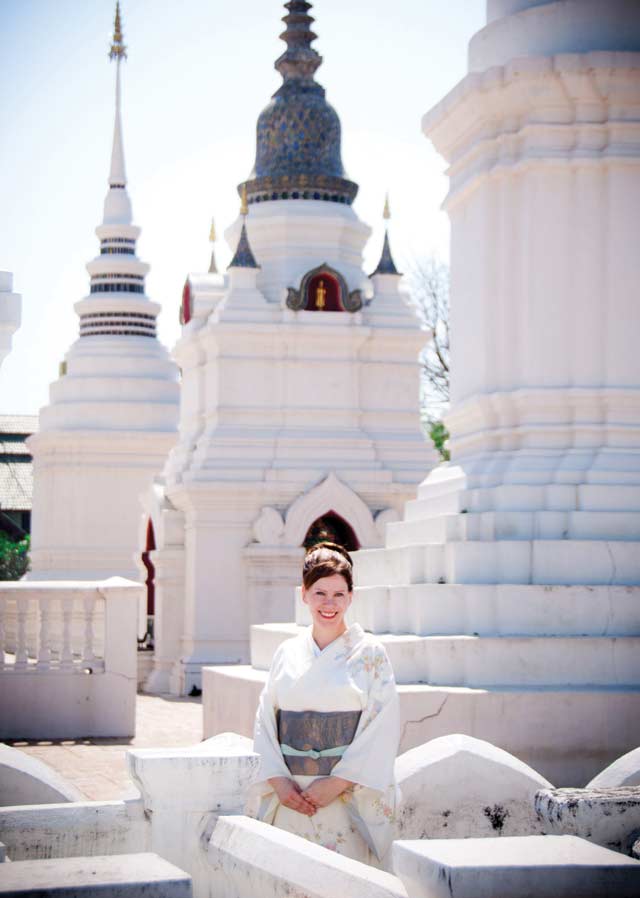 She may look an unlikely person to be affiliated with one of Japan's most iconic and compelling cultural traditions, but this Australian has more claim to the geisha world than any other Westerner. She is, in fact, Japan's first foreign geisha: the only non-Japanese person ever to be admitted as an official practitioner into the geisha community in its centuries-long history.
Sayuki, who in keeping with tradition prefers to be known only by her geisha name, made her debut as a geisha in 2007. The Oxford-educated anthropologist was admitted into a Tokyo geisha house as part of a BBC documentary, and granted permission to train in the geisha arts for one year. It was during this apprenticeship that Sayuki fell in love with 'the flower and willow world'. At the conclusion of her tenure she applied for, and was granted, permission to continue practising as a fully-fledged geisha.
Notoriously secluded and impenetrable, the geisha world does not grant such privileges to just anyone. Having attended high school and university in Tokyo and worked for several years at a Japanese insurance firm, Sayuki was in a more advantageous position to be accepted as a geisha than most. She still had to work enormously hard under a vigorous training regime to ensure she reached the required standard.
"It was very tough," she says. "I had to study all day: how to walk; how to talk; how to hold things; as well as the traditional geisha arts of music, drum, singing and my own specialty – the Japanese flute. It completely consumed my life. A lot of hangyoku (maiko or apprentice geisha) quit after only a few days or months."
Sayuki's tenacity is visible in her boxing style. But what is a cultural symbol of Japan doing at a Muay Thai bootcamp in Thailand? "I've been coming here a long time," Sayuki says. "Life as a geisha can be incredibly busy and stressful, and I don't always have the time to keep as fit and healthy as I would like. So when I can escape I come to Southeast Asia to get in shape. I haven't heard of any other geisha who kickboxes."
Although fighting is traditionally left to the samurai in Japanese traditional heritage, a certain degree of physical flexibility and suppleness is advantageous in a geisha, who often has to sit kneeling for hours on the floor, while entertaining guests at dinner parties. Dance is also an important skill in a geisha's inventory, with performances given after meals have been served at most geisha banquets. "Muay Thai has helped me to keep fit. Japanese traditional dance is quite subtle – you need a great deal of elegance and grace to pull it off but also a lot of muscular strength," she says.
Sayuki's trips to Thailand do not centre solely on Muay Thai. Working to educate people globally about geisha, Sayuki has travelled around the world giving lectures to local and expatriate audiences about her experiences as Japan's first foreign geisha, as well as the history of the cultural tradition.
"There are a lot of misconceptions held about geisha in other countries – that geisha equates to prostitute, for example," says Sayuki. "It's a pleasure to have the opportunity to visit new places and develop people's understanding of Japanese heritage. Ironically, becoming part of a culture which is intrinsically Japanese has enabled me to travel outside of the country a great deal, and I count myself very fortunate for that."
Thai audiences also have an opportunity to see geisha in action, when Sayuki – in collaboration with Thai hotels and restaurants – holds geisha evenings on their premises. Guests can attend and be entertained by geisha over dinner or drinks, watching performances of traditional Japanese dance (nihon-buyoh) and singing (kouta or nagauta) with musical accompaniment on the flute, drum and shamisen.
Sayuki is keen to expand the geisha customer base outside of Japan, as part of a general effort to render geisha culture more accessible to outsiders. Since the war and ensuing occupation, the geisha world has become characterised by a guardedness and exclusivity, opening its doors only to a select, trusted clientele comprising Japan's most wealthy and well-connected. Most of the Japanese public in 2012 had never met a geisha and had little awareness of how to do so.
Sayuki is attempting to change this, pioneering a scheme where she functions as a go-between figure, working on behalf of both teahouse and client, enabling people with no previous connections within the geisha community to meet geisha without having to worry about securing the normally requisite official introduction into
the teahouse.
"Most people are fascinated by geisha – it is such a beautiful and compelling tradition," says Sayuki. "But many who would like to, never get to meet a geisha, because the traditional geisha way of operating commercially does not really correspond with contemporary mores. One of the reasons that I have continued working is because I can do something to help mediate between customers wanting to meet geisha and the geisha who are happy to get more clients."
Bringing the geisha tradition to Thailand is a step which Sayuki hopes will lead to greater expansion internationally.
"I love visiting new countries, and I'm happy to travel wherever people want geisha," she says. "Seeing as a lot of the embroidery done on Japanese kimonos these days is actually done by hand in Vietnam, I would love to be able to visit there. And I would love to learn more about dance in Vietnam, Cambodia and Laos, and see how it differs from the Japanese style.
"International work is certainly a new frontier for geisha, but traditionally they have always been very strong, independent businesswomen, and it is merely a matter of adapting the model to the times."