One small team of tastemakers is transforming the image of locally made fashion in Jakarta
By Christi Hang
The greatest influence on Indonesian popular culture today comes from an unlikely source – the '90s rave scene in San Francisco. The two might seem worlds and times apart, but according to DJ, entrepreneur and purveyor of cool, Anton Wirjono, the unifying thread is a do-it-yourself aesthetic and community-based mentality.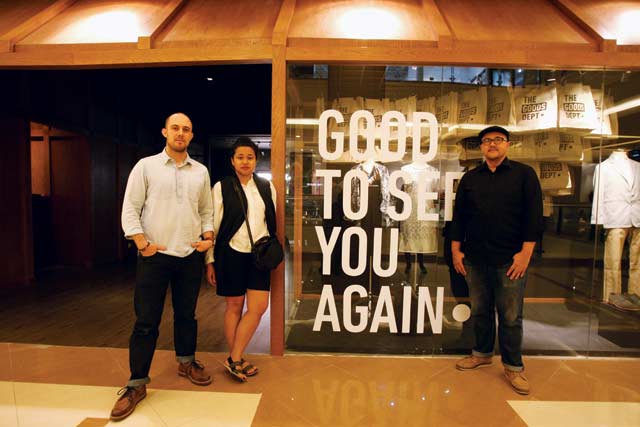 Wirjono and a small team of taste-makers – including his sister, Cynthia Wirjono, and her husband, Chris Kerrigan – are behind an ambitious movement to prove to Indonesians that locally made items have quality and value, while raising the profiles of young local brands.
In a land of endless cold, shiny malls and blind devotion to international labels, the trio certainly have their work cut out for them. But their work and fan base has seen them firmly installed as the dictators of contemporary Indonesian culture.
These projects include the periodic Brightspot Market, a bazaar that showcases Indonesia's best and hippest young designers, which attracted more than 50,000 people over its latest four-day run last April; the relocation and addition of a second outlet of The Goods Dept, a store that expands on the Brightspot ethos of local designers and lifestyle products; and The Goods Cafe and Goods Diner, their well-crafted food and drink outlets which specialise in Californian and American comfort cooking.
"The Goods Dept is about discovery," Chris says. "When people came in, we wanted them to have that feeling of stepping out of a mall, like they could be anywhere."
The trio are currently expanding The Goods Dept brand through the opening of a second location within the next two months. The recent launch of The Goods Dept webstore should help the collective develop an international presence.
"We are a lifestyles brand, we try to curate the best and we want to be everywhere," Anton says. "We want to reinvent retail that is here now."
Expanding online is a natural move for the group, who give a lot of credit to social media for their success.
"When people started using Twitter at the second Brightspot [event], the response was instant. People would post a photo of Brightspot, their friends would see it then come over right away," Anton explains. "Because of this online presence, we decided to set up a permanent store."
When asked how they decide which products go into the store, the trio say that is the number one question they get asked and the answer is as mysterious as it is simple.
"There is a team of about five of us and we vote on designers and products to see if we like them [for the store] or not," Anton says. "And it's basically majority rules, or if we see potential in a brand, we will work with them to develop them. We usually have the same opinions on things though."
"But the key is to make things for ourselves," Cynthia adds. "We want to do the right thing and be as politically correct as we can. We try to nurture designers and build communities."
Before The Goods Dept and Brightspot, the three were already making their mark on Indonesia's social scene as event planners with Future 10 Productions. Future 10's clients have included well-known global brands such as Evian and Nike.
It was during a 2008 Nike party that Future 10 set up a pop-up shop, video installations and exhibitions over multiple days that would plant the seed for Brightspot.
"When we began Brightspot in 2009, I wanted it to be like a nomadic festival or a rave, something created where there was nothing," Anton says.
Since then, Future 10 has been responsible for some of the city's biggest parties and bringing in international DJ acts such as Hercules and Love Affair and Yeah Yeah Yeahs guitarist Nick Zinner.
Anton, Cynthia and Chris all spent time in San Francisco in the 90s, earning their college degrees and trying to carve out artistic careers for themselves. It was during this period that Anton spent his time absorbing and studying the rave culture in the city, which influenced his later work. In 1994, he returned to Jakarta, a city opening up with possibilities for creative people. Cynthia and Chris would soon follow after struggling to find graphic design work in an ailing American economy.
Chris says after the first Brightspot, the group decided to hold it at regular intervals, to help shoppers learn about new local brands and to develop the brands as well.
"A lot of the brands weren't making collections yet, designers were basically just making things for their friends and were just producing enough for Brightspot," Chris recalls. "We kind of had to train them for deadlines, and develop the idea of seasons and collections to get them primed for retail."
Designer Martha Nuttall heads her own clothing brand, M.E., which puts a modern twist on ikat, a traditional woven fabric. She has participated in two Brightspots and The Goods Dept now carries her collection.
"I joined Brightspot as it was the best option for me at the time as a small new label with little exposure and market knowledge," she says. "Brightspot pulls 55,000 people over the four-day period, from the young trendies to working women and families. So it's great to see the types of people that shop for independent designs and you get to meet the customers face to face which really helps the newer brands establish. I have them to thank for their support in launching my label."
Besides helping her personally, Nuttall says the trio is making an impact on Jakarta's creative scene as a whole.
"Chris and Cynthia and their team are instrumental in really creating an alternative platform for contemporary young, independent designers," Nuttall says. "They are the pioneers in Jakarta really. They work really hard, all the time, keeping things fresh and expanding."
Tisa Granicia, a co-founder of the ceramics collective Kandura Keramik, based in Bandung, says she met Chris and Cynthia when the duo were curating an art exhibition and sale of works by young artists called We Are All Millionaires. The title is a play on Indonesia's currency, the rupiah, which has an exchange rate of about 9,000 to the dollar. Each piece of work retailed for one million rupiah ($104).
Since then, The Goods Dept has carried Kandura's ceramic homeware and jewellery in its shop and the collective always book a stall for Brightspot.
Granicia says that being based outside of Jakarta, can make it hard to tap into the major retail scene, but The Goods Dept and Brightspot serve as a lifeline and connect the ceramics cooperative with a larger customer base.
"[The Goods Dept] is the most important player right now, I think, because it's like a Mecca for young fashionable people in Jakarta," Granicia says.
Despite the meteoric rise in popularity and ambitious expansion plan, Anton, Cynthia and Chris say they aren't worried about overexposure or backlash. That doesn't mean they don't think about the direction of the businesses.
"I think about this everyday," Anton reveals. "We don't want to stay in the subculture. We want to appeal to as many people as we can without saturating the market or changing how we do business. But we're growing up."


Also view
"Sumatra coffee hustle" – Poor coffee farmers are churning out a product consumers love in Indonesia – is there a payoff?