When the Kardashian clan descended on a new Thai retreat near the tourist hotspot of Phuket in March, international tabloids had a rather salacious field day. The family's endless stream of (apparently Photoshopped) Instagrams showed Kendall's pert derriere in a selection of racy swimsuits, Kim taking selfies with an unamused elephant and patriarch Bruce Jenner looking as though he'd rather ingest Kanye's faeces than be there filming episodes for the new season of the family's reality TV show, Keeping Up With the Kardashians.
The ultra-exclusive property they used as their base – in between zip-lining, a visit to an orphanage and pilfering holiday snaps from Google – was Iniala Beach House on Natai beach, which opened in December last year and cost a reported $22 million.
"There was one photo of them looking pretty unimpressed," says Steven Pettifor, Iniala's director of art, with a chuckle.
Taking the grand tour of the property, with some of the heavyweight designers who worked on the spaces in attendance, it becomes apparent that Iniala Beach House is about much more than narcissistic reality TV stars. With the ten rooms spread across three villas and one penthouse that fuse traditional Thai architecture with organic and contemporary art and design, it is unlike anything else in the region.
The Campana Brothers – the first Brazilian artists to have their work collected by New York's Museum of Modern Art – designed the Collector's Villa, where the tour begins. Thick pillars covered in shattered pieces of pastel-coloured celadon, sourced from Chiang Mai, surround a calm water feature. The effect is whimsical, a little bit Alice in Wonderland, and leads into a main living area that could easily slide right into a bubble-filled underwater scene from The Little Mermaid. Indeed, as Pettifor points out, the brothers' idea was to create a space that feels like the "inside of a seashell". Sprawling in the middle of the room is the Octopus sofa, its writhing tentacles forming cosy nooks and reaching out to more porcelain-covered walls. One can almost hear a certain Rastafarian crab chirping Under the Sea.
Adjacent to the Collector's villa is Villa Siam, where a boudoir-like bedroom designed by Mark Brazier-Jones features bronze, crystal and leather in thick, sensual layers. He is known for his mix of Empire-style magnificence and Gothic-horror-meets-bondage detailing. "He designs a lot of sexual furniture," says Florencia Nahmad, managing director of Iniala Art and Design, as she flips through a coffee table book to give an example. "Actually, a lot of celebrities like Angelina Jolie have pieces of his furniture."
"He's a rock star himself," adds Pettifor. "He's got all bright fingernails and is kind of gothic, even though he's in his 60s or something."
While international design superstars feature prominently throughout the beach house, it is Southeast Asia that has inspired and informed the better part of the complex, as well as Iniala Art and Design, an advisory service committed to developing and promoting the region's art, artists and design internationally.
In contrast to Brazier-Jones's lavish bedroom suite is the ethereal, organic space next door, designed by Eggarat Wongcharit, a Thai designer and graduate of New York's Pratt Institute and Milan's Domus Academy. His concept was to create a space that explores Buddhism's relationship with nature as well as its symbols of devotion.
"The lines, forms and textures are meant to coordinate and interpret the abstract meanings of life and nature that lie behind the philosophy of Buddhism," says Eggarat, pointing out various elements of his work. "For example, the living room and bedroom's hanging sofas reflect an image of the Phang Nga isles in the Andaman Sea."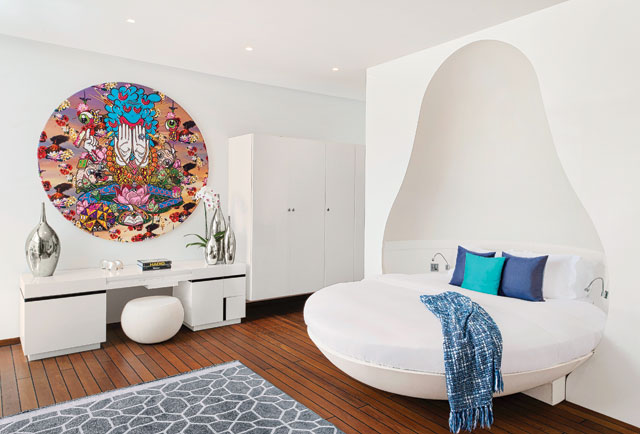 The villa's spa (each of the three villas has its own private spa where guests can enjoy up to six hours of treatments each day) is designed to resemble the inside of a bell, like those found in Thai temples and shrines. The walls are covered in dazzling hand-cut pieces of mirrored glass and gold leaf with inscriptions of Buddhist teachings – in English, says Eggarat, so as many guests as possible can understand and engage with the words. "There is a profound meaning behind the script and it creates a different dimension of thought when one reads it and attempts to understand the truth of life," says Eggarat. "I like design that reflects a thought and leaves an impression on the mind."
As evening rolls around, it's time for the grand opening of the Iniala Gallery.
Rabbits, Robots and Ramakien
Pettifor is a fixture at regional art fairs and exhibitions and first worked with Mark Weingard, Iniala's founder and a former derivatives trader, some 14 years ago. After losing touch, Weingard contacted Pettifor out of the blue after the latter's name came up in a meeting as someone who is an authority on Southeast Asian art.
"He flew me to Spain to meet with him and when he explained his vision for Iniala, especially in terms of art, I felt it was something very unique as an art viewing platform for Thailand," says Pettifor, an Englishman who has lived in Thailand for the past 20 years. "We decided early on that our artistic focus would be Asia, and in particular Southeast Asia, so almost all of our acquisitions have been from within this region."
For the opening exhibition, entitled Rabbits, Robots and Ramakien, Pettifor selected five artists, including two young, emerging talents – Alex Face, a Thai street artist, and Thai-Japanese surrealist painter Yuree Kansaku. One guest at the suitably Champagne-soaked opening is Petch Osathanugrah, chairman of Bangkok University and one of Thailand's most prolific and eccentric collectors, who is proud to say he was one of the first to collect Yuree's saccharine-coloured work.
Alongside the young upstarts are Eddie Hara, one of the first generation of Asian artists to create a personal visual language from graffiti and street culture, and Entang Wiharso, one of Indonesia's most internationally renowned artists. The show explores pop culture and mythology in Thai and Indonesian art – the two countries the Iniala Art Collection found its roots in. Pettifor says the gallery will have two to four exhibitions per year, running concurrently with Thailand's two tourist seasons.
An edible tree
Art, design and exclusivity are not the only arresting features of Iniala – gastronomic indulgence is also on the menu. The property is home to Aziamendi, the sister restaurant of Spain's famed Azurmendi. Headed up by three-Michelin-starred executive chef Eneko Atxa, the restaurant tonight plays host to the influential guests of the gallery opening. Atxa's Tribute menu, which pays homage to his most beloved signature dishes from Spain, is delivered by the faultless staff – a chef de cuisine who spent five years working with Daniel Boulud in New York; a sommelier with three levels of his Masters of Wine; a general manager brought in from Heston Blumenthal's Dinner – and the experience is breathtaking. A Spanish guitar player, specially flown in, provides the soundtrack to a meal that is surprising, fantastical and a little daunting.
For the first course, guests are invited out onto the lawn where they're directed to an edible tree, where the 'fruit' is made of cherry tomatoes stuffed with lemon and raspberry confit. Scattered around the base of the trunk, we find foie gras coated with mushroom powder convincingly disguising itself as peanuts. Pettifor excitedly points out some shiny red balls he has sampled previously. Chomping through the delicate, tangy shell, our mouths are flooded by a sweet Mai Tai explosion.
Back inside and dishes such as pigeon with hazelnuts and truffled egg are delivered beneath the gleam of more of Wiharso's work. His brass sculpture, "I Don't Want to be a Hero" provides intriguing fodder for dinner table conversation.
A vision of beauty
At $250 a head for one of Atxa's menus and some $140,000 to reserve the entire beach house for a week, Iniala is undoubtedly beyond the reach of many, yet at its core is a philosophy that speaks to the heart, rather than the wallet.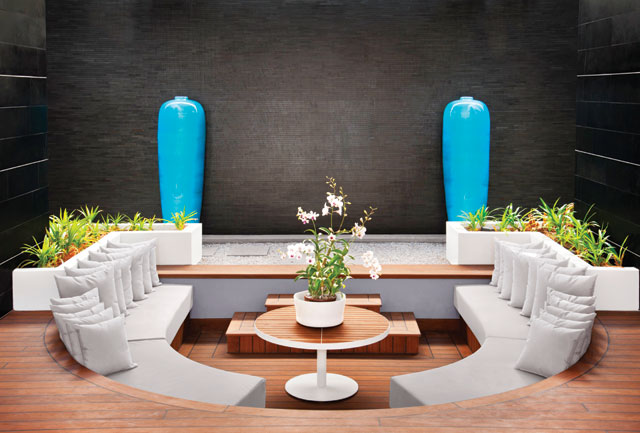 On September 11, 2001, Weingard was running late for a meeting in the south tower of the World Trade Centre. As he called to apologise, he was told an aeroplane had just flown into the north tower. Within minutes the second plane had hit and 23 employees of the company he was due to meet with had been killed. Two years later his fiancée, Annika Linden, was killed in the Bali bombings. In 2004, Weingard again escaped near-death as the Boxing Day tsunami ravaged his Thailand home. Iniala Beach House is built on the same plot of land.
This string of unimaginable tragedies inspired Weingard, a softly spoken Mancunian, to found the Annika Linden Foundation, initially established to help the children of the Bali bombing victims. Today the charity has evolved into Inspirasia, which aims to provide physically disabled Indonesians, Thais and Indians with skills training, education and special-needs care. The foundation has donated millions to date and 10% of room revenue from Iniala, plus 5% of every guest's spend on services from food to spa treatments, will go towards bettering the lives of others.
Weingard's vision is one of beauty, in more ways than one.