Farah is clutching an iPhone in her carefully manicured hand, decorated with traditional henna tattoos, while posing for a photo outside one of Kuala Lumpur's many malls. Sporting a shimmering, red headscarf, matching lipstick and black skinny jeans, she represents the modern incarnation of a Malay woman.
At first glance the 24-year-old administrative assistant, who preferred not to give her full name, resembles her counterparts in other regions of the world, where spending a Sunday afternoon at a shopping centre is a pastime of choice for many young people.
Although she seems to be fully embracing some notions traditionally perceived as 'Western', Farah is also strictly following the local interpretation of Islam. And that means, as she contentedly proclaims, that she is circumcised. "Muslim women in Malaysia are circumcised because Islam requires that," she explains. "It is wajib" – a religious duty commanded by Allah.
Because it is a "must in Islam", Farah is confident that she will also circumcise her daughter, should she ever have one. "My mother is circumcised, I am circumcised and I will also circumcise my daughter, because I must," she explains.
The sentiment is echoed by 19-year-old Syahiera Atika, who is prowling the same mega-mall with two friends. Just like her companions, the student doesn't perceive female circumcision to be a practice that is harmful to women.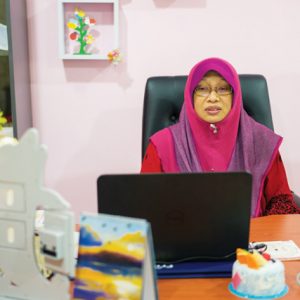 "I read somewhere that in the West people say female circumcision is harmful to women, but I don't think the way we do it here is harmful. It also protects young girls from pre-marital sex as it is supposed to lower their sex drive. But I am not sure it always works," she says with a giggle.
Female circumcision, often referred to internationally as female genital mutilation (FGM), is defined by the World Health Organisation (WHO) as a "partial or total removal of the external female genitalia, or other injury to the female genital organs for non-medical reasons".
The WHO classifies FGM into four types, ranging from the pricking or piercing of the genital area to the narrowing of the vaginal opening, which includes the removal of the external genitalia and the sealing of the wound. The latter and most drastic type of FGM is largely practiced in northeast African countries, such as Ethiopia and Sudan, and is usually performed by traditional circumcision practitioners in unsanitary conditions.
Regardless of the degree of severity, however, the international body insists that the practice has no medical benefits and "reflects deep-rooted inequality between the sexes and constitutes an extreme form of discrimination against women".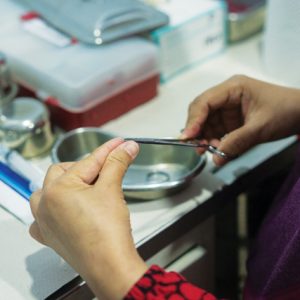 But although the procedure was described as a "human rights violation" in a 2012 United Nations General Assembly resolution, which urged states to ban the practice, it does not raise many eyebrows in Malaysia. In fact, according to the latest research, FGM is rampant across this otherwise moderate Muslim country.
A 2012 study of some 1,000 Muslim women in three Malaysian provinces carried out by Dr Maznah Dahlui, associate professor at the University of Malaya's Department of Social and Preventive Medicine, found that more than 93% of those surveyed had been circumcised. It also discovered that the procedure was increasingly being carried out by trained medical personnel in private clinics, as opposed to traditional circumcision practitioners, called Ma Bidans, at home. 
In the study, Dr Maznah asserts that female circumcision performed among Malaysia's Muslims is considered as type IV under the WHO classification, which is the least extensive form of FGM.
It usually involves the nipping of the skin on the clitoral hood or a needle prick of the clitoris and is performed on girls aged between six to 12 months.
However, Southeast Asia Globe learnt that some private health facilities, like the Global Ikhwan clinic in Rawang, located just north of the capital, perform a more invasive version.
Sitting in a pink office on the maternity ward of the small clinic, which is frequented by more conservative Muslims who sometimes travel for hours from remote parts of the country to reach it, Dr Mighilia Aziza explains that "circumcision depends on the wishes of the mother". While it is not compulsory, because it is wajib, all women who give birth at the facility have their baby daughters circumcised, she adds.
In the clean gynaecological examination room, Dr Mighilia carefully demonstrates how she performs the circumcisions.
I just take a needle and slit off the top of the clitoris. But it is very little, just one millimetre.

Dr Mighilia Aziza
The practice, according to the obstetrician, varies from one health practitioner to another. "How you perform circumcision depends on your individual concept," she observes. "The knowledge among doctors varies. Some doctors will use the scissors; some will use the blade. Whatever is easier for them."
Aside from a government circular prohibiting public health providers from performing FGM, there is no legislation banning it in Malaysia. Quite the opposite, in 2009 the Fatwa Committee of Malaysia's National Council of Islamic Religious Affairs ruled that female circumcision was obligatory for Muslims, unless it was harmful.
But opponents of the practice, such as Syarifatul Adibah, senior programme officer at local women's rights group Sisters in Islam, points out that the Qur'an does not once mention the requirement for women to undergo sunat, the Malaysian term
for circumcision.
Adibah, who believes that over the years there has been a surge in the number of procedures, ascribes the current trend to the fatwa and the overall Islamisation of Malaysia, which many fear is slowly losing its credentials as a moderate Muslim country. "Previously it was a cultural practice but now because of the Islamisation process people relate everything to Islam," she says.
When you link something to religion, people here just follow it blindly, they don't enquire.

Syarifatul Adibah
The social acceptance of FGM, she points out, was further galvanised in 2012 when the Ministry of Health announced it had started developing guidelines to reclassify female circumcision as a medical practice.
"If you come up with guidelines and you medicalise it, this means that you acknowledge it and that you are OK with it, despite there being no medical benefit flowing from the practice," she says. Despite multiple requests for a comment, Southeast Asia Globe was not able obtain a response from the Ministry of Health.
The medicalisation of FGM is a relatively new phenomenon and one that is not unique to Malaysia. It was put in the crosshairs of international rights watchdogs this February, when the United Nations Population Fund and Unicef described it as a "disturbing trend".
Despite calls by international bodies to end the practice, medical practitioners performing circumcisions in local private hospitals have a different outlook on the matter and often reject the procedure's classification as FGM.
"There is a difference between circumcision and FGM. We are very much against what is going on in other countries such as Sudan – this is very different from what we practise in Malaysia," says Dr Ariza Mohamed, a consultant obstetrician and gynaecologist at KPJ Ampang Puteri Specialist Hospital in Kuala Lumpur.
She is quick to assert that sunat is "not harmful to women" and that "most of the time the circumcision is a needle prick to the clitoris and, in other clinics, when people do cut it off, they just cut off one to two millimetres and it has no bearing on sexual pleasure."
Indeed, criticism of female circumcision seems to baffle most Muslims in the country. In some instances, it even angers those who oppose it, such as Abdul Khan Rashid, a professor at the Penang Medical College. He feels international bodies have no business telling Malays how to go about eradicating the practice.
"The problem with the West is that it is so judgmental. Who the hell are you to tell us what to practise and what not to practise? A lot of women now do it in private clinics in safe conditions, but if you're going to make it illegal, the practice is going to go underground.
"The way to eradicate it," he added, is to "educate people about how wrong it is first, and ban it later."