Marc Townsend, managing director of CBRE in Cambodia and Vietnam, discusses the two countries' revitalised property markets and why affordable housing will be the next big thing
By David Hutt
Standing on the Vattanac Capital Tower's skydeck,  one of the highest spots in Phnom Penh, it feels as though the old axiom about the importance of marathons over sprints is nonsense.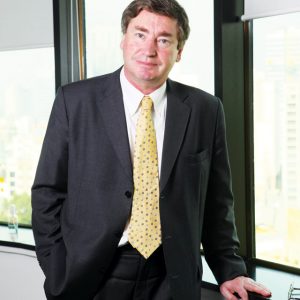 With the urban population continuing to swell and the city's limits expanding ever further, Cambodia's capital is beginning to find its feet within the Asean pack. With economic integration slated for this year, as well as a favourable business environment, Phnom Penh's  property industry could be set to reap the rewards.
"It's very positive what we're seeing in Cambodia right now," says Marc Townsend, managing director of CBRE (Cambodia) and CBRE (Vietnam). "We have a lot of multinational clients who never showed any interest before but are now calling us to get market reports and to find ways to invest."
Townsend is equally optimistic about Vietnam's direction, predicting that it is leaving behind years of being a property investment no-go zone.
"Some developers are increasing prices, which we haven't seen before, and there's a lot more property coming onto the market," he said. "We're also seeing banks increase lending to small and medium-sized enterprises (SMEs) and smaller households to purchase houses. We haven't seen this before."
He added that some banks are now offering 20-year loans instead of the standard five years and are heavily investing in the property sector. "This is important, because when it's just a cash market then the candle can be blown out quite quickly… I think this can be sustainable."
It has not always been the case. In 2008 and 2009, the
property industry in both countries hit a rocky patch when supply began to outweigh demand. Yet Townsend believes the future looks bright for the property industries in the two neighbouring nations. Along with Cambodia's island resort Alila Villas and the luxury condominium development Estella Heights in Ho Chi Minh City, CBRE manages a string of premier properties across the two countries.
However, while the higher end of the property market will continue to grow, Townsend is convinced that the industry should also be focusing on affordable housing. With two decades of experience in the region, Townsend knows that the average Asian family's dream is to own a villa with some land around it. "But of course money is limited," he said. "So some families are having to make sacrifices and move into condominiums and high-rise apartments."
However, there is a gap in the market, according to Townsend.  In cities such as Phnom Penh and Ho Chi Minh City, the need for affordable housing is heightened due to limitations in local government budgets. At the same time demand is increasing. While every Asean nation has a growing middle class, Vietnam's is growing faster than in Indonesia, Thailand, the Philippines and Malaysia. Cambodia's is also expanding rapidly.
"This is getting the developers of affordable and middle income properties excited," said Townsend, adding that this includes residential properties worth between $20,000 and $70,000.
Last year, work began in Phnom Penh on the Bridge, a twin-towered, 45-storey mixed residential and leisure complex. Its developers, Singapore's Oxley Holdings, will introduce Cambodia to the concept of SoHo (small office, small home) design, one that combines both work and residential areas in a single-unit space.
However, Townsend contends that not all property developers are thinking small. "They tend to circle around Grade A developments, but most tenants would prefer to be paying $12-15 per square metre than $35-40," he said. "There will always be developers out there wanting to develop iconic buildings, but what is easier to lease are Grade B and C [properties] that have smaller footprints, less technology and capacity.
"Nothing ever happens in a straight line for real estate [in Phnom Penh]. There are many variables, from macroeconomic stability and inflation to political stability and the feel-good factor. The country is now finding its feet in relation to other Asean economies, and if all the stars are aligned the property market can prosper." 
Keep reading:
"Hip to be square" – Hongkong Land reveals details of its major new project in Phnom Penh