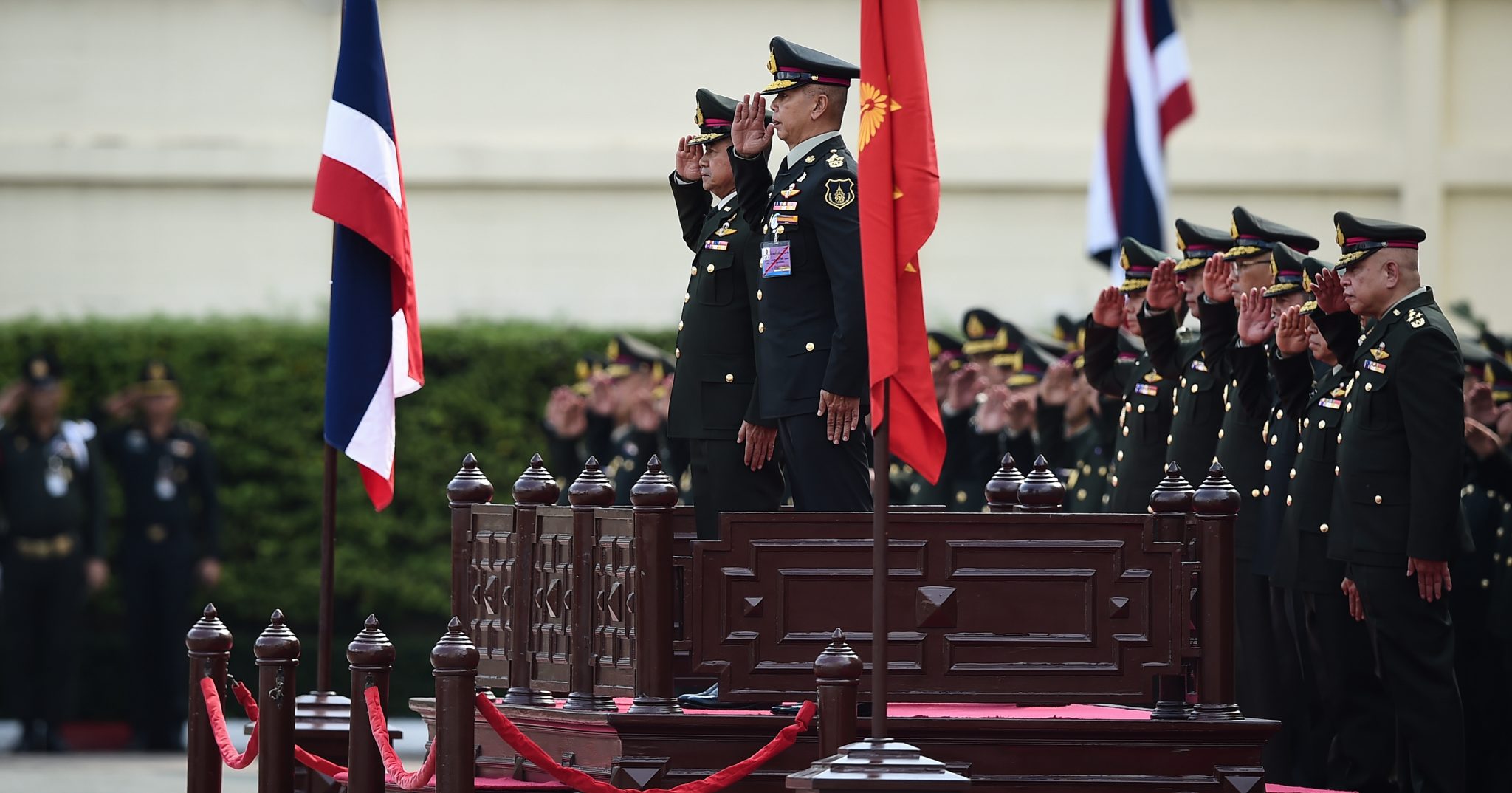 Last week, as the Thai people prepared to go to the polls for the first time in more than five years of military rule, a middle-aged man dressed in a clinging Superman suit stepped into the gridlocked traffic of Thailand's capital, thrust out his chest and unfurled a sweat-slick sign. "If you love Thailand: Vote," it thundered.
With more than 50 million people eligible to vote in Sunday's election, including 7 million first-time voters, hopes were high that the prospect of a return to some semblance of democracy would see the polling stations packed with people long-stripped of the right to elect their own leaders. Some predictions placed the expected turnout at somewhere north of 90%. By Monday, the truth was clear: the number had barely scraped past 65%.     
Nor was this the only upset in Sunday's election. Hampered by the dissolution of its allied Thai Raksa Chart Party after the group nominated Princess Ubolratana as its prime ministerial candidate – a move that was met with fury by the more conservative members of Thailand's royal family – the Pheu Thai Party fell far short of expectations, although it still managed to secure the most seats in parliament.
Forced to compete under a new electoral process implemented by the junta that made it nearly impossible for any one party to win the kinds of majority the pro-democracy camp had enjoyed in recent elections, the Pheu Thai Party's failure to form government on its own power came as little surprise. More startling was a seemingly strong performance by the military-aligned Phalang Pracharath Party, which appears to have easily won the popular vote – a result that supporters of likely prime ministerial appointment Prayuth Chan-ocha say prove the legitimacy of the military's five-year stewardship of Thailand.
The newly founded Future Forward Party, a pro-democracy party led by charismatic billionaire Thanathorn Juangroongruangkit, secured the third-highest amount of seats – a staggering result for a party barely more than a year old, and one that upsets more than a decade of conventional wisdom dividing the political lines between the palace-backed military and supporters of exiled former prime minister Thaksin Shinawatra.
Titipol Phakdeewanich, a political scientist at Thailand's Ubon Ratchathani University, said the turnout had been disappointing for those who have waited more than five years for an end to military rule.
"I was quite surprised as well with the low number," he told Southeast Asia Globe. "If you look at the history of past elections in Thailand we have quite a high number, over 75 or 80 [percent] turnout – but this time I think many people got withdrawn from politics and felt that democracy and elections don't really help much."
It's not hard to see why. With five years in which to stack the deck in its favour, the military junta – more palatably dubbed the National Council for Peace and Order – has left little to chance. A new constitution drafted by the regime and stamped by the new King gave the nation's armed forces the power to appoint a 250-strong upper house that would be instrumental in selecting the Thailand's next prime minister – even one not elected to a seat in parliament.
Never one to mince his words, defence minister Prawit Wongsuwan told the media – and thus the junta's conservative backers – that the newly appointed senators would be "controllable". To make matters worse for those who believe that Thailand's premier should be elected through democratic mandate rather than effective military appointment, these hand-picked senators will serve in the nation's parliament for five years, allowing them to cast their vote not just in the current four-year prime ministerial term, but the next as well.
Given these strictures, exiled political analyst Pavin Chachavalpongpun said, many eligible voters may have seen little point in making the trip to the polls.
"To tell the truth, it's very difficult to find reasons why turnout was this low given the fact that this was a much-anticipated election," he said. "There might be a lot of people who are feeling that they might not want to become a part of a system or maybe a rule set by the junta. They just don't want to become a part of it."
But while it may seem obvious that an election run according to rules written by a military government might fall somewhat short of democracy, there are many in Thailand who appear to have made their peace with the military's seemingly permanent role preserving the nation's conservative establishment.
"I think many people refuse to accept that there is a large number of people who accept the role of the military in Thai politics – and Phalang Pracharath has been accepted by a large group of Thai people as well," Titipol said. "Perhaps some of them believe that by having the military in power at least we can have security – but this is the kind of illusion created by the military. Society is still divided, and it would be better for Thailand to accept differences without using military suppression – or suppression of freedom of expression."
But the nature of those divisions since to have changed since the cities of Thailand were filled with royalist Yellowshirts and their red-clad pro-democracy foes. Jakrapob Penkair, a Redshirt leader and former spokesman for the Thaksin government driven into exile more than a decade ago, said that Thailand's political climate could no longer be neatly divided along the colour lines that have dominated for more than a decade.
"The characterisation of Thai politics as Redshirt-Yellowshirt has been ten years old now," he said. "So the kind of notion in this fast-changing environment can get old very quickly. In other words, people start not to identify themselves as Redshirt or Yellowshirt but also in age group, income group and in other considerations as citizens of Thailand."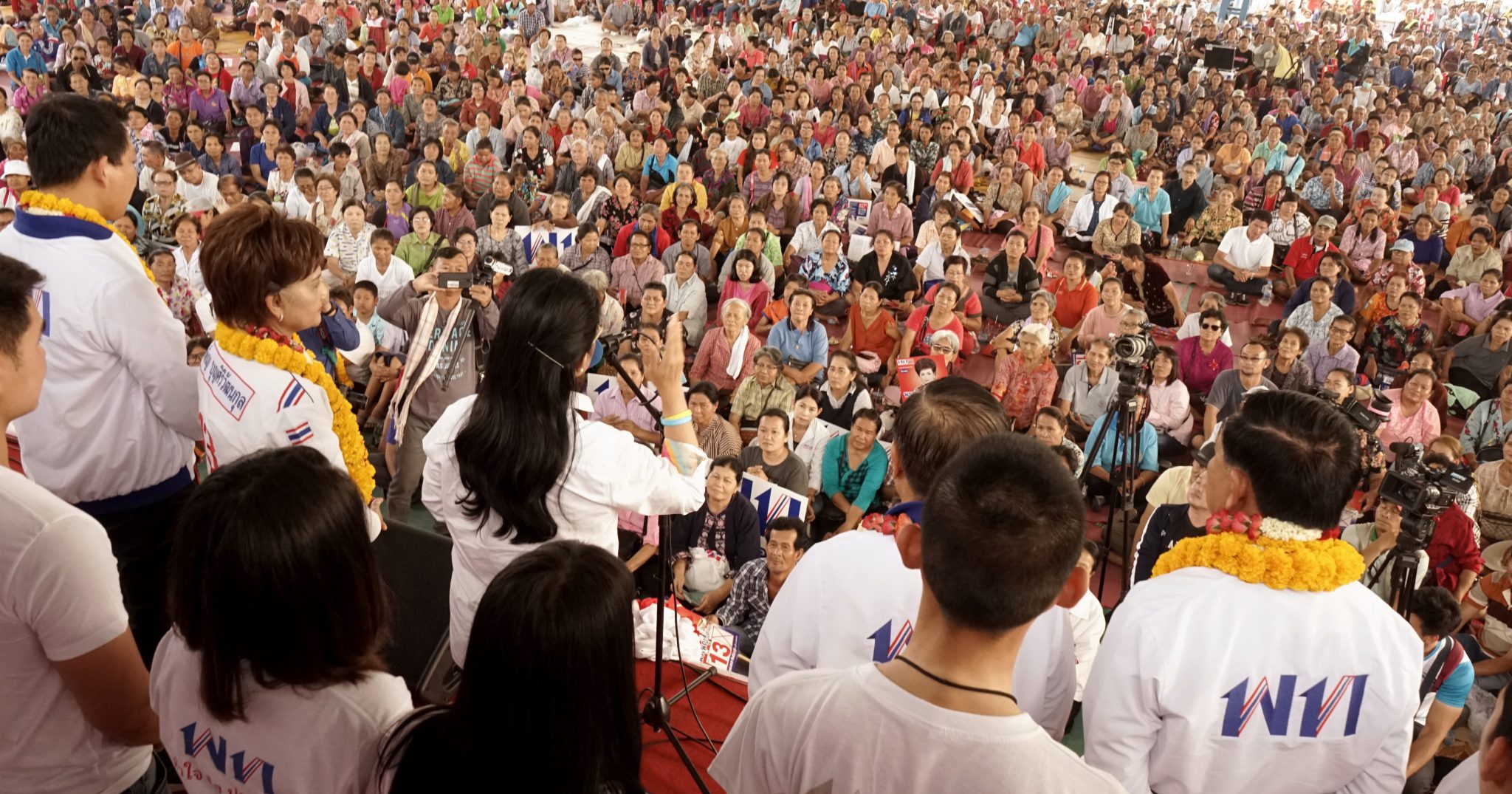 Speaking in the lead-up to the election, Jakrapob told Southeast Asia Globe that the Pheu Thai Party had to be prepared to build a bridge with a party that, while still new, had clearly captured the imagination of young voters.
"If the Future Forward Party has been immensely endorsed by the new generation, then we have to see them as an ally," he said. "Lots of younger people have a totally different source of political information than earlier generations – the earlier generations that watch TV, that go to political rallies and participate in political activities are not necessarily seeing the same picture as the people who view it through their phones and computers. Right now, they're still separate entities."
For many young voters, part of Thanathorn's appeal may lie in his willingness to challenge military might without being seen as yet another proxy for the exiled Thaksin. The Future Forward Party ran on a platform of slashing military spending by a third. The party also proposed reducing personnel numbers by half and bringing down the number of generals – of which Thailand has more than the United States – from 1,600 to 400.
The military has made it abundantly clear of the consequences of challenging its grip on power. Days before the election, several opposition political parties reported having their offices raided by soldiers without a warrant – not that they needed one under the constitution they created. Titipol described repeated accusations of the junta misusing its power to support parties aligned with the military.
"This election is intended to legitimise the military power in Thai politics rather than return the country to democracy," he said. "I don't think that we can say that this election was straightforward and transparent. The military itself, the NCPO – the coup-makers – they used the military to suppress and intimidate candidates of the opposition parties, and they monitored the opposition parties. So this is another factor that helped Phalang Pracharath to be more free in the way they campaigned."
Whatever the reason for their success, the military-aligned party is now neck-and-neck with its Pheu Thai nemesis, with both sides pledging to form a coalition government in accordance with the will of the people – the former by its victory in the popular vote, the latter by virtue of winning the most seats in parliament. For Pavin, it is a choice that leaves little room for rejoicing.
"We have two choices, and neither of them will be very good for Thailand," he said. "One of the choices is Pheu Thai forming the government, and I think it would be difficult – this will be a coalition government, and that makes it hard to build any kind of political stability. We have 250 [military-appointed] members of the upper house who will make their lives so difficult. We have a 20-year plan set out by the junta that the new government will have to comply with – to amend it is almost impossible. Any of their core policies, including withdrawing military influence from politics, it will not happen.
"The other choice is basically Prayuth coming back – Thailand will continue to be under the shadow of the military, and this election will not bring any kind of transition whatsoever."
While whatever government emerges from the coming weeks of backroom bargaining will be bound by a clause in the military-drafted constitution forcing political parties to carry out a two-decade economic plan outlined by the junta, Titipol said that the prospect of a powerful Pheu Thai Party back in the halls of parliament may prove a thorn in the side of the triumphant Phalang Pracharath.
"To some extent if we can be optimistic about Thai politics, to have such a strong opposition party in the house against the military party might not be too bad – at least they can hold the government accountable and prevent Prayuth Chan-ocha from whatever attempts he uses to accrue power – but it's still a difficult programme as well," he said.
"It won't be easy for the Pheu Thai or Future Forward Party to attempt to reform the Thai constitution or reform the military as they promised in their campaigns. And what they can do at this stage is to try their best to scrutinise this government."
More concerning, said Pavin, was the spectre of what any display of Pheu Thai strength might be met with by a military that has shown little hesitation in seizing power at gunpoint. Apirat Kongsompong, the newest leader of Thailand's armed forces – who was met with derision during the campaign with his hastily rescinded order for all radio stations to play an anti-Communist anthem closely linked with the military massacre of pro-democracy protestors at Thammasat University in 1975 – has repeatedly stressed the need for the nation's armed forces to step in at the first sign of political turmoil.
"To look ahead for the next five years, ten years, I'm not optimistic," Pavin said. "If there is some kind of miracle, should a Pheu Thai coalition become stronger and stronger over the next few months and years, then a military coup is waiting for them. The military has never shied away from talking about that possibility – and the monarchy is definitely behind them."
Patrick Jory, senior lecturer in Southeast Asian History from the University of Queensland, said that the prospect of yet another coup could not be discounted.
"A lot of people think that there will be violence at some stage," he said. "I can't make any clear predictions, but I think that the conservative establishment won't go down without a fight – they'll do whatever it takes to hold on, and if that means putting the military onto the streets and shooting people they'll do that – I've got no doubt whatsoever. Because otherwise they've lost everything."