Ministers from the European Union, Germany, Sweden and Japan have said they plan to press Aung San Suu Kyi about the humanitarian crisis when they meet in Myanmar this week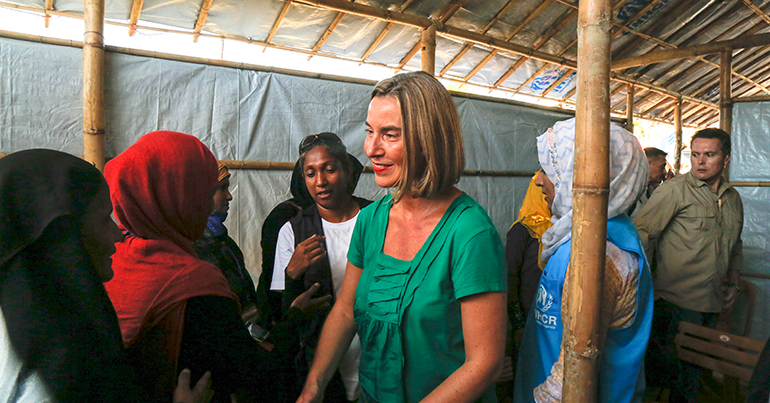 Foreign ministers representing the European Union (EU), Germany, Sweden and Japan met along the border that Bangladesh shares with Myanmar on Sunday to tour the camps that Rohingya Muslims have been forced into.
The officials arrived at the camp ahead of meetings with Myanmar's de facto leader Aung San Suu Kyi, who they will sit-down with on Monday and Tuesday during the Asia-Europe (ASEM) ministerial meeting to discuss the squalid conditions they witnessed the Rohingyas to be living in.
The EU's foreign policy chief Federica Mogherini remarked after viewing the camps that the people she had met with were "carrying with them horrible stories".
"As a mother, seeing so many very young children taking care of even younger children is what strikes me the most," she said.
The group of European delegates plan to address the situation in Bangladesh through an open dialogue with Suu Kyi in Yangon, with Mogherini saying that "rather than putting pressure, our approach is always and will be to offer a negotiation space."
The solution that the group of delegates from Asia and Europe plan to discuss comes after Suu Kyi has been stung with scorn from the international community for her handling of the refugee crisis, which has left 600,000 Muslim-minorities pushed from her country's Rakhine state into Bangladesh.
Last Monday, the Myanmar army released a report that acquitted itself of any wrongdoing when it came to the accusations of murder and rape of the Rohingyas. In the statement posted on their Facebook page, the military claimed that any act of violence that had been committed was in defence against militant groups.
US-based human rights watchdog Amnesty International later rebutted this report, saying: "Myanmar's military is trying to sweep serious violations against the Rohingya under the carpet."
The Asian and European ministers all came out in full support of finding a resolution for the refugee exodus, a situation that should prove to be at the top of the agenda during the ASEM summit starting in Myanmar on Monday.
German foreign minister Sigmar Gabriel, who was among the officials visiting the camp on Sunday, said after visiting that "it's unbelievable what is happening here".
In a move to already show their support for finding a resolution to the Rohingya crisis, UN member-states on Thursday adopted a resolution that urged Myanmar to end their military campaign against the Muslim-minority.
Related reading: