Earthship Biotecture, a global organisation that has spent the past 45 years designing and constructing buildings using garbage materials, has announced that its latest project, Earthship Island, will be built in Indonesia.
Led by architect Michael Reynolds, the project will involve building a settlement of self-sustainable homes on Kenawa island, an undeveloped paradise located in Indonesia's West Sumbawa Regency, next to Lombok island. The homes, called Earthships, harness the earth's natural heating and cooling systems and will be constructed from cans, bottles and tyres.
"We have been given the task to create a carbon footprint-free form of development," the company declared in a recent press release. "We have a jewel island in Indonesia, it is almost sacred ground for us, and we will approach it that way. We will start by dealing with the primary human needs… comfortable shelter, fresh water, clean energy, natural human waste disposal, food and slowly achieve the first Eco Region of Indonesia."
It added that the island would show an "exemplary model of how life could be on this planet".
According to the project's website, "a tropical Earthship will emerge… music will be played, snorkelling and coral exploration will happen and a virgin island will begin to support human life while that human life begins to support the island".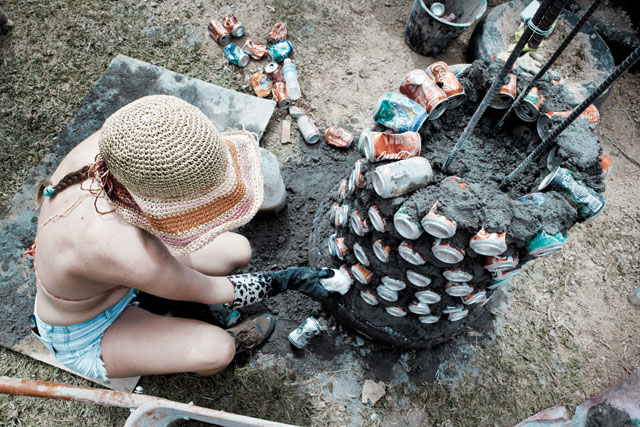 It is not the first project of its kind to have been implemented in the region. The earliest Earthship to be built in Southeast Asia was in the Andaman islands in 2004 and similar projects were launched in Cambodia and the Philippines in early 2014.
Earthship Cambodia started work on its first build in January 2014. Its leader, Samuel Salvadores, told Southeast Asia Globe that the idea of self-sustainable living spaces is becoming more popular.
"It's a growing way of doing things," said Salvadores. "If you look in Sihanoukville [Cambodia], where we are based, and in Kampot [Cambodia], where we are building, you can see that more and more people are starting to pick up the idea of using glass bottles, using tyres, using rice bags, running power off solar [energy]."
Arifsyah Nasution, a Greenpeace ocean campaigner, said that "unsustainable development is the big topic when we are addressing destruction of the coral".
According to a 2012 report entitled Reefs at Risk Revisited in the Coral Triangle, 85% of reefs in the Coral Triangle, the waters surrounding Indonesia, are directly threatened by local human activities.
Nasution stressed the need for future development to be more environmentally sustainable and called for greater governmental oversight.
"Unfortunately, until now, we don't see any kind of initiative on a larger scale on how to address the design of infrastructure. There should be policies in place which encourage people to develop sustainable infrastructure in the coastal areas," he said.
The Earthship Island project is currently calling for volunteers to help build the settlement.