The Philippine leader doubled down on his war on drugs, confronted US colonial influence and defended his handling of Communist peace talks, prompting outrage among thousands of protesters, who he then approached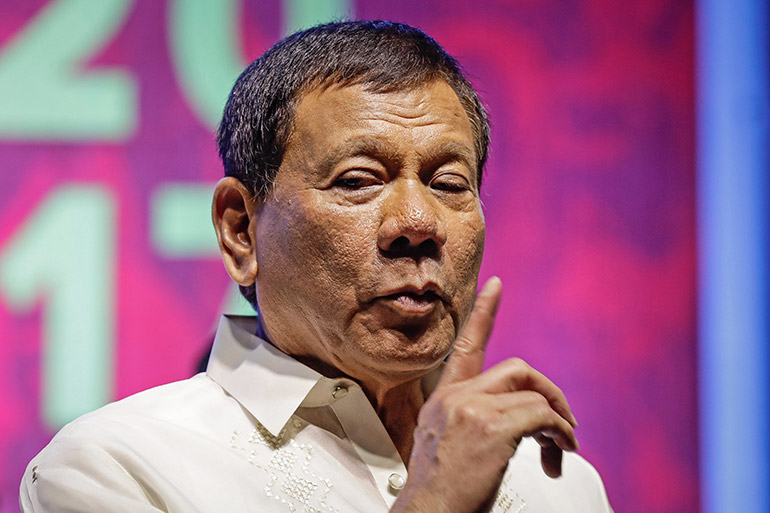 Philippine President Rodrigo Duterte appeared before the House of Representatives, or Batasan, on Monday to deliver his second constitutionally-mandated State of the Nation Address (SONA), roughly one year after assuming the presidency.
The combative and largely unscripted two-hour address was to be expected, however the president took things a step further by physically approaching protesters who had gathered outside after he finished.
The two-hour speech, entitled 'A Comfortable Life for All', ran longer than planned as Duterte often broke from the English-text teleprompter to berate critics in characteristically foul-mouthed Filipino. The pugnacious leader took potshots at critics of his devastating war on drugs, asked the US to return bells stolen from the country over a century ago, and threatened to shoot left-wing protesters, some of whom he later addressed in person.
"Do not try to scare me with prison or the International Court of Justice," he said in reference to attempts to hold him accountable for atrocities stemming from his war on drugs, which has now tallied a death toll of more than 8,000. "I'm willing to go to prison for the rest of my life."
Outside the walls of the Batasan, a group of student activists and leftist militants convened for a "People's SONA" of their own. The National Union of Students of the Philippines (NUSP) put the number of protesters at 60,000, well over police estimates of 10,000. Despite a 6,300-strong police presence, there were no reports of violence at the protests.
March marquee reaches protest site at Batasan, sandwiched between QC Polytechnic U. and C.Aquino HS. Program to be held here. #SONA2017 pic.twitter.com/yMBatsOtfu

— Rambo Talabong (@rambotalabong) July 24, 2017

The president's recent decision to extend martial law in Mindanao until the end of the year was but one of many issues animating the protests.
"We criticize [Duterte] for imposing martial law in Mindanao, because martial law and other policies he is pursuing… will just create more victims of poverty," NUSP spokesperson Mark Vincent Lim told Southeast Asia Globe over the phone from the protests, which started out at various locations throughout Quezon City before converging on the Batasan.
"Dissatisfied is an understatement," Danilo Ramos, chairperson of the Peasant Movement of the Philippines chairperson, told the Manila Bulletin. "We are appalled by Duterte's militarism. His presidency is one of unfulfilled promises and no significant change."
In a shock move, Duterte chose to confront the protesters outside the Batasan after his speech, but was quickly angered when the audience continually interrupted him with calls for the continuation of peace talks with Communists.
"You can shout at me here and disrespect me but this is the last time that I will talk to you," said Duterte, according to AP. "You cannot ambush me and ask me to talk to you."