The offer from the incumbent Najib Razak, embroiled by scandal in the halls of power, highlights the importance of winning the rural vote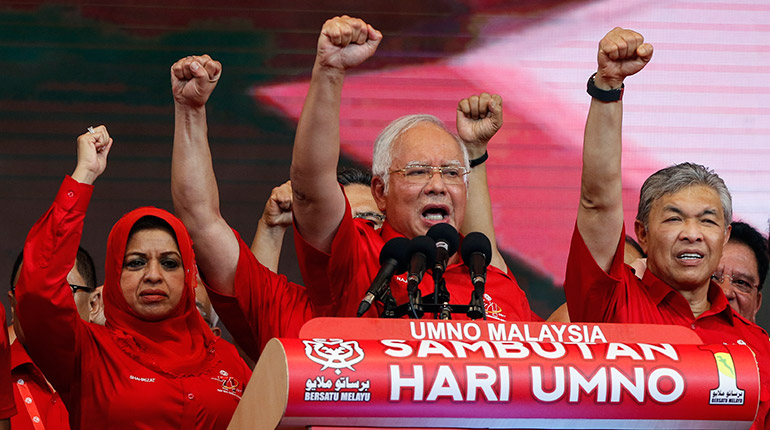 Prime Minister Najib Razak on Sunday announced that hundreds of millions of dollars in aid will be given to palm oil farmers, a key electoral base for Malaysia's politicians, in an effort to secure votes ahead of a general election that could be called within months.
Speaking to tens of thousands of farmers in the administrative capital Putrajaya, south of Kuala Lumpur, Najib said 94,956 families working on government-sponsored farms will be given $1,167 each, or 5,000 ringgit, a total government outlay of roughly $105 million.
"Putrajaya would not have existed without the Felda settlers," he told the crowd, according to the state-run news agency Bernama,  referring to the Federal Land Development Authority, government agency set up by a 1956 to support rural residents and small-holding farmers.
In addition to the handouts, more than $220 million will go towards paying the debts of farmers working for the authority.
The settlers were given land decades ago during Malaysia's independence movement. In 2012, the world's third-largest palm oil operator opened the commercial arm of its operations, Felda Global Ventures Holdings (FGV), in a bid to improve the lot of the country's rural poor.
But the agency has been embroiled in a corruption scandal that has led to the suspension of FGV's chief executive and chief financial officer and caused the commercial unit's share value to plunge by close to 70%. The loss in value has outraged farmers, many of whom took out loans to buy FGV shares following its $3 billion listing in 2012.
Felda settlers make up the majority voters in at least 54 constituencies of the 222 parliamentary seats. It is widely believed that Najib needs these farming votes if his coalition is to prolong its 60-year rule.  

While the deadline for the next general election is not until mid-2018, politicians and analysts have indicated it could come by the end of this year as Najib is expected to take advantage of an economic recovery and capitalise on a currently fractured opposition.
Keenly aware of the need to win over the rural vote, Najib has actively courted farmers in recent months. In June, he told people working on government-sponsored plantations that their "welfare was guaranteed" as long as he was prime minister, a pledge he reaffirmed on Sunday.
"Felda's agenda is close to my heart," he said, according to Bloomberg. "Without the Felda community, it's not possible that Putrajaya would be held by the government," he added, referring to the country's administrative center.
In a further bid to woo the more than 17,600 settlers who had fallen out with Felda over various issues, Najib said farmers who had taken out loans to buy shares in the government agency would see part of their outstanding debt forgiven.
"If there are any shortcomings, we will fix them together," he said.