The sun inches up, emerging over rolling mountain peaks shrouded in fog. Roosters herald a new day as a leisurely procession of women carries baskets of alms to the local temple. Children don school uniforms while their parents open their shops or gather farm tools.
Suddenly, the crackle of a loudspeaker interrupts this peaceful morning. A voice informs residents of travel logistics for a trip to the provincial courthouse later that morning, where the entire community is to face criminal charges laid by a neighbouring mining company.
This is Na Nong Bong, a string of six villages in Loei province, northeastern Thailand. The area is renowned for its stunning peaks and, more recently, a contentious gold mine from which dangerous chemicals and heavy metals have spewed, contaminating the local water supply, according to villagers.
The mine is owned and operated by TKL, a subsidiary of Tongkah Harbor, Thailand's largest gold-mining company. Founded in 1991, it was granted a concession for gold exploration and mining in Loei. In 2006, excavation and operations began at TKL's first mine, located in Loei's Khao Luang sub-district, just a kilometre away from Na Nong Bong.
Not long after TKL began operations, residents began noticing changes in their environment and health. "A few years after the mine arrived we began to smell the chemicals," said Padcharin Buphan, a 34-year-old from Gok Sathon, the village closest to the mine's factory and processing site. "Around this time we also started to notice the environment changing. Crops started decreasing and fish were dying. Though I didn't fully understand it yet, I knew something was wrong."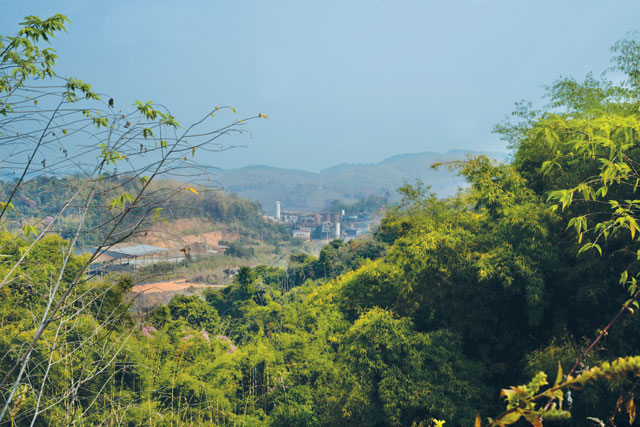 Villagers began to observe a disturbing rise in health issues, including chronic headaches, eye pain, blackouts, vertigo and abnormal rashes all over their bodies.
Since the arrival of the mine, local livelihoods and subsistence farming have been shattered, with rice yields decreasing by up to two-thirds. Now unable to support themselves through traditional means, most families have at least one member migrating for work.
In 2007, community members organised into an advocacy group named People Who Conserve Their Hometown (PWCTH). Their first action was to petition the Ministry of Health (MoH) for water tests and health evaluations. In response, the provincial health office conducted health screenings in January 2008 and February 2011. Of the villagers tested, 20% had dangerously high levels of cyanide in their blood and 7% had mercury poisoning.
In February 2009, results of the first public groundwater tests showed that water throughout Khao Luang sub-district was contaminated with high levels of cyanide, mercury and arsenic, as well as heavy metals including manganese, cadmium and lead. The MoH instructed residents to stop drinking, bathing and otherwise using the local water, and in late 2012 the Loei provincial government began piping clean water into the community.
TKL promised mining would have minimal impact on local communities and would boost the local economy. It never mentioned the dangerous chemicals inherent in open-pit gold mining, which involves using cyanide and other substances to extract gold from ore.
One man in particular has felt the full consequences of contamination. Suwat Jutnai, 61, has been a farmer in Gok Sathon for 30 years. His land is located directly downstream from TKL's tailings pond where waste chemicals are stored following the extraction process.
My family eventually stopped eating fish and food gathered from the land, but we still had to eat our rice because we live on rice and we are just poor farmers

Suwat Jutnai
In January 2011, Suwat finally had his blood tested. His results showed extreme cyanide poisoning: 0.55 micrograms per millilitre of blood (standard levels are 0.02 and below). He was diagnosed with severe nerve damage and his health has progressively deteriorated since. His whole body aches constantly and he suffers from short-term memory loss, migraines and muscle atrophy, among other symptoms. He has not been able to walk for two years now.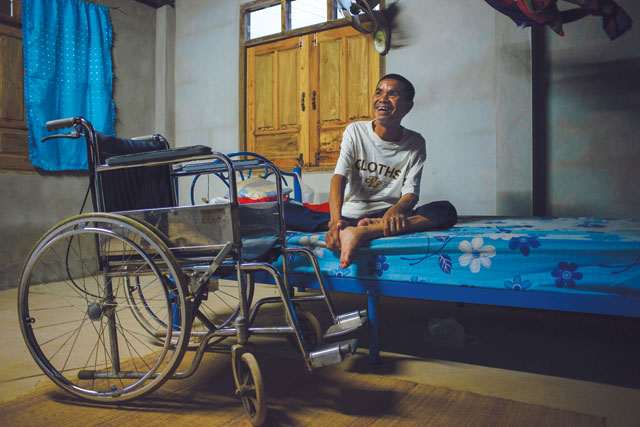 Contamination has become more frequent. Since late 2012, the tailings pond has collapsed several times. Although the company claims spills were contained, residents allege that more chemicals flooded into their streams and fields.
In 2009, TKL began the process of obtaining a second mining permit, close to Na Nong Bong. Under a 2010 cabinet resolution, companies are now required to hold public hearings before being granted mining concessions. However, when members of the affected communities arrived for hearings in Loei city in December 2012 and again in September 2013, they were met by more than 500 armed police, ostensibly to 'protect' the meeting from protesting villagers.
In response, PHCTH took radical measures against the mine, erecting a brick wall to block the road entrance to the mine in September last year. "If we don't [take action] they're going to expand and pay their way to get permits again. Negotiation on policy hasn't worked, so we had to take more drastic measures," said Samai Pakmee, a community leader and prominent activist.
The wall was placed where the road the company uses to transfer rocks intersects a public road connecting villages. Na Nong Bong villagers established informal 'community law' prohibiting trucks carrying more than 15 tonnes or transferring any hazardous chemicals through their community, thus arguing TKL trucks cannot cross this intersection.
Two days after the wall was built, armed thugs arrived at dusk and destroyed it. Community members said they had faced intimidation before and refused to give in. They rebuilt the wall immediately – this time with deeply dug concrete pillars. TKL has now filed both criminal charges – alleging the villagers damaged company property – and a lawsuit claiming 50 million baht (roughly $1.6m) in lost profits. The first court hearing on the criminal charges was held on February 17.
Dr Wichai Cherdshewasart, current chairman of Tongkah Harbor's executive board, insists that they want to work directly with the community. "We want to live as friends," he told the Southeast Asia Globe in an interview at the company's headquarters in Bangkok.
He denies TKL is in any way responsible for contamination and that the mine has had any negative impacts. Instead, he frames the conflict as a land struggle, arguing that villagers want to acquire the company's land to grow rubber trees. "This is not a struggle for survival, but a struggle for land and business," he said. In his view, it is the community, not the company, that has resisted negotiation.
Rather than looking the other way, Thai government regulators need to get tough with these kinds of projects that have such damaging impacts on community health.

Phil Robertson
It is difficult to predict how the Thai legal system will handle the case. Historically, Isaan region – where Loei is located – has been socially, economically and politically marginalised by the central Thai state.
"Sadly, Thailand has a long history of these kinds of natural resource extraction projects that hurt local villagers but only benefit far-off elites," said Phil Robertson, deputy director of the Asia Division at Human Rights Watch, in specific reference to the Loei case.
This is more urgent than ever with gold ore having been discovered and prospected in Laos, Cambodia and Myanmar. TKL plans to shift focus to Xiangkhouang province in northern Laos where it has been granted a concession of roughly 37,000 hectares. When asked why it will be easier to operate in Laos than in Thailand, Cherdshewasart said the Lao government has a "good policy" where they can forcefully move residents away from mining areas. When asked what happens if residents don't want to move, he shrugged and said: "They [the Lao government] can do this because there the communist law is law."
For the affected in Na Nong Bong, however, the damage has already been done. Mitigating the impact and preventing future mines is their only option.
"The company and the government work together and are very powerful," Padcharin Buphan reflected, just hours before she was set to leave her husband and children – as she must do every month now – to sell lottery tickets in Bangkok. "If we don't unite to be strong as a group, our community will fall apart."