It's handshakes all round as India enters the race to woo strategically placed Myanmar
By Tridivesh Singh Maini
With political reforms in Myanmar underway, along with aggressive hard selling of the country's economic potential by the Thein Sein regime, a large number of countries are vying to increase economic engagement with the country, or risk losing out. India is no exception.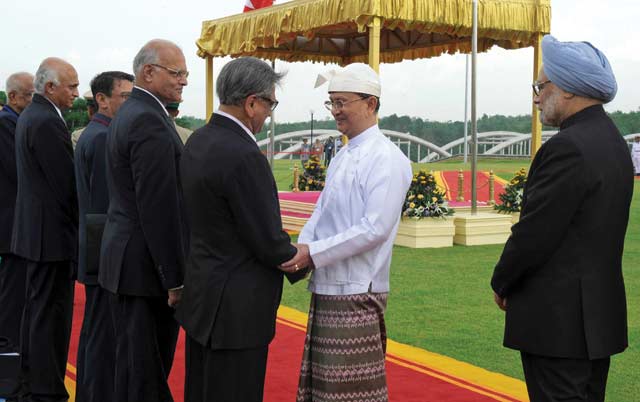 Beset by domestic and foreign policy challenges on home soil that have seen the government's economic plans stymied, engagement with Myanmar is high on India's agenda. This is no better evidenced than by Prime Minister Manmohan Singh's historic visit to Myanmar in May, when he became the first Indian leader to visit the country since 1987. His high-powered entourage included some of India's biggest corporate giants, including telecoms tycoon Sunil Bharti Mittal, chairman of mobile giant Bharti Airtel, and the CEO of Jubilant Energy, which won a drilling contract for an onshore oil and gas exploration block in Myanmar during the trip.
India, which in British colonial days oversaw the monetary and financial system of what was then Burma, is seeking to make up lost ground in the charge to secure resources and business ties in Myanmar, the only Asean country with which it shares a border.
During the three-day trip, the two sides signed a slew of agreements strengthening political, strategic and economic ties. The most notable agreement was  a memorandum of understanding that India's Export-Import Bank will provide a $500m line of credit to Myanmar's Foreign Trade Bank. With a struggling economy, Myanmar has already identified the money will be spent on agriculture and irrigation, two areas that are expected to receive greater financial attention in coming years. Health, education, mineral resources and pharmaceuticals are being touted as other key areas of cooperation.
Singh also announced a new bus service between India's northeast and the tourist city of Mandalay and the opening of branches of Indian banks, such as the Union Bank of India in Yangon, which will work towards achieving the agreed goal of doubling bilateral trade from $1.3 billon to $3 billion by 2015.
Sharing a 1,600km-long border, it is no surprise that security issues are taking a pivotal position in revived diplomatic relations between the two countries. India has pledged to train Myanmar army personnel, providing more non-weapon equipment in its efforts to step up military ties with its neighbour, which has become a haven for northeastern Indian separatist groups planning attacks on India. In response to a recent bout of unrest in the state of Assam, the Indian government has implemented stringent border controls in its states of Manipur and Mizoram.
Meanwhile, Myanmar has cracked down on Indian rebel guerrillas seeking refuge in its forests. Widespread inter-ethnic clashes between the Rohingya Muslim community and the Buddhists in the Rakhine region of Myanmar prompted the migration of some Rohingya to northeastern India, which has arrested some 1,400 Rohingyas trying to enter the country illegally in the past two years.
Yet efforts to boost cross-border trade, which accounts for just 1% of total trade, show that both governments are beginning to see the opportunities border regions offer outside the realm of defence planning. 'Connectivity' has become a heavily used term in diplomatic dialogue between the two countries, whose relations are rooted in shared historical, ethnic, cultural and religious ties.
Both sides hope that cultural exchanges and more people-to-people interaction will tighten ties, ultimately fostering stronger economic relations. As such India and Myanmar plan to strengthen rail, road and waterway connectivity and open border markets, or haats, in a bid to mirror China's astounding success in converting its border regions into economic hubs. Poor infrastructure linking northeast India to Myanmar stands in shabby embarrassment compared to Myanmar's road links to China's Yunnan province, a former backwater that has emerged as a trade gateway, with impressive economic growth in recent years.
Undoubtedly, Myanmar has become a strategic battleground between Asia's strongest economies, with China – Myanmar's largest trading partner – focusing on extracting its natural resources such as natural gas, gems, timber and rubber, as well as electricity from hydroelectric power. For India to to catch up, it desperately needs to improve infrastructure in the neglected border regions. It only needs to look at its links with Pakistan to know that borders can act as bridges, not just outposts.


Also view
"Building blocks" – Are cash-rich pension funds the answer to financing Asean's massive infrastructure upgrade?