Crown Prince Maha Vajiralongkorn, the only son and heir apparent of Thailand's recently deceased King Bhumibol Adulyadej, is expected to assume the throne. However, his attention-grabbing behaviour and controversial political alliances have many worried
Following the death of Thailand's King Bhumibol Adulyadej, or Rama IX, on Thursday, attention has turned to his heir apparent, Crown Prince Maha Vajiralongkorn, a deeply polarising figure in Thailand due to his bombastic personality and high-flying behaviour.
Born on 28 July 1952 at Bangkok's Royal Dusit Palace, the 64-year-old Vajiralongkorn is the only son of the late King and Queen Sirikrit, and was named successor to the throne in 1972.  A highly decorated officer in the Thai military, Vajiralongkorn attended Australia's Royal Military College, Duntroon, and trained with British, Australian and US armed forces. He is a qualified helicopter pilot and participated in military operations against the Communist Party of Thailand in the 1970s.
While Vajiralongkorn is expected to take the crown, Prime Minister Prayuth Chan-ocha told reporters on Thursday that the Crown Prince did not wish to be immediately named king. "He said at present, he is the heir apparent. But he would like to take some time to mourn together with the people of Thailand," Prayuth said.
Royalty is deeply revered in Thailand, but Vajiralongkorn is deeply unpopular throughout the country, largely due to his headline-grabbing antics – some absurd, and others chilling.
In 2014, he divorced his third wife, Princess Srirasmi, following the arrests of Srirasmi's close relatives who were accused of involvement in illicit activities including extortion, oil smuggling and violating the country's lèse-majesté laws, which prohibit any critical mention of Thai royalty.  She was stripped of her royal titles and returned to life as a commoner, taking her former name of Miss Srirasmi Suwadee.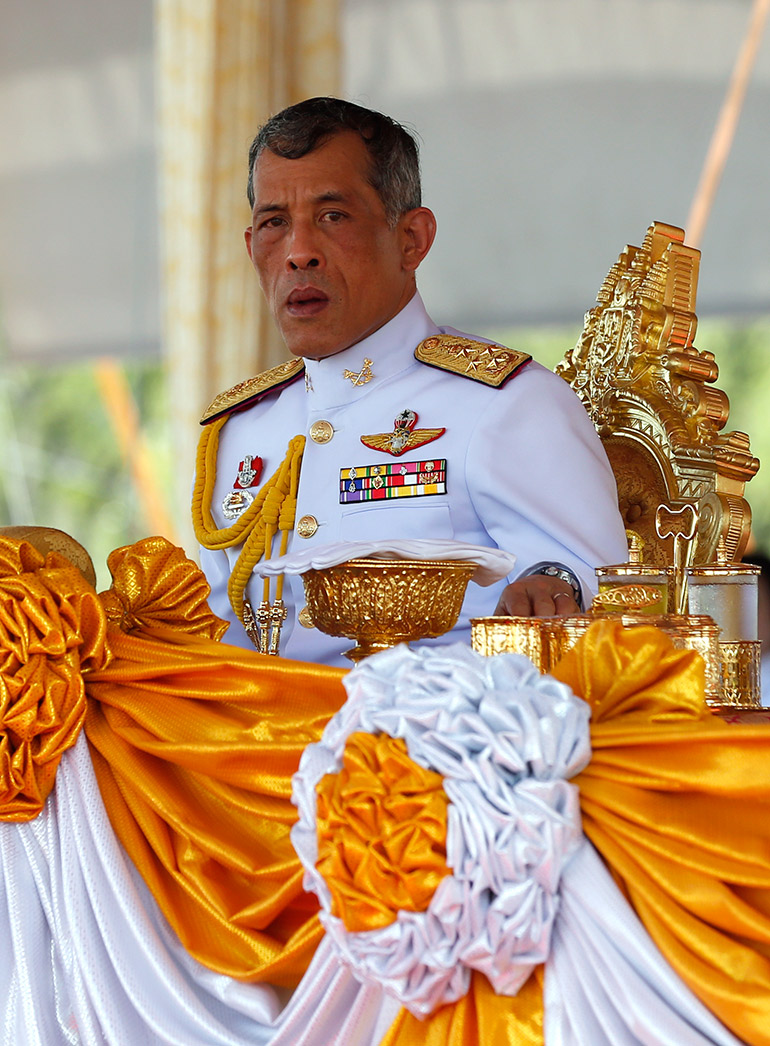 He also has four sons by his second marriage who have been stripped of their names and titles, and are now living in exile in the US. He disowned them in 1997 when he severed ties with their mother.
Last year, three members of the Crown Prince's inner circle were murdered in army custody in Bangkok, with the motives unknown. "It was claimed that two committed suicide and one died of blood poisoning," wrote Andrew MacGregor Marshall, a British journalist who has written extensively on the Thai monarchy, "but the reality is that they were killed and it is inconceivable this could have happened without the prince's approval."
Among the controversies surrounding the Crown Prince was video leaked in 2007 that shows Princess Srirasmi lying scantily-clad next to her birthday cake during a 2001 celebration and 'air chief marshal Foo Foo, the Crown Prince's late poodle that was awarded a senior ranking in the Thai Royal Air Force. The dog was given four days of Buddhist funeral rites after dying in February 2015.
More recently, a photograph released in July stirred up more controversy, showing Vajiralongkorn at Munich airport dressed in jeans and a crop top, with parts of his body visibly covered in temporary tattoos.
A US diplomatic cable leaked in 2010 revealed that some Thai officials had implied to the US ambassador that the country would be better off if the Crown Prince did not become King. During the discussions, former Prime Minister Anand Panyarachun said he believed the Crown Prince would succeed his father, but there could be complications if he was unable to stay out of politics or avoid embarrassing financial transactions. "After a pause, Anand added that the consensus view among many Thai was that the Crown Prince could not stop either, nor would he be able, at age 57, to rectify his behaviour," the cable reads.
Also drawing attention has been the Crown Prince's relationship to ousted prime minister and business tycoon Thaksin Shinawatra, who gifted Vajiralongkorn with a luxury car when he was elected in 2001. Some say the fear that Vajiralongkorn would find support among Thaksin's voters may have contributed to the country's 2006 and 2014 coups, which respectively removed Shinawatra and his sister, Yingluck Shinawatra, from their positions as prime minister.
Pavin Chachavalpongpun, a Thai political scholar currently in self-imposed exiled in Japan, said that Vajiralongkorn would likely consolidate his relationship with Prayuth and the country's ruling military junta.
"It is likely that he will cling on to the military as a key ally," said Pavin. "In so doing, he might not be ready to work with democratic institutions. This could be bad news for Thailand."
Many ruling elites hoped that King Bhumibol would appoint his daughter, Princess Maha Chakri Sirindhorn, but the country has never had a ruling queen, and laws of succession call for a male heir to the throne. While the future of the Thai monarchy is in doubt, Crown Prince Vajiralongkorn is still set to become King Rama X.