The skeletal exterior of one of the newest coal power plants in Cambodia sat silent amongst farmland in Oddar Meanchey. On a still afternoon at the very end of June, weeds entangling brick stacks, cement mixers and truck tires showed construction at the Han Seng plant had been long paused.
Locals toasting to happy hour down the road from the front gate of the site complained of months of delayed pay for a relative working there as a security guard, adding there was no set date for operations to resume. There was little more information at the nearby Ou Svay commune hall.
"Maybe the plan changed to complete construction by 2025?" questioned Roeun Phearin, who was a commune consultant for the plant. "The construction is now paused and we don't know the reason because it is the internal information of the company."
Cambodia bet big on coal in 2020. The Kingdom doubled down on fossil fuel that year with plans to develop three coal power plants to meet rising electricity demand and, in the process, flip most of Cambodia's power production from renewable sources to coal.
The move bucked the global push for clean energy and dismayed sustainability advocates, but the announced plants are now facing years of delay – raising questions about when, or if, the Kingdom's last coal projects will go online.
When announced, all three plants were attached to China's infrastructure-focused Belt and Road Initiative. But while China's 2021 pledge to cut support for coal power abroad killed projects elsewhere in Southeast Asia, Cambodia's plans appeared to survive the chopping block.
Southeast Asia Globe documented the slate of projects across three provinces, as well as Cambodia's original coal-fired power plant. Of these three sites – which the Cambodian government pledged are its last coal plants – two are in varying stages of inertia. The third is finished and operational.
In deep-rural Oddar Meanchey province, the 265-megawatt, semi-built Han Seng project missed its deadline to go online last year. Falling revenue for the Chinese companies in charge pivoted the project to new contractors, who are sticking with coal – but also now investing in solar energy at the same plant.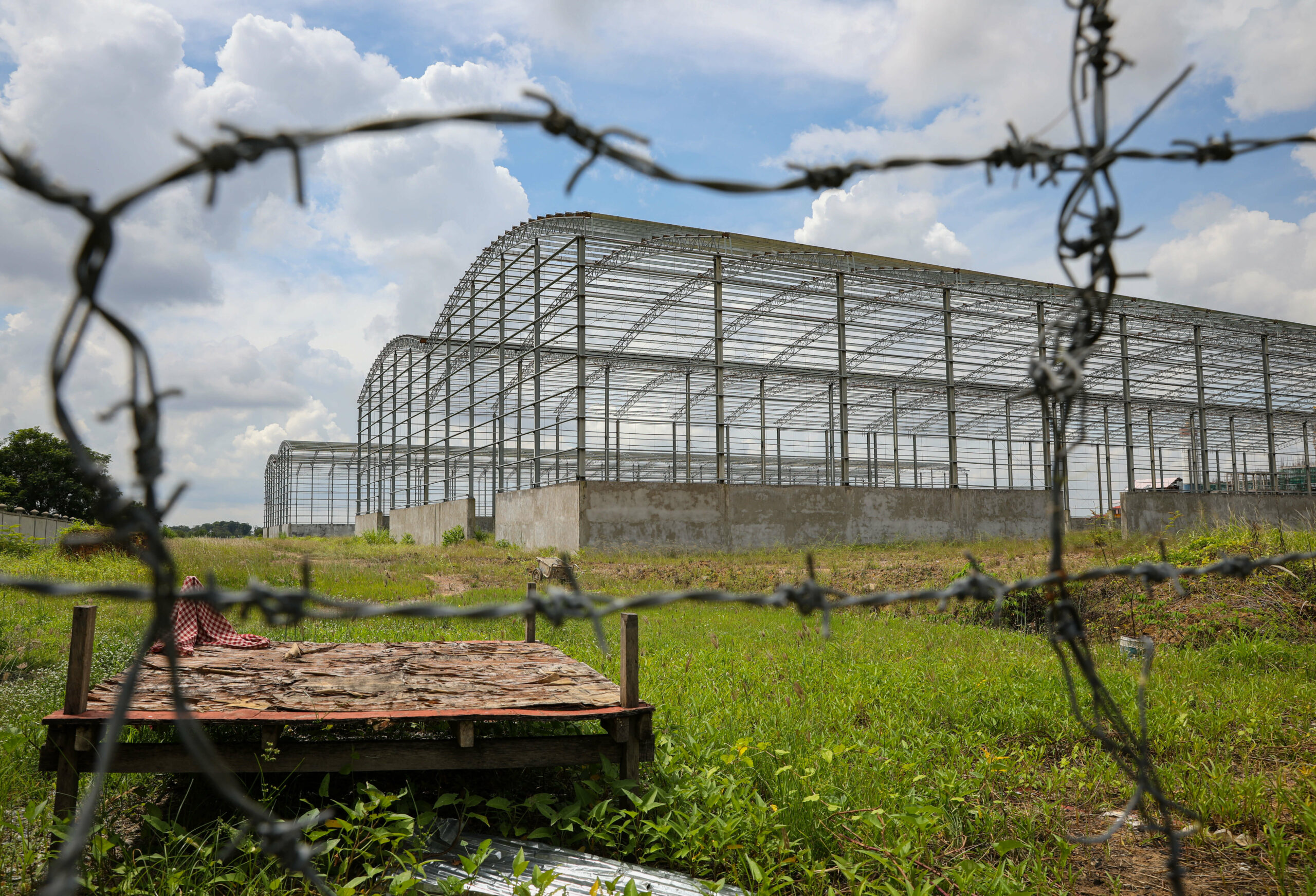 ---
Meanwhile, near the coast in Koh Kong province, the politically connected Royal Group conglomerate has yet to even break ground on a 700-megawatt power plant initially scheduled to go online this year. Former residents of the area allege unfair deals and heavy-handed evictions.
Finally, just across the Bay of Kampong Som in Sihanoukville province, Cambodia International Investment Development Group's (CIIDG) new 700-megawatt coal project appears to be the only of the three to hit its expected completion targets.
Just down the same road from it in Steung Hav district is another plant, the 250-megawatt Cambodian Energy Limited (CEL) coal complex, which was the first of its kind in the Kingdom. Local residents fear for the effects these power plants could have on their health and environment.
"This is not good for us," said fisherman Hang Dara, who left his job as an electrician at CEL because of health concerns. "But it will be much worse for the next generation in this province since they now have even more coal projects."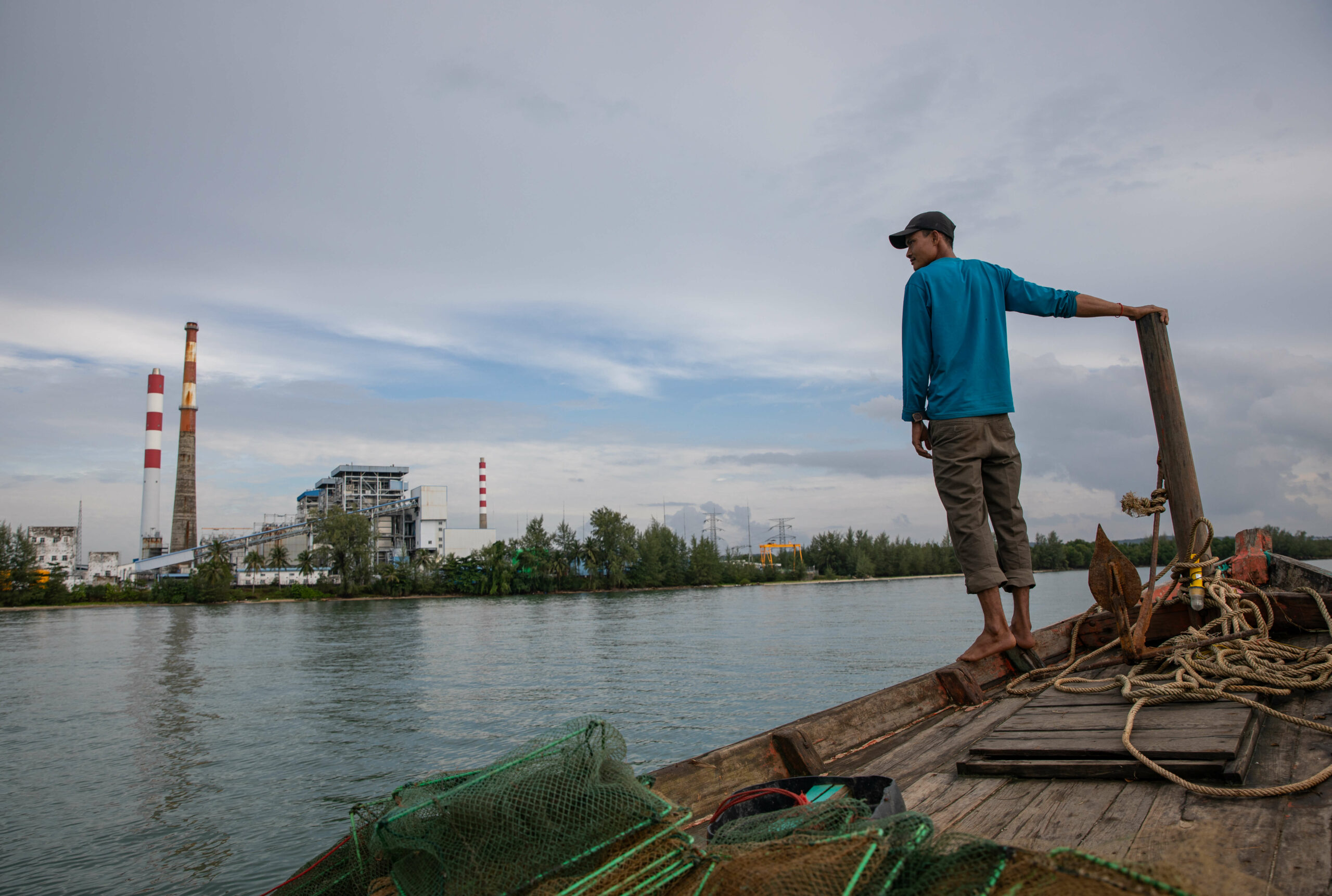 ---
Future of fossil fuels
While addressing the U.N. in 2021 and in order to stay "committed to harmony between man and nature", President Xi Jinping pledged China would stop building coal-fired power projects abroad and step up support for renewables and low-carbon energy.
As a major financier and equipper of coal-fired power plants, China's announcement was hailed as a major step toward achieving the Paris Agreement's goal to limit global temperature rise by cutting greenhouse gas emissions.
The fate of 77 Chinese-backed coal projects around the world that were in varying stages of development before Xi's pledge were still uncertain as of October, according to the Helsinki-based Centre for Research on Energy and Clean Air (CREA).
Almost half of those power plants would be in Southeast Asia.
If these 37 projects in Indonesia, Vietnam, Laos, Cambodia and the Philippines are operated for their standard 25-to-30-year lifespans, CREA calculated they'd emit a total of nearly 4,230 million tons of carbon. That's a little less than U.S. emissions for just last year, the centre said.
---
The three coal projects in Cambodia continued after China's pledge, but 14 power plants were officially cancelled in Indonesia and Vietnam, according to CREA, nixing the production of 15.6 gigawatts of coal-fired energy.
"With the very dramatic drop of costs for clean energy and the increase of costs for coal, the Cambodian government has the chance to re-evaluate if those coal plants are the best way to meet Cambodia's power needs," said Lauri Myllyvirta, lead analyst at CREA.
Cambodia is opting into an especially precarious position, Myllyvirta said, as the country mostly depends on foreign imports of coal.
"The wild swings in coal prices and global coal markets in the past three years have vividly demonstrated the economic risks of depending on fossil fuels," he said, adding that price fluctuations would only "become more volatile."
In 2021, Cambodia imported approximately $222 million worth of coal, according to records from the U.N. Comtrade Database processed by Harvard Growth Lab's Atlas of Economic Complexity.
The trade data underlines the role of Indonesia as Cambodia's largest coal exporter for more than a decade. Nearly 85% of coal imported by Cambodia from 2012 to 2021 came from Indonesia.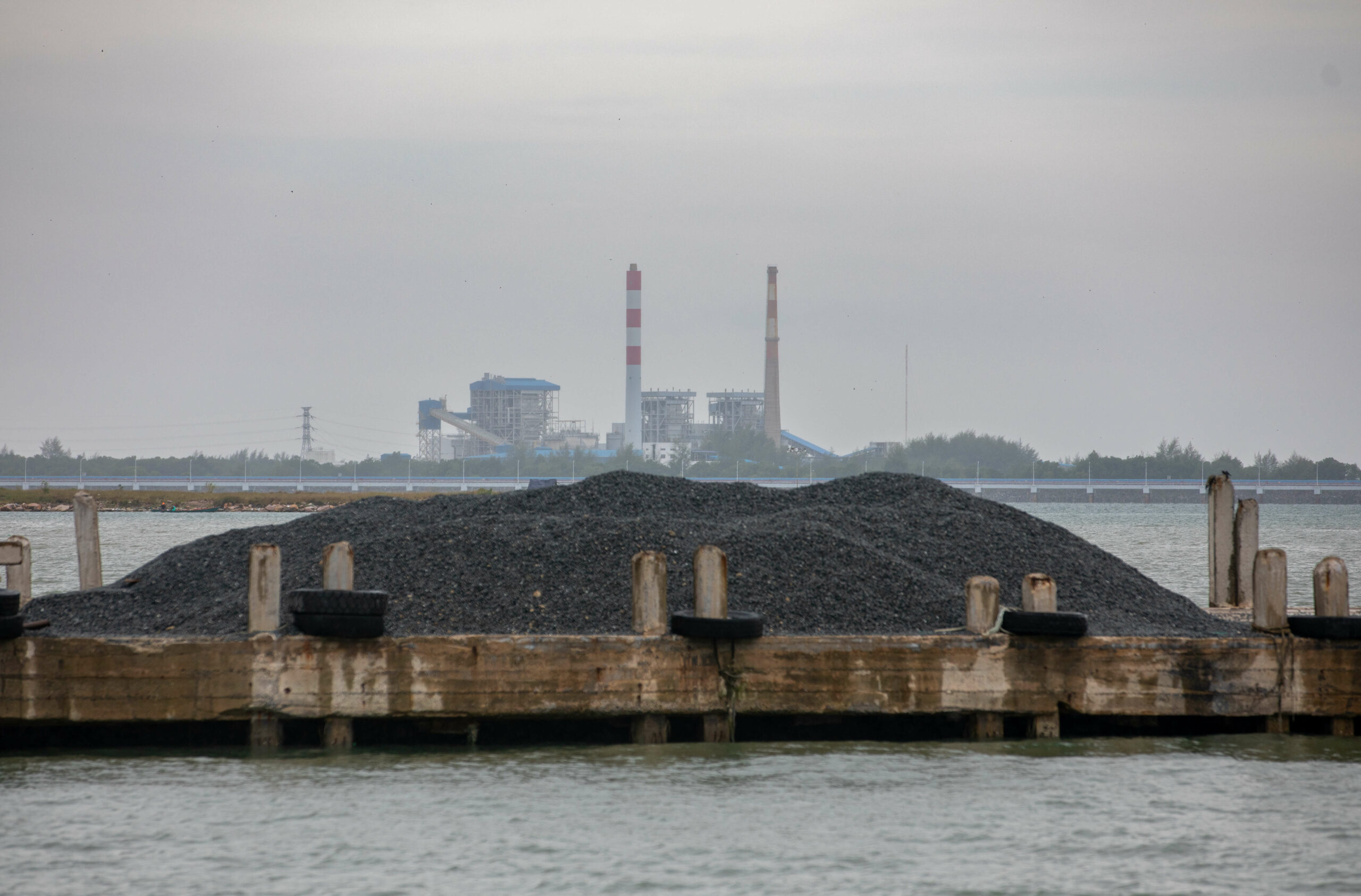 ---
Zulfikar Yurnaidi, a senior officer at the ASEAN Centre for Energy in Jakarta, agreed with Myllyvirta that the future of coal is increasingly uncertain. Yurnaidi said the international "allergy towards coal" continues to be an unaddressed ASEAN issue.
"We cannot wish coal and fossil fuels gone right away," Yurnaidi said. "Support from foreign financial institutions is still required. Maybe not to install a dirty power plant, but to help us reach the end goal of reducing emissions by upgrading fossil fuels and investing in renewable energy."
As coal funding runs dry, international climate finance has risen in Southeast Asia with millions of dollars going into the 'just energy' transitions in Vietnam and Indonesia. After the third Belt and Road Forum in mid-October, Cambodia's Prime Minister Hun Manet announced Chinese state-owned power companies had offered the Kingdom more than $600 million for renewable energy projects.
Despite foreign funding, Yurnaidi said ASEAN's emphasis on economic growth will continue to require coal while bloc member-states shift to renewable energy sources.
"ASEAN is a very huge ship with hundreds of millions of people and trillions in GDP," Yurnaidi said. "With the energy transition, we know this ship needs to take a turn. But we cannot just make a sudden roundabout because then everyone will fall into the sea."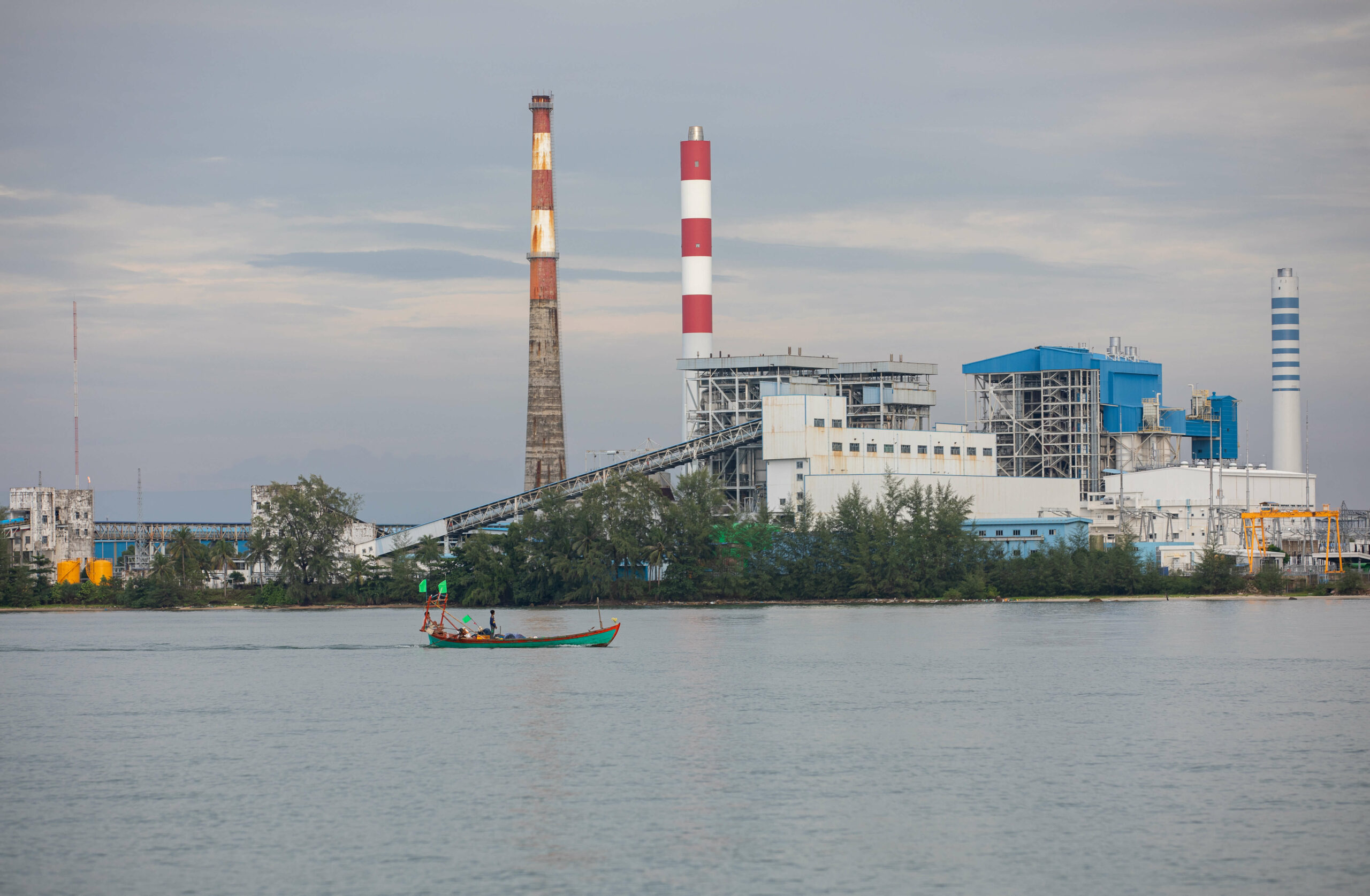 ---
Counting on coal
Cambodia's bet on coal seemed to embody that idea.
In the aftermath of Covid-19, Cambodia's Power Development Master Plan charts the way for the country's energy expansion from 2022 to 2040 and predicts a steady rise in national demand for energy.
The first five years of every "energy scenario" within the plan prioritises the development of Cambodia's proposed roster of three new coal sites.
At a meeting before the 26th U.N. Climate Change Conference in 2021, also known as COP26, Cambodia's Minister of Mines and Energy Suy Sem said the country would no longer approve additional coal projects.
---
The years of construction delays facing two of the power plants have some experts wary of potential energy shortages. Chea Sophorn, an energy project manager who specialises in renewable developments, said shortages would depend on how quickly the Kingdom's post-Covid economy, and thus energy demand, recovers.
But with international investors turning away from fossil fuels, Sophorn emphasised that securing support to jump-start the two stalled projects could be difficult.
"What type of investor will still be able to finance stranded assets like this?" questioned Sophorn, explaining that without China there are few to no places for these projects to turn.
Cheap Sour, an official with the Ministry of Mines and Energy, declined to comment and referred to the ministry spokesman, Heng Kunleang, who left Globe's text and voice messages on read. Eung Dipola, the director-general of the ministry's Department of Minerals, was unavailable for comment.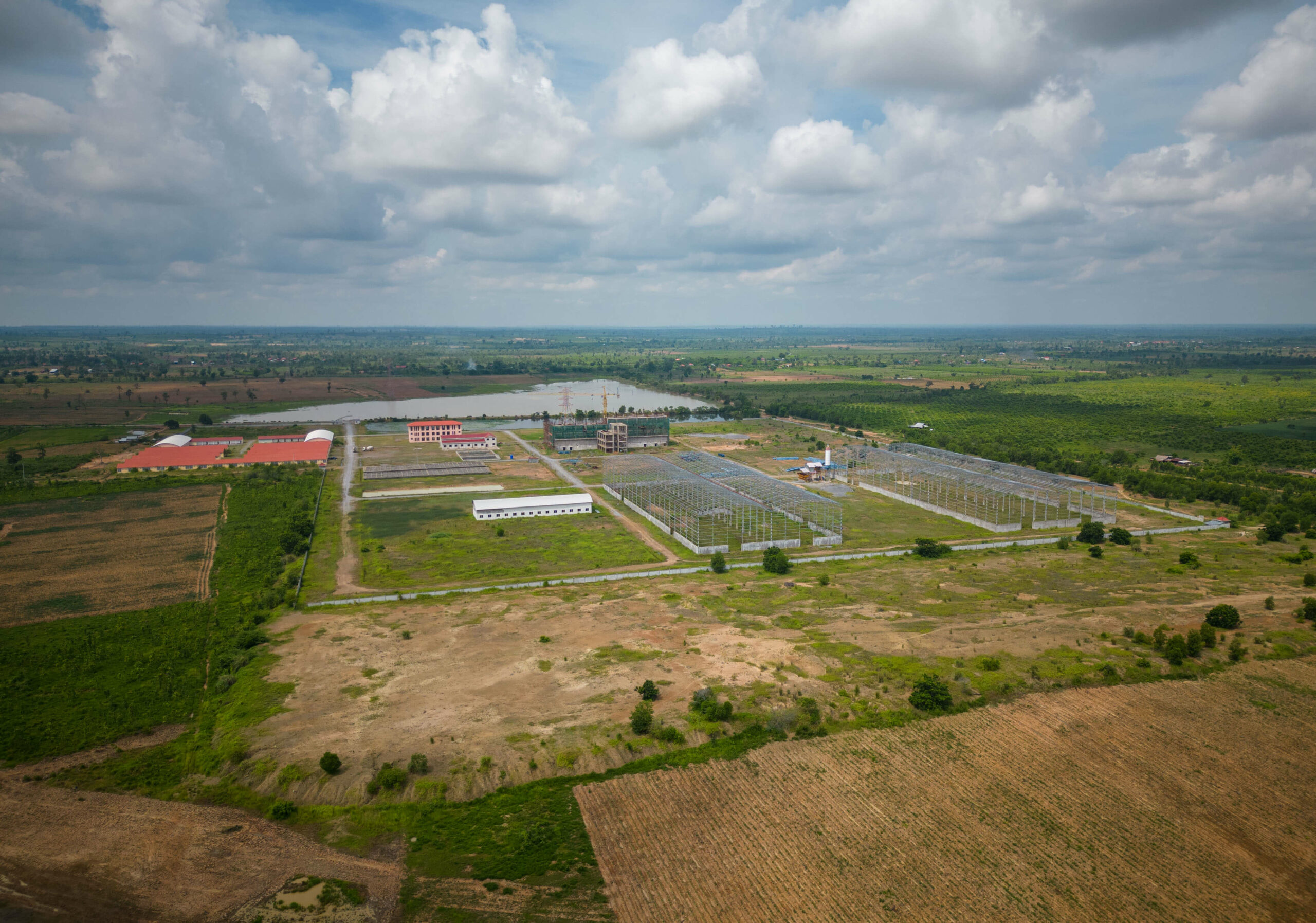 ---
Construction in Cambodia
In Oddar Meanchey, financial difficulties have already pushed the companies backing the $370 million Han Seng power plant to pivot.
The state-owned Guodian Kangneng Technology Stock Co. suffered a massive decrease in its net profit for shareholders in the first half of last year and brought in a new contractor, Huazi International, in September.
The plan to install 265 megawatts of coal-fired power hasn't changed – but Huazi has since announced intentions to add 200 megawatts of solar capacity to the site. This is the first time any other type of energy production has been associated with the struggling Han Seng power plant.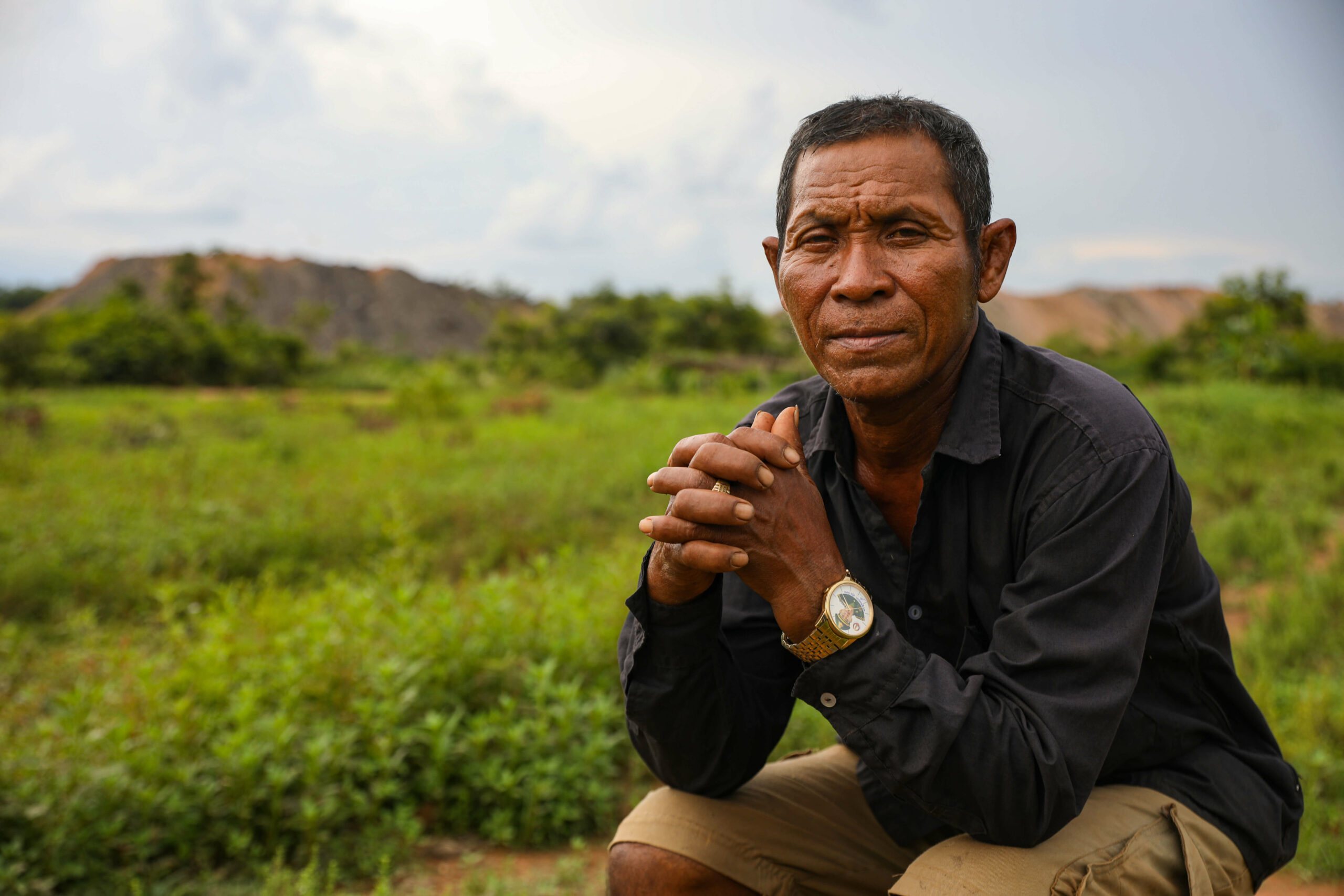 Just two kilometres from the semi-constructed project site, the Yun Khean coal mine, which would supposedly one day supply the plant, is operating as usual.
Boy Troch, who lives a stone's throw away from the mine's slag heaps, believes mining operations contaminated the groundwater beneath his farm, damaging crops and sickening wildlife.
"There are a lot of lands affected by the mine, but village and commune chiefs do not care," Troch said, pointing at shifting heaps of coal-streaked earth across the road from his land.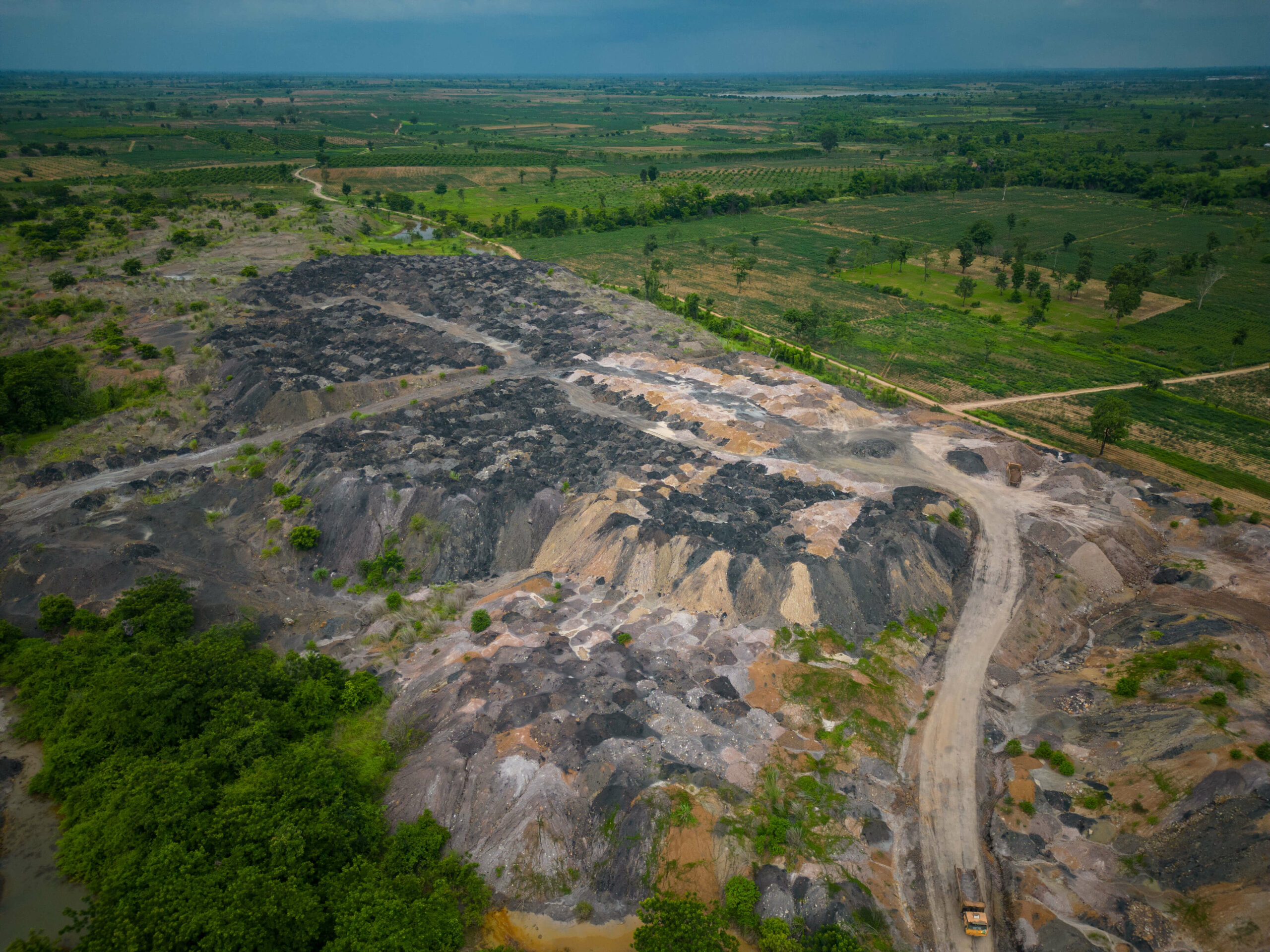 ---
With his grandchildren by his side, Troch said he feared coal mining would proliferate in his district if the power plant went online.
"We are afraid to protest because our voice isn't heard," Troch said. "We are ordinary people. We are more afraid that they will evict us from this land."
In Koh Kong, stories from evicted residents may validate these fears.
Royal Group, one of the largest investment conglomerates in Cambodia with direct ties to former Prime Minister Hun Sen, received a nearly 170-hectare land concession in 2020 within Botum Sakor National Park for the coal power plant.
People living on the site without land titles complained of rough, uncompensated evictions. Former resident Keo Khorn's home was torn down in 2021 by a government task force. With 37 evictees, he petitioned for reparations.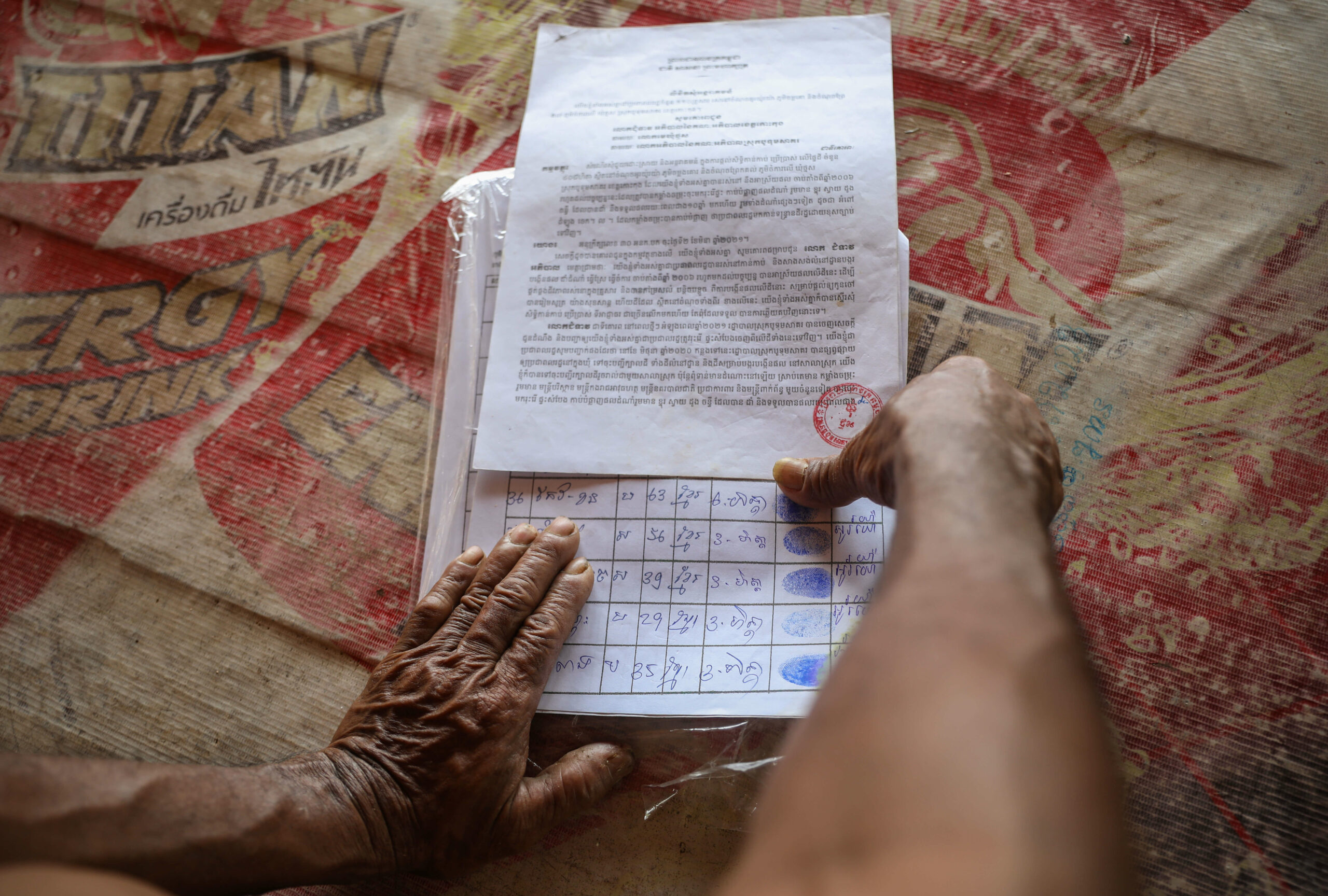 "We all came together to complain about the company," Khorn said. "Everyone heard us, the provincial ministries and the national ministries. But no one did anything."
The project site is currently vacant, but workers are clearing forests around the location. These areas, also within the national park, were given to Royal Group in a second, nearly 10,000-hectare land concession this year.
Thomas Pianka, with Royal Group's energy division, flatly refused to speak with Globe reporters.
"No, I don't need to talk to you," he said before hanging up a call.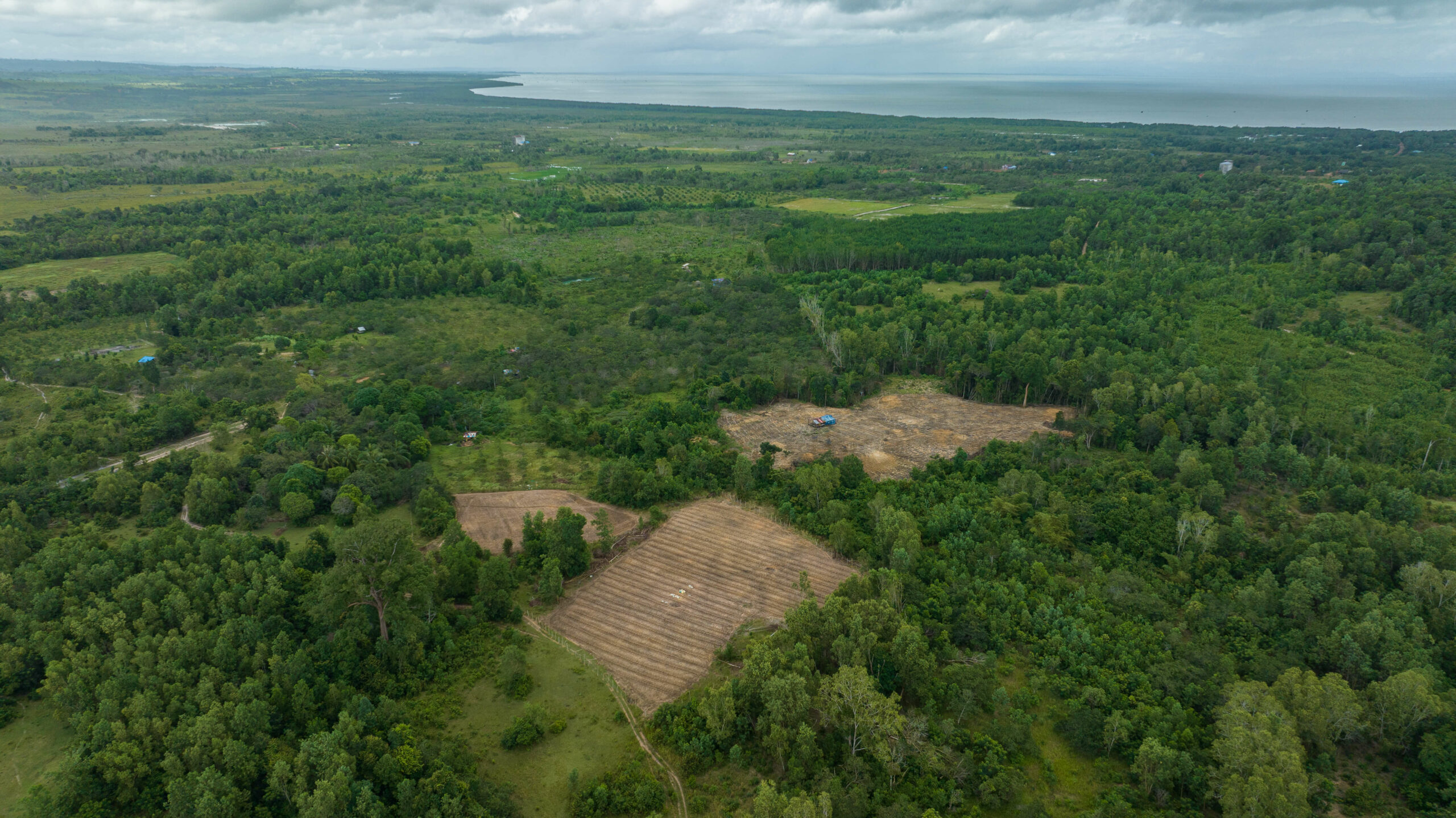 ---
Where coal plants are actually operating, residents in Sihanoukville province have different worries.
A plant security guard for the older Cambodia Energy Limited site said other workers have told him about health concerns, but said the company has never mentioned any risks.
The guard's deputy village chief, Ly Socheat, said she regularly fields complaints about the smell from the power plant. Socheat said many of the families in her village have stopped collecting rainwater in fear of contamination from the coal.
While Socheat attended several meetings about potential employment opportunities at the power plant, she has also never been informed of any potential health impacts.
Residents complained of respiratory issues and headaches. But coal-fired power plants have also been linked to cancer – a 2019 study estimated 1.37 million cases of lung cancer around the world will be linked to such plants by 2025.
In the waters just off the coast, fisherman Hang Dara recounted why he left his job as an electrician at CEL to instead cast for crabs by the power plant. He believed the plant's discharged water was heating the bay and harming the environment.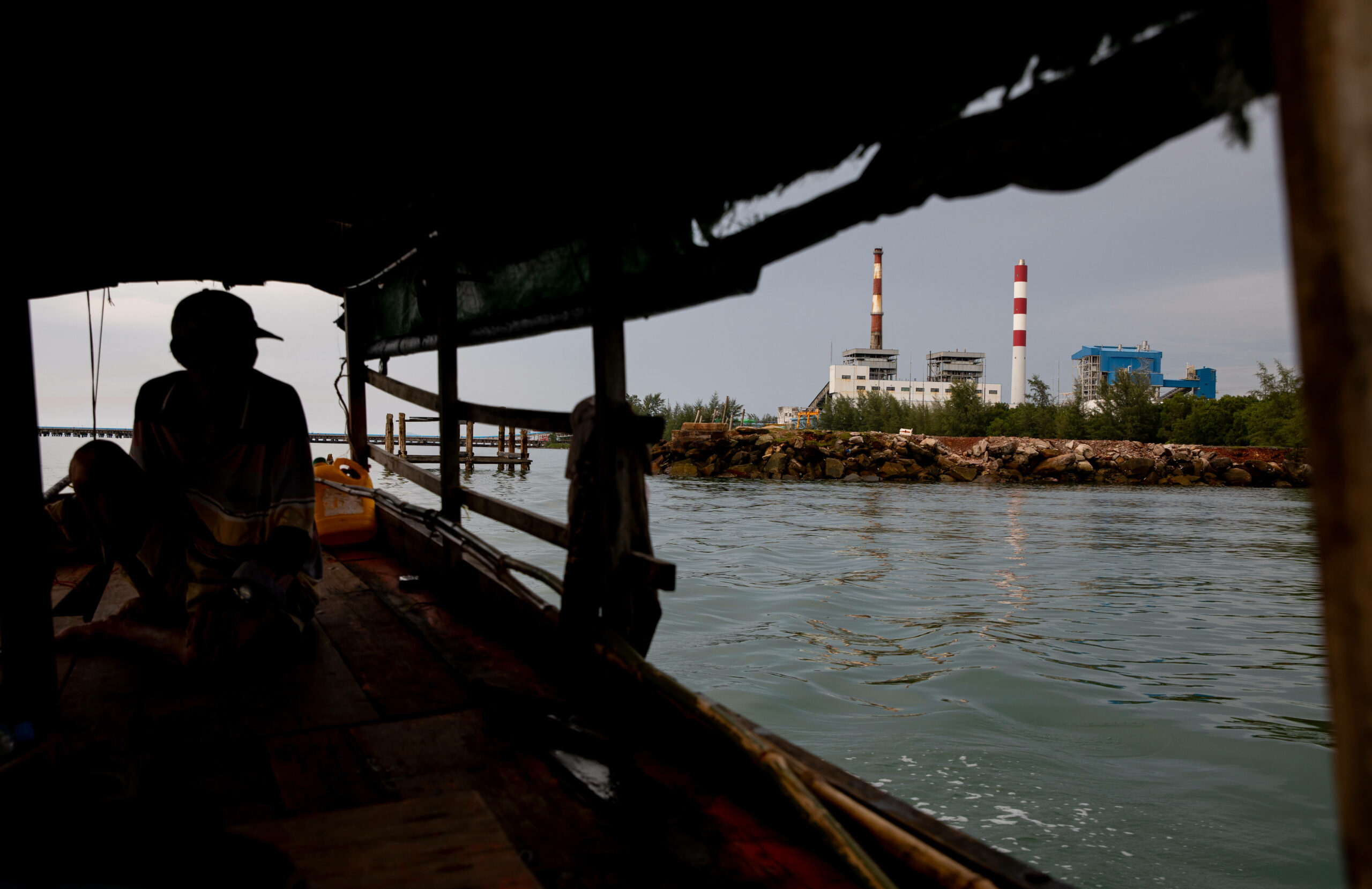 ---
"I was very worried about my health," said Dara, who explained he had severe headaches and chronic coughs while working at the power station. "But now I am very worried about the health of the fish."
As Dara stood by the bow, his fishing partner Loy Chaeum drove from the stern. As they passed coal loading docks supplying the two power plants, Chaeum excitedly pointed out a vulnerable Indo-Pacific humpback dolphin surfacing for air.
"I don't see many dolphins now, they don't like the coal. Like us, they must go farther and farther away to survive," said Chaeum, who explained he motored across the bay every morning in search of a better catch.
That brings him closer to Koh Kong, where one day there may be another coal-fired power plant.
"If they build it, there will be nowhere for them or us to go," he said, turning back to land, having lost sight of the dolphin.
---
Contributed reporting by Andrew Haffner and Sophanna Lay. A Khmer-language version of this story can be found here, with translations by Sophanna Lay and Nasa Dip.
This article was supported by a 'News Reporting Pitch Initiative' from the Konrad-Adenauer-Stiftung Foundation in Cambodia.