Who is he?
Hutomo Mandala Putra, better known as Tommy Suharto, is the youngest son of Indonesia's former dictator Suharto. He became rich under the patronage of his late father and garnered a reputation as the nation's flashiest playboy. As food riots rocked Indonesia during the economic crisis of the late 1990s, Tommy famously arrived at a news conference driving a Rolls Royce. However, many Indonesians most remember the 56-year-old for his criminal record – he was jailed for corruption and then, in 2002, was sentenced to 15 years in prison for ordering the murder of the judge who had passed the verdict.
Why is he in the news?
Tommy Suharto has his sights set on the presidential elections of 2019 and is leader of the Working Party (Berkarya), which consists mostly of former Golkar party members. Indonesia's second-largest political party, Golkar was once led by Tommy's father and is also a member of President Joko Widodo's governing coalition. The Working Party, which was formed in 2016, will join 13 other parties that have been vetted by the General Elections Commission to take part in next year's elections. In 2012, Tommy was nominated by the National Republican Party to run for president, but the party, along with two others, failed the verification process.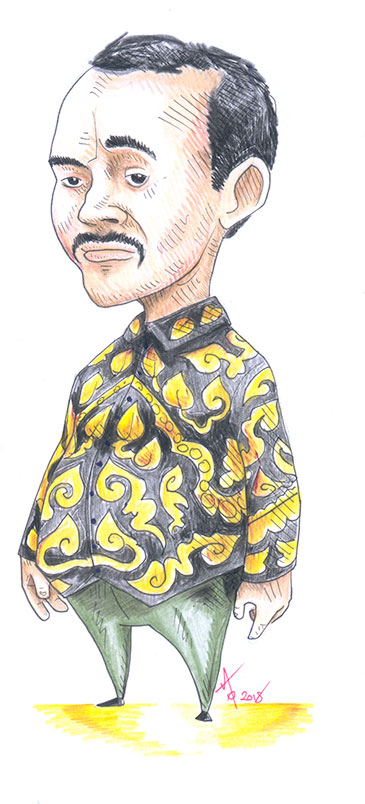 How do ordinary Indonesians view him?
Tommy has previously run unsuccessfully for the chairmanship of the Golkar party, but his supporters view him as a nationalist with integrity, and he is gaining popularity. "He's quite popular now as he is supported by many Islamist figures," Andreas Harsono, a researcher for Human Rights Watch in Indonesia, told Southeast Asia Globe. Harsono said many younger Indonesians know little about Tommy's dark past. "In 1998, Suharto resigned from his presidential power, making Tommy prone to lawsuits. In 2001, he ordered his men to kill Supreme Court judge Syafiuddin Kartasasmita. It's a flaw in many Indonesian newsrooms… that makes Tommy's dark past practically not remembered," he said.
Is his criminal past a political disadvantage?
This will probably be best tested during elections. His poor performance in the contest for the chairmanship of Golkar probably didn't have anything to do with his criminal past, as the party supported his father's 30-year rule and would, by extension, campaign for and back him. But Harsono thinks it could still put him at a disadvantage. "It should be [a disadvantage]. How could a judge murderer run for election?" asked Harsono. "What will we say to judge Kartasasmita's widow and children when Tommy Suharto, the murderer of their father, is now setting up his own party and going to play politics?"
What are his chances of making a mark on Indonesia's political landscape?
Although 14 parties will be contesting legislative and presidential elections, Harsono said Tommy has a lot going for him that could boost his electoral chances, even though it is not clear whether he would clinch the presidency. "He just took part in a huge tax amnesty last year," Harsono said. "It was very probably including his father's overseas bank accounts and bonds. Money could buy a lot of votes in Indonesia. He arguably [has] the most cash in Indonesia's money-hungry politics."