The rehabilitation of the Kingdom's railways is essential to boosting regional economic ties, but the mammoth project needs to pick up speed
By Mark Andrews
A glance around Battambang's dilapidated train station reveals the monumental task it will be to complete the Cambodian segment of the 'iron silk road', which will connect Southeast Asia to Europe by rail for the first time. Cows graze between missing rails in front of the station building, whose clock eternally shows 8:02. The last train was seen about five years ago, which is just as well for the locals growing their vegetables between the tracks. Looking further down country, the last train to traverse the southern line took 28 days to cover 256km thanks to a string of derailments and other problems.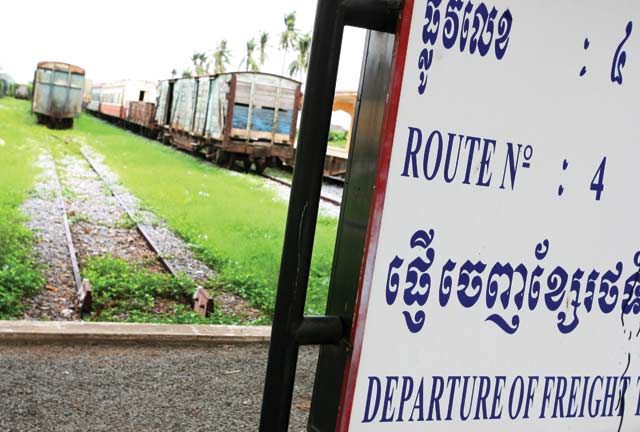 Boosting trade within the region will be high on the agenda at this month's Asean summit in Phnom Penh. Improving infrastructure links between member states is crucial to increasing economic ties, and in Cambodia this means getting the railway back on track.
The dire state of Cambodia's railways – a result of decades of neglect and 30 years of civil war – has left a black hole in a network of metre-gauge railway tracks that connects much of Southeast Asia. A $140m rehabilitation project looks set to change this, however. The project, largely funded by the Asian Development Bank (ADB) and AusAid, will repair tracks from the Thai border to Phnom Penh and Sihanoukville. Plans for Cambodia's railways also include two new lines. The first would connect the northern line with Loc Ninh in Vietnam, a key 257km-long link in creating a Singapore to Kunming, China, network, at a cost of $868m. The second project would see a 700km-long route across northern Cambodia connecting Laos and Vietnam.
Australia's Toll Railways and Cambodia's Royal Group, headed by business tycoon Kith Meng, have a 30-year railroad concession to operate trains, rebuild rolling stock and stations and maintain the track. Construction is contracted to TSO Cambodia Co while Japan's Nippon Koei is conducting engineering work.
Aimed at improving freight flow and promoting trade throughout the region, the project is tipped to save $1 billion in transportation costs over the next 30 years – with freight costs expected to be cut by 67% – and reduce container transit time between Phnom Penh and Bangkok from 11 days by sea and road to about 20 hours by rail.
Operating at an average speed of 50km per hour, journey times will be longer than by road within Cambodia, yet the railway is likely to capture 40% of freight traffic between Phnom Penh and Sihanoukville and 50% to Poipet, easing the wear and tear on Cambodia's roads. Each heavy truck taken off the road is the equivalent of 7,000 cars.
The railway, which is being designed to meet Australian safety standards, will initially operate as a freight run, with passenger services expected to launch six to nine months after the routes open in the coming two years. To date, Toll Royal has rebuilt 140 wagons and put 13 mainline engines –including a Capelon-style Pacific steam locomotive dating back to 1939 – and three shunters back into service. It will also initiate new freight facilities at Sihanoukville Port and at Samrong, on the outskirts of Phnom Penh.
"A functioning railway will strengthen Cambodia's position as a sub-regional transport hub with the potential to create new jobs and business opportunities in all sectors of the economy," said Peter Brimble, ADB deputy country director for Cambodia.
Efforts to rehabilitate Cambodia's rail lines should spell good news for trade in the region, although progress has been fraught with difficulty. The troubled project has hit snags around relocation of residents, significant construction delays, accusations of shoddy construction work and funding concerns. The southern line was originally scheduled to open in May 2011, but this date has been pushed back to early 2013. Work on the northern route has been even slower, and it is unlikely to be fully opened until 2015.
To date only a 117km stretch of the line connecting Phnom Penh and Tuk Meas in the southern province of Kampot has opened for freight traffic.
It has been a tense year for the project. Toll Royal briefly suspended operations, a move that came hot on the heels of an ADB announcement that it wasn't going to foot the additional $70m to $90m required to complete the project.
China has shown much interest in the region's rail networks, calling for a series of high-speed lines linking southern China with Singapore. A company with ties to one of China's top state-owned firms is offering to invest $850m to revamp existing lines, in a bid that would push Toll Royal out. Rail Services Cambodia Ltd plans to shore up the existing project's finances and to build the Vietnam link in return for the Toll concession.
It is a delicate time for all parties, with vast sums of money and crucial infrastructure on the line. The future of Cambodia's railways remains to be seen, but no doubt the huge rehabilitation project will continue to chug along at its own pace.