Hongkong Land reveals details of its major new project in Phnom Penh
Advertorial
Hongkong Land has announced that the official name of its prime mixed-use development in Phnom Penh – formerly known as LANDMARK – will be EXCHANGE SQUARE.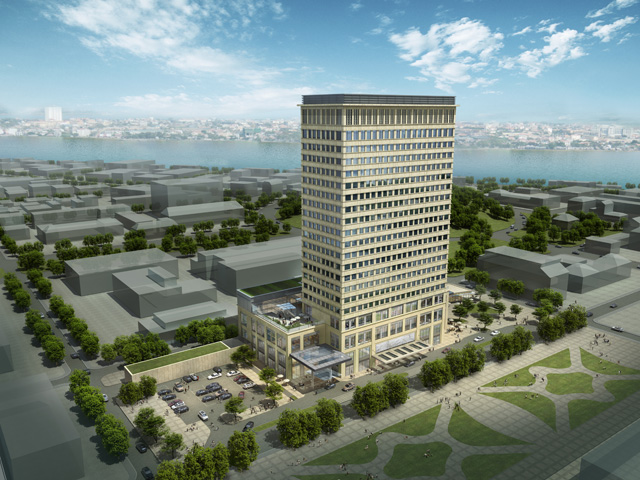 Located in the heart of the Cambodian capital's emerging financial district and surrounded by major boulevards, EXCHANGE SQUARE offers unrivalled access to the city's centres of commerce, government and leading hotels.
The first phase of EXCHANGE SQUARE will offer 17,000 square metres of Grade A office space over 16 floors, and 13,000 square metres of retail over a four-level podium. With more than 650 parking spaces for cars and motorbikes spread across four basement levels, the development offers excellent accessibility and drop-off areas for all visitors.
With excavation completed in October 2014, the project has now progressed to the final stages of the foundation work, which is overseen by South Korean firm Posco. Currently, the basement's concrete floor slab is being laid and the next phase of superstructure construction is expected to take place in the second quarter of 2015. Utilising its vast experience in Southeast Asian markets, Hongkong Land will bring together equivalent levels of standards and quality to the construction and property management of EXCHANGE SQUARE as employed at the Marina Bay Financial Centre in Singapore and the World Trade Centre complex in Jakarta.
The four-level retail podium promises to offer convenience and choices for tenants, visitors, surrounding residents and office workers, with carefully crafted groups of retail offerings, cafés, bars and restaurants. Combined with 16 floors of Grade A office space, tenants can expect a professional, safe and secure working environment, while visitors can enjoy diverse lifestyle experiences.
Hongkong Land commenced construction of the development on September 6, 2013, with completion of its first phase expected in 2017 and a grand opening soon after. 
Hongkong Land is one of Asia's leading property investment, management and development groups. The group owns and manages almost 800,000 square metres of prime office and luxury retail property in key Asian cities, principally in Hong Kong and Singapore. Hongkong Land is also developing a number of largely residential projects in cities across China and Southeast Asia. 
Hongkong Land Holdings Limited is incorporated in Bermuda and has a standard listing on the London Stock Exchange as its primary listing, with secondary listings in Bermuda and Singapore. The Group's assets and investments are managed from Hong Kong by Hongkong Land Limited. Hongkong Land is a member of the Jardine Matheson Group.