Sitting shirtless in the claustrophobic cabin of his small fishing boat to escape the unforgiving Cambodian sun, Les Marn considered his future and that of his people.
"Everybody wants to go to land," he said, referring to himself and the 150 families docked around him, "but we have been here for generations. Where can I go?"
The Les family, like all of the neighbouring boat-dwelling families around them, are Chams, a mostly Muslim ethnolinguistic minority distinct from the Khmers who make up the overwhelming majority of Cambodia's population.
Marn's parents taught him to fish when he was a small child, back when it felt like the fish were as abundant as the Mekong River was long. But as Marn grew older, the Mekong began to deteriorate.
Climate change, hydroelectric projects, industrialised fishing and localised sand dredging have done catastrophic damage to the river and the livelihoods of those who depend on it. While only a few years ago Marn was still able to catch more than 10 kilograms of fish a day, now he is lucky if he catches three.
As the ecological destruction of the Mekong and evictions from privatised riverbanks make their traditional lifestyle untenable, Phnom Penh's boat-dwelling Chams are increasingly looking to start new lives on land.
But this presents its own challenges, with cost being the most immediate. The fishers usually have few assets aside from their boats, the values of which have dwindled with the river's decline. Many Cham have already integrated into modern urban jobs for years, living in Islamic enclaves often with elegant mosques partially funded by Arab states.
However, traditional small-scale fishing is still the main source of income for most Cham communities in the Phnom Penh area. If the boat-dwellers are to join their landed cousins, they'll have to quickly learn new skills they never had the opportunity to acquire on the river.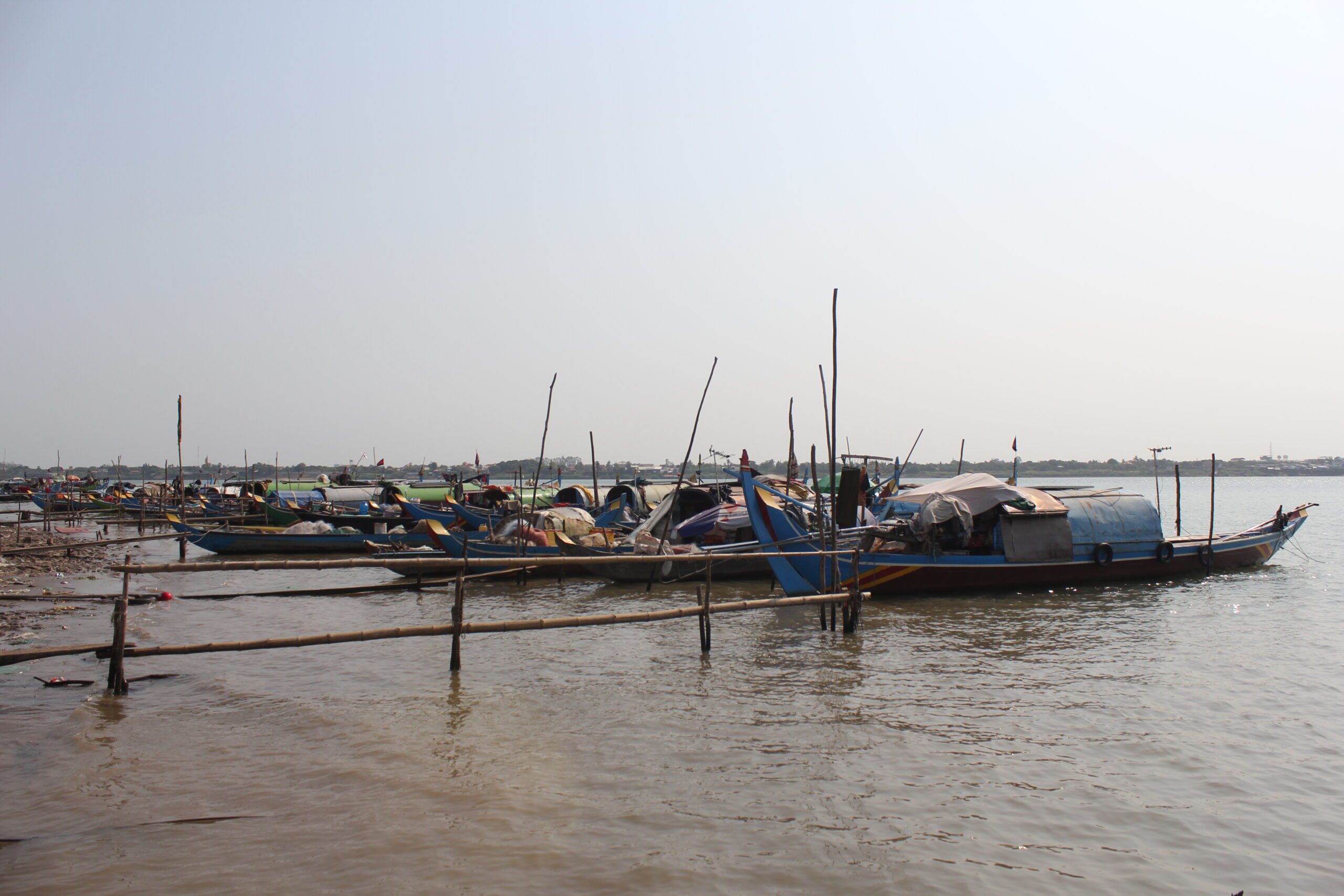 "We have to live together," said Imam E Yu. "It doesn't matter what one does for a living. When it's time for prayers, we do it together."
E Yu is the imam for a community of as many as 200 boat families on the muddy tip of Chroy Changvar, a peninsula that splits the Mekong from its smaller tributary, the Tonle Sap River. This may be the most visible Cham settlement in the city, as Marn and the other fishers are easily spotted by their bright blue boats docked just across from Phnom Penh's rapidly developing downtown area. They've cast their nets here in the watery heart of the city since long before it boomed into a major urban centre.
Authorities have in the past pressured this community to move. In recent weeks, developers have fenced off most of the shoreline, making it far more difficult for the Cham to get up onto land.
A sign on the fence bears the name of Booyoung Khmer, a South Korean company with major real-estate claims around the country. While Booyoung Khmer did not provide an official comment, an employee who answered their phone said the company had acquired the area on the tip of the peninsula.
The installation of the fence was a final blow for many in the community which was already struggling with mounting ecological pressures.
About a third of the families are planning to move to a plot of land in rural Kampong Chhnang province recently donated to them by a wealthy Cham businessman.
The rest, including Les Marn, are expected to clear out, but don't yet know where or how. Not lucky enough to be given free land, they will have to find their own path.
Marn feels the once-mighty Mekong is dying, but hopes its increasingly meagre fish supply will provide for the family long enough for his son to graduate from university and find a high-paying job on land. For now, his son comes home from class and sleeps with his father and mother on the boat every night.
Cham history and identity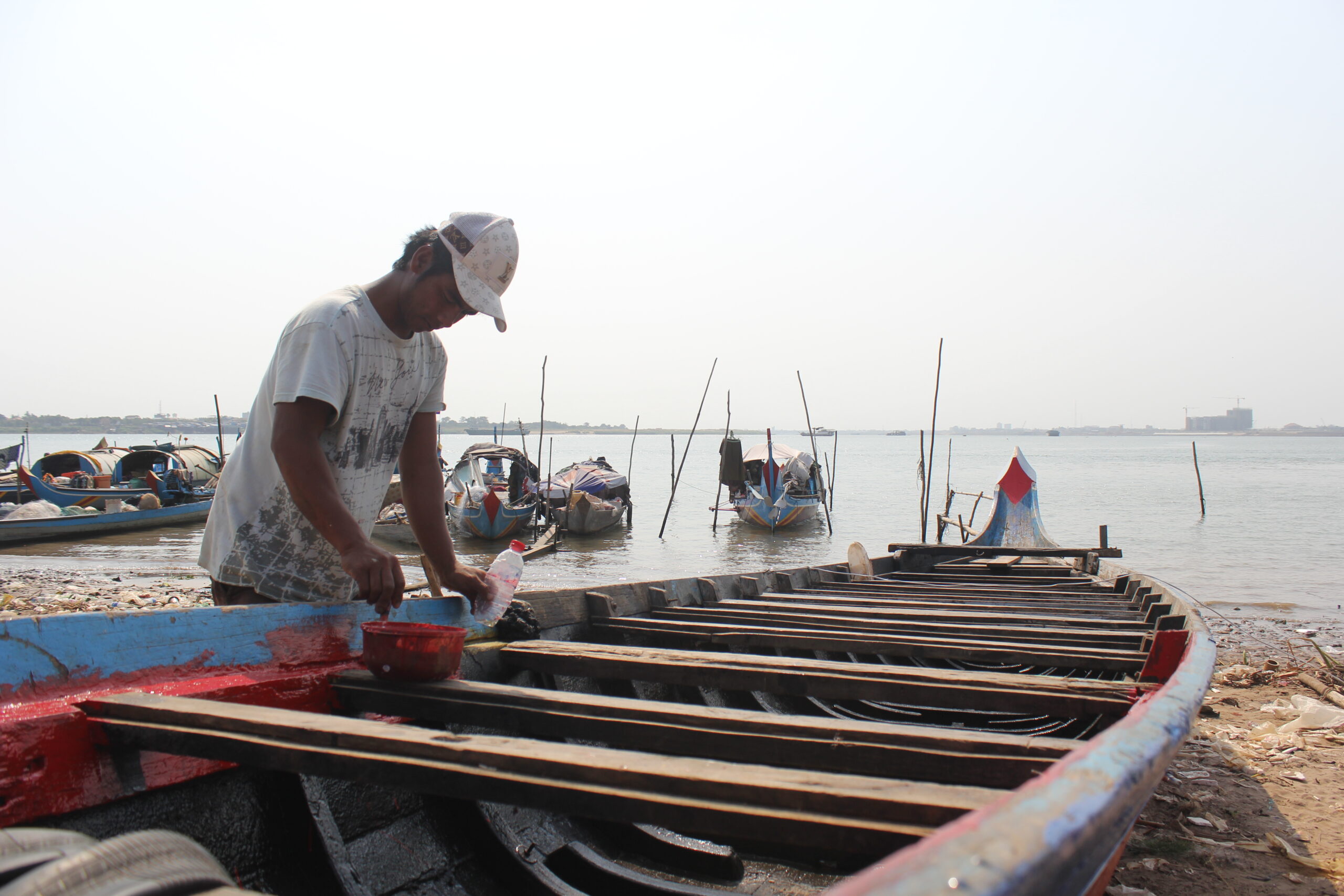 With their traditional Islamic dress and Malayo-Polynesian language, the Chams constitute the largest ethnic, religious and linguistic minority among Cambodian citizens, estimated at 1-2% of the total population.
Though Chams around Phnom Penh have been fishing for generations, they generally lived on land until the 1970's when civil war forced many to abandon their homes. More recently, many such as Marn had homes on the banks near their docking areas. However, they rarely held official ownership of such land and have been evicted in more recent years.
Most Chams today continue to live in their own villages and neighborhoods, though the Cambodian government has encouraged their assimilation as "Khmer Muslims".
Long before, the Chams were once an influential community in Cambodia, instrumental in repelling colonisation attempts by Spanish conquistadors in the late 16th century.
Cham elders teach that their ancestors settled the Chroy Changvar peninsula 600 years ago, when the first wave of Cham refugees fled to Cambodia after the Champa kingdoms were defeated by Dai Viet, or present-day Vietnam.
According to scholars of Cham history, Cham migration to Cambodia came in a few large waves interspersed between the late 15th century and early 19th century, though little is known about which group settled where and when they converted to Islam.
In recent decades, they have survived targeted genocide at the hands of the Khmer Rouge. Those who live on boats continue to face sporadic harassment from private companies and the modern Cambodian state.
Hard transitions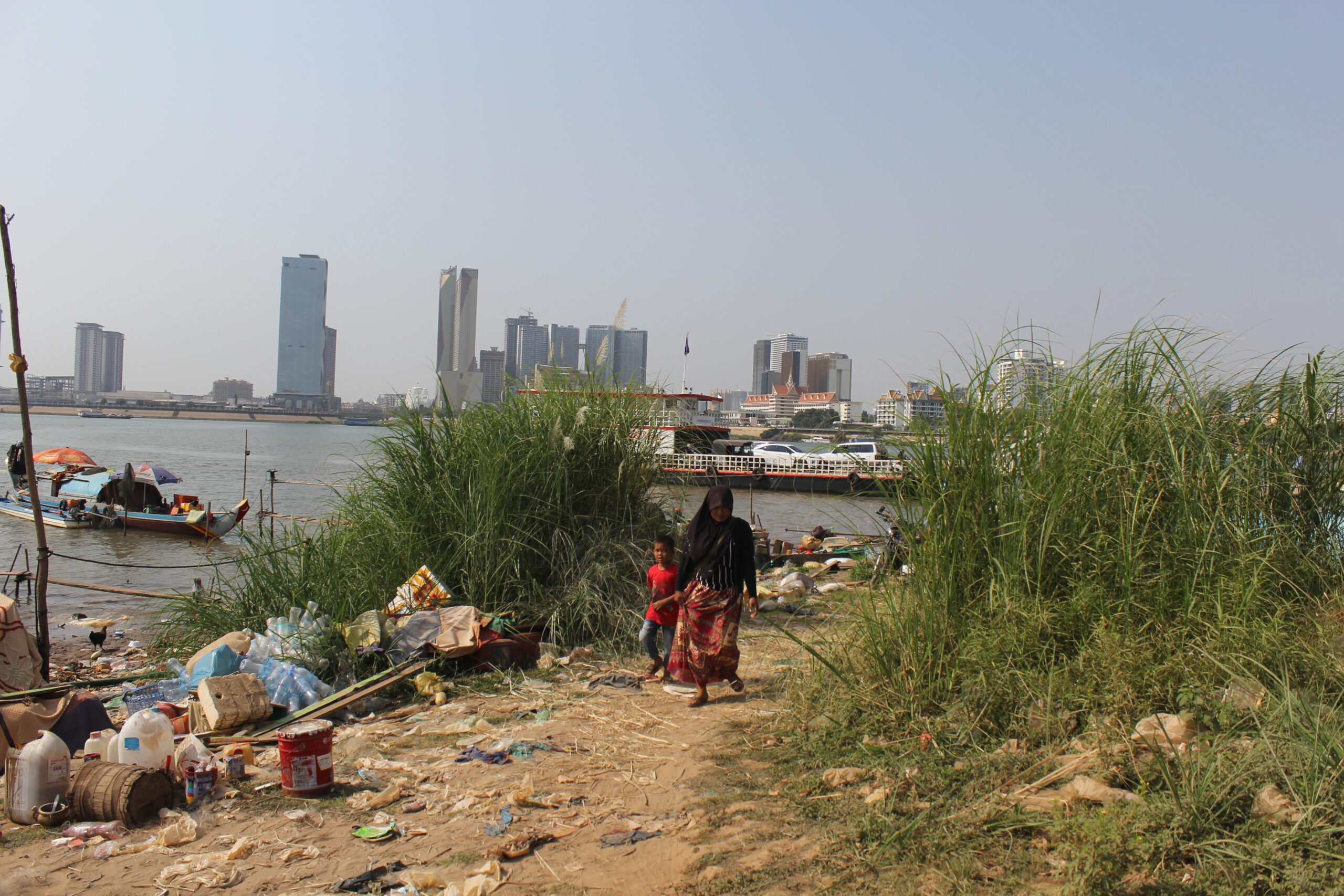 Coming to land has its own challenges.
From Chroy Changvar, Imam E Yu is taking a lead role in moving the group to the donated parcel, a two-hectare-plot about 100 kilometres north of the peninsula settlement.
That donated parcel will be split between 53 families, with an additional half-hectare set aside to build a school. There is no firm date for when the land will be cleared and ready for their arrival, but one organiser speculated it could take as long as two years.
"There will be many difficulties," E Yu said, noting that most people in his community have no skills outside of fishing. "But we will persevere because we have no other choice."
He says he has opened negotiations for a loan from the regional lender Maybank, which has supported them in the past, to purchase tuk-tuks, motorbikes, farming equipment and other tools the community would need to earn a living on land.
The families who weren't able to register for plots of the donated land will have to compete for ever fewer fish amidst pressure from the government and private companies, at least until they can find a way to transition independently.
Several said that the land was distributed unfairly based on personal connections with the imam, though E Yu said the land was given to the families most in need.
Without a land grant, selling one's boat and going to land is considered so difficult as to be nearly a fantasy. Some who attempted it were reportedly left with no choice but to take out loans and purchase fishing boats again.
Yoseph Pun was one of the few who successfully transitioned. Three years ago he sold his fishing boat for $2,000 and found a job in construction. He now lives up the shore from the fishing community, in a cluster of narrow streets near a large mosque where more well-off Chams congregate.
"Coming on to land was a very new experience for me," Yoseph said of his transition, "But, what could I do? I already sold the boat. I couldn't turn back."
He noted that he had been lucky to go to school until the age of 13, which gave him advantages in finding a job. He also said that by staying in Chroy Changvar, he avoided the cultural friction that he imagines others could experience, especially those planning to move to a Khmer-majority area such as Kampong Chhnang.
While most of Chroy Changvar's residents are Khmer, Yoseph explained they have been exposed to Cham people and their culture for generations and know how to get along with them. In his experience, many Khmer people who have never spent much time with Chams, particularly outside of the more-educated Phnom Penh, are very wary and often even believe that Chams practise dark magic.
About an hour north of Phnom Penh, a few Cham villages surround the modestly sized Cham town of Chroy Metrey Leu.
"Before, about 90% of the Chams in this area made a living from fishing. Now it is about 50%" said Ashari, the single-named director of the An Nikmah Samdech Techo Hun Sen Chroy Metrey School.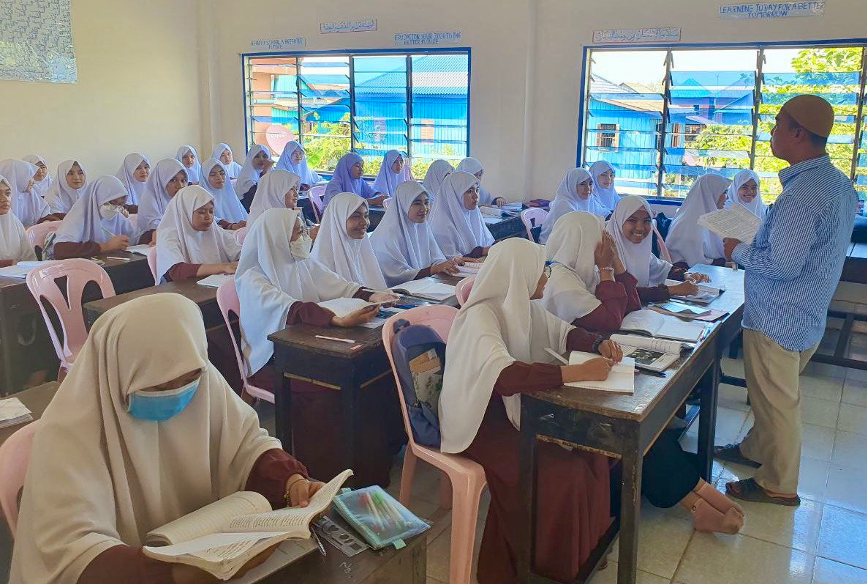 The school, titled after Prime Minister Hun Sen, is a boarding programme which has more than 1,000 Muslim students from all around the country, most of whom are Cham. The school is funded in large part by the Malaysian government.
Ashari explained that many of his students come from fishing families, but with a good education they are learning life skills that will allow them to work in different fields.
This Cham community has taken in several fishers from Chroy Changvar. Tam Halma, 68, was one of them. A born and raised fisher, she survived the Pol Pot regime's attempts to eradicate the Cham and the subsequent civil war.
For 20 years she lived with four relatives on a fishing boat off the peninsula, until two years ago a powerful storm sank their home.
"We only had time to collect only a few of our belongings," she said, then added with a sad smile: "We didn't have much anyways because we were poor. Just dishes, pots, and pans."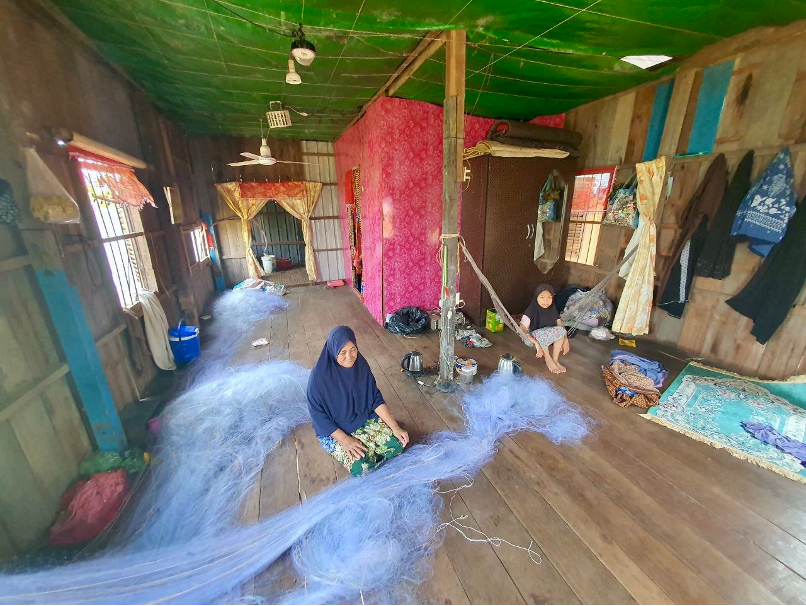 Hers was an especially difficult and sudden transition. She and her family were sheltered in a mosque for months. One of her sons found work in construction, and another in a factory. One of her sibling's children, who lived on the boat, hanged themself.
Eventually, one of her sons took out a $5,000 loan to buy her a small house by the river. All of her children eventually returned to fishing, finding themselves unsuitable for their new jobs on land. While she no longer fishes, she now makes fishing nets instead.
"Khmer Islam" and assimilation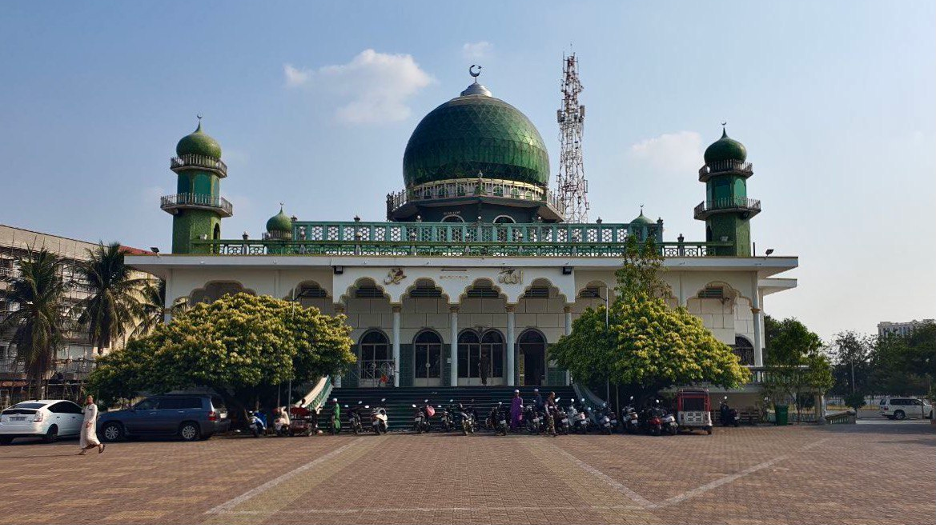 In the Phnom Penh district of Sen Sok, the Cham experience looks very different.
A long-established Islamic enclave, this community has much grander mosques than the others and receives more money from both the Cambodian government and Muslim-majority countries. Unlike in the other Cham communities, here it is quite rare to hear the Cham language spoken.
The head imam of Phnom Penh, No Math Seth, oversees the "Kilometre 9 Mosque," one of the largest in the district. He's also an undersecretary at the Cambodian Ministry of Culture and Fine Arts.
While a Cham himself, he emphasised that his community was for all Muslims, regardless of ethnic background. He also preferred to use the term "Khmer Islam" to refer to his community, describing it as a more inclusive term.
According to him, Chams were successfully integrating into mainstream Khmer culture and shouldn't be distinguished from other groups. His own children, for example, can understand some Cham but were raised speaking Khmer while also studying Arabic and English.
This was markedly different from the other communities visited by reporters, where Khmer was only spoken with outsiders, even by the youngest children.
He praised the government's efforts to support his community, pointing out that several parliament and senate representatives are Muslims, and that Muslim teachers are paid by the government as public school employees despite having an Islamic curriculum.
He believed that not only do Muslims have equal rights in Cambodia, they may even enjoy slightly more rights due to religious accommodations.
He said his mosque had sponsored several programs to try and help impoverished Muslims, such as the fishers, including a recent initiative to purchase tuk-tuks for them.
But he lamented that many fishers, even when helped to establish themselves on land, often went back.
"They come and go like the tide," he said.
On Chroy Changvar, once the rainy season comes, the water level will rise above the strip of shore where the boat-dwellers are currently able to dock.
The land above is watched closely by several guards, some of whom were recruited last month from amongst the fishers themselves. The community is discussing temporary places to dock if the water level rises before they are relocated, which they say is very likely.
One fisherman, when asked what he would do when the water level rises, shrugged and said that he would just float away with the river. Then he continued adding a coat of blue paint to his boat in preparation for the next catch.
Additional reporting by Tith Chantara
For more on how this story came together, read this Q&A between contributor Daniel Zak and Globe editor-in-chief Andrew Haffner.