The team of young entrepreneurs won the Toyota Impact Challenge for their startup that aims to promote recycling through smart technology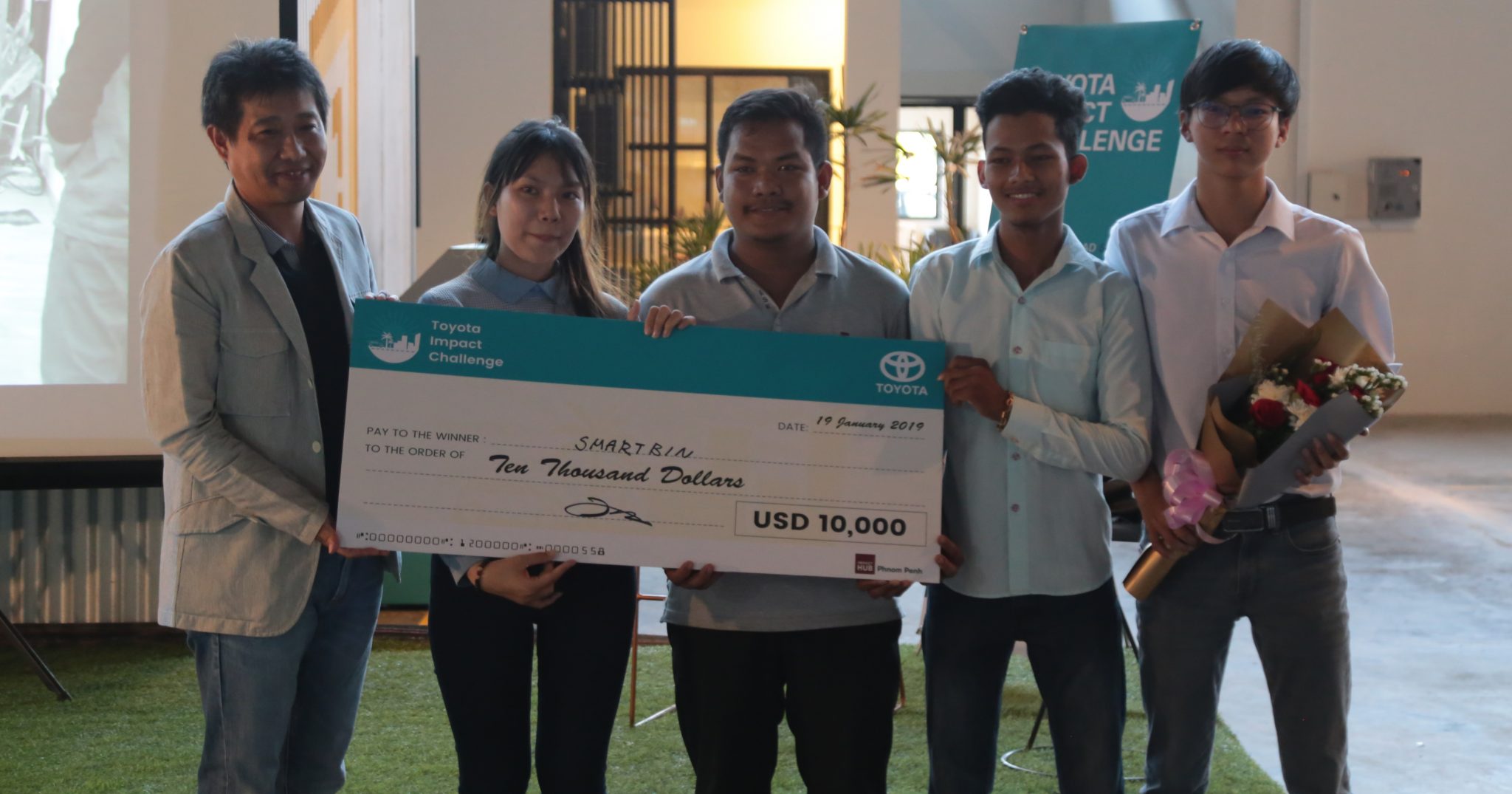 Seated in the gallery of an old garment factory-turned-creative workspace on Saturday afternoon, three teams of entrepreneurial Cambodian youths waited on the edge of their seats to hear which of their startup ideas would win $10,000 in seed funding – a considerable prize that could see their fledgling business concepts take flight.
This event marked the final round of competition for the Toyota Impact Challenge, a joint venture between Toyota Cambodia and local community centre Impact Hub, which sought to attract startup ideas focusing on transport, road safety, and smart city solutions.
After undergoing six long months of incubation and startup development, the three challenge finalists went head-to-head on 19 January, presenting their ideas for creating a smarter, cleaner, and safer Phnom Penh. Following hours of presentations, SmartBIN – a startup dedicated to solving Cambodia's considerable waste management problems – emerged victorious.
SmartBIN: Promoting Recycling in Phnom Penh
The SmartBIN concept was borne of the team's realisation that the act of recycling, which is currently far from popular in the Kingdom, could be made more attractive if recyclers were offered monetary incentives. To this end, the team – consisting of five founders, Kim Chanamrithvatey, Chhuy Songhour, Khim Synat, Ven Arunroth, and Chim Minea – created a "smart" recycling bin with separate labeled sections for cans, bottles, and plastic cups, and developed a system by which bin users can receive points for each item they recycle.
Using a phone app developed by the team, users have access to a map of SmartBIN locations in the city. When users dispose of their recycling, each SmartBIN is built to automatically tally the number of recycled objects and display "points" for the recycling on a smart screen. Users can scan the bin's QR code to deliver those points to their personal SmartBIN phone apps, and can eventually trade in points for big discounts and coupons at local restaurants and stores.

SmartBIN's message of effective and eco-friendly waste solutions is a timely one, as Phnom Penh is facing a mounting problem of streets overflowing with trash and littered with garbage piles that are often left for days or even weeks at a time.
"Phnom Penh is a beautiful city, but the inefficient waste management and lack of trash bins in public areas makes Phnom Penh less attractive… usually we see overloaded trash bins, and sometimes we see a pile of waste without a trash bin nearby," Chanamrithvatey, co-founder of SmartBIN, said in a promotional video for the startup.
A leading cause of Phnom Penh's waste problem, as reported by local news outlet Phnom Penh Post, is that only one licensed waste management firm, Cintri, is allowed to operate within city limits. A Cintri representative confirmed in October 2017 that the company has an agreement with Phnom Penh City Hall to operate until 2048, and though Cintri's trash collection efforts are often argued to be ineffective and inefficient, Cintri has been the sole waste management operator in Phnom Penh since 2002.
Vichekal Tema, administration deputy director for Phnom Penh City Hall, served as a judge for the competition and gave a brief speech about the importance of smart solutions being implemented in the city.
"We [at City Hall] started a Smart City Committee recently at the end of 2018, and we are looking forward to working with you if you have any other projects that you think would be a good solution for our city," she said, addressing each of the three teams as well as the dozens of other entrepreneurial youths in the audience.
"Remember, technology alone doesn't make a city smart. A smart city needs smart business, smart people, and a smart government," she added.
Perhaps fresh, locally-founded startups could be the answer to City Hall's waste management problem. Though SmartBIN can't pick up all of the waste around the city, the team hopes the startup will compel people to see value in the act of separating their trash and actively recycling plastics and metal cans. In a country that disposes of nearly 3,000 tonnes of trash annually and in a city that uses approximately 10 million plastic bags every day, active recycling could have a seriously positive green impact.
With the $10,000, SmartBIN intends to mass produce its bins, update its phone app, pursue greater coupons and deals for bin users, and begin actively promoting their concept within the local community.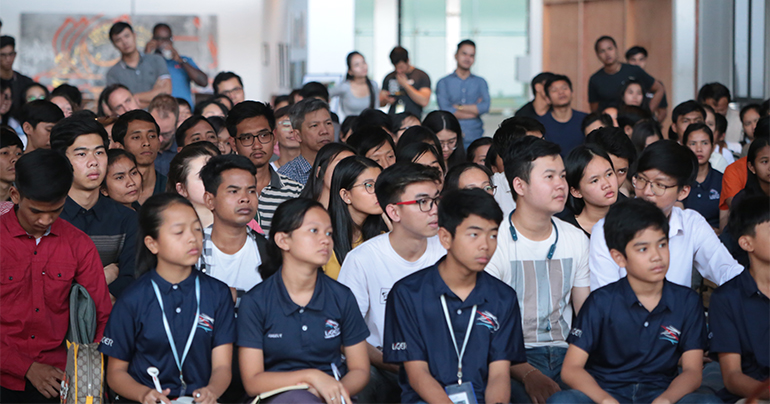 A Successful First Year for The Toyota Impact Challenge
The first startup competition in Cambodia to target the problems attached to rapid urbanisation and traffic accidents, the Toyota Impact Challenge kicked off its inaugural year in March 2018 when representatives began promotional tours of university campuses.
Ten teams were originally chosen to participate in a two-day bootcamp last June, and in August the competition was narrowed down to three finalists after all ten teams were given the opportunity to pitch their ideas. The Saturday competition was, therefore, the culmination of months of hard work and business development for the challenge finalists.
According to Hiroyuki Itoh, the president of Toyota Cambodia, investing in local startups is important for the Japan-based automotive manufacturer, which benefits from the adoption of smarter solutions within Cambodia's cities.
"We hope that by supporting the startup ecosystem in transport, smart cities, environment, and road safety, that we can create more collaboration and potentially new, innovative services between Cambodian entrepreneurs and Toyota Cambodia," he said at the launch of the challenge.
The competition welcomed teams whose startups solved problems in four different categories: transport, road safety, smart cities, and environment. Other than SmartBin, the challenge finalists were Rushero, which aims to employ local tuk tuk drivers for its express delivery service, and tosJis, which offers a public transport app that lists bus stop stations and provides route suggestions for affordable travel.
[manual_related_posts]
While Rushero and tosJis may not have won the $10,000, the past six months have seen these ventures grow exponentially, making it unlikely that the startups will fizzle out. Rushero's website has been operational since May 2018, and so far they have completed more than 1,500 deliveries, increasing their revenue to $700 a month. The tosJis app is now operational in a beta form, and the team plans to launch the official app in June 2019, regardless of not having won the funding.
According to Abigail Perriman, programme and impact manager at Impact Hub, support for these teams will continue past the competition, as each will have access to the tools available to Impact Hub's alumni network.
"This pitch is certainly not the end – we know that starting a business takes time and a lot of hard work," she said. "Teams will have access to ongoing support, mentoring, masterclasses, an innovative space and an extensive network of startup supporters."
She added that she hopes all three finalist teams will eventually grow their startups into successful businesses, as she believes each will continue working to make their visions a reality.