The move gives the government power to dissolve rival political parties and could keep former opposition leader Sam Rainsy from returning to power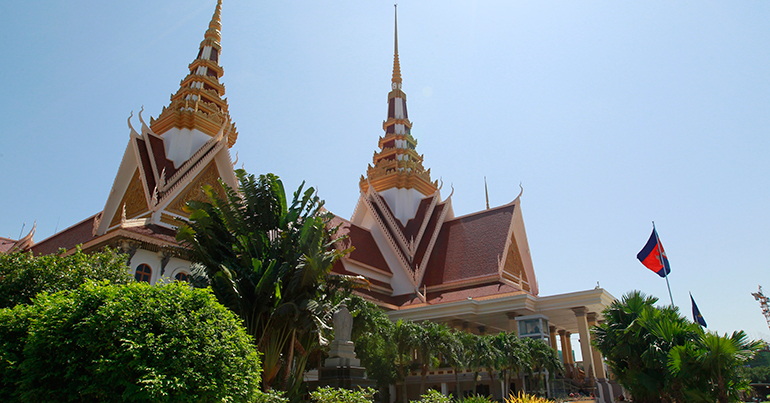 Cambodia's parliament today passed a controversial provision that severely curtails the power of the country's opposition parties and effectively bans former opposition leader Sam Rainsy from returning to power.
In a parliamentary session at the National Assembly, which was boycotted by the opposition Cambodia National Rescue Party (CNRP), amendments to the Law on Political Parties were passed allowing the Supreme Court to dissolve political parties and excommunicate political leaders. The law received 66 votes from members of the ruling Cambodian People's Party (CPP), according to a statement from the National Assembly.
CPP lawmaker Chheang Vun told Reuters that the provision would allow the Ministry of Interior to close some of Cambodia's 76 political parties, of which only 45 were properly registered.
Critics have largely denounced the bill as an undemocratic measure.
Phil Robertson, deputy director of Human Rights Watch's Asia division, said the move establishes Cambodia as a "sham democracy", as the law gives "absolute power" to the ruling party.
"It's no exaggeration to say that these amendments are like a gun aimed straight at the heart of the opposition CNRP," Robertson said, "leaving only the question of when and on what grounds this political execution will take place."
Charles Santiago, a Malaysian MP and chairperson of the Asean Parliamentarians for Human Rights, said the bill would "mark the death knell for democracy in Cambodia" as the country's communal elections coming later this year and general elections approaching in 2018.
"We're talking about a move that could turn the country into a de facto one-party state and completely undermine the legitimacy of elections only months away," he said.
The vote comes less than two weeks after Rainsy stepped down from his post and resigned from the CNRP, following threats from Prime Minister Hun Sen to have Cambodian courts seize Rainsy's personal property and have him arrested if he were to return from exile in France.
The amendment to the 1998 law, which still requires approval by the Senate and a signature from King Norodom Sihamoni, is said to allow Cambodia's Ministry of Interior to indefinitely suspend political parties, as well as ban convicted criminals from serving as political leaders.