Standing behind her booth at the third annual Khmer Crafts and Food Fair (KCFF), Chhim Sreypich lays out some handwoven shawls, each made with thoughtful colour combinations, as she explains why she started her business: " I want to support the women and children." Alongside her on either side, stretching down the length of a festival tent, are many other booths filled with handwoven shawls, hand-dyed textiles, jewelry and clothing. Almost every business behind each booth provides jobs to women, the disabled or the elderly in making products with traditional Khmer techniques.
Chhim worked in sales and marketing for years at a different social enterprise, a job which brought her out to the provinces where she noticed "they have production, but it's not working. It's not going out." Recognising her own keen interest in sales and marketing (and wishing to be her own boss), she decided to launch Chhnai and Support, employing women from Banteay Chmar province. Her employees are women of a certain age – too old for entering the job market, but still saddled with the burden of a family to support. "[That was] one more thing I saw in Cambodia," Chhim says of her trips to the provinces. "The old women don't have work. So they need some money [to] support their family, and that's why I think I can help them by selling products."
She's not alone. The festival was started by not-for-profit Nomi Network with local business Villageworks as a way to promote Khmer culture through local food and crafts businesses. Nomi Network is an international organisation founded to provide job training and employment opportunities to victims of human trafficking. When creating the festival, the organisation was looking for local social enterprises specifically, and though now its scope has shifted to entrepreneurs or new businesses – either Khmer-owned or "made in Cambodia" – most still have a social mission.
"This festival is really focused on the small business and social enterprise, and really lifting up the vendors to give them a platform to be known by the audience," said Nomi Network's programme support officer Maria Blackburn in an interview after the event, along with the Network's co-founder and vice president of global initiatives, Supei Liu.
The event organisers had anticipated that there would be 1,000 attendees at this year's event, a number that was dwarfed by the actual count of 1,800 visitors. "It blew our expectations out of the water," said Blackburn.
"I think that's why a lot of our vendors appreciate coming," added Liu, "because we want to make sure that everyone is okay. Because the way that we set up the event is not to just serve our purpose; it's really making sure that everyone has a good experience. Everyone, especially the vendors, are really walking away with some kind of learning, experience, and sales."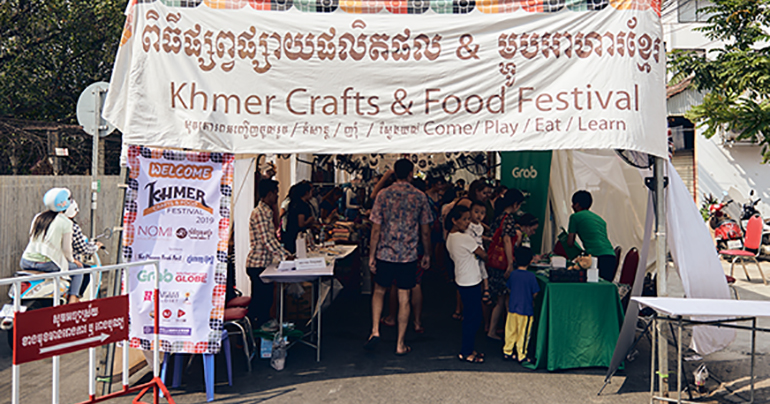 To that end, the Nomi Network provides training courses before the annual event on things like sales support techniques, customer service and the types and quantity of merchandise to sell. Enforcing punctuality in the application process as well as on the day of the festival is also a requirement for participants. "The first year, they were rejected because they came in late and they were so angry," explained Liu, "but then they come back and they were able to overcome that. They were able to see everyone else, all their friends – because this is a small community – if you've been doing this long enough, you eventually know each other, but then to see everybody, you want to be part of it. And you'll come back, and you'll learn to follow certain expectations."
Liu added that the Nomi Network also tries to foster healthy competition between the vendors, "meaning it's not 'you die or I die,' but 'Wow! I clap because you win this time because you deserve it. So that pushes me to be better.'"
Following the expectations improves sales, too. "The first year [Angkor Bullet Jewelry] were basically the only ones who were making money because they were always the first ones to show up and the last ones to leave," Liu added. "The second year, everybody started making money."
Vendors are given a survey at the end of the fair to help them assess who their target customer is and what kinds of products were bought the most – data from which they can improve their product line and marketing and sales techniques. "We also track number of sales and how they are doing," says Liu. "It gives us a gauge of if we are successful: are people coming? And if they are, are they spending more?"
But the atmosphere of the festival belies the fact that it is also a lesson in sales and marketing, showing attendees only the fun side of shopping, eating and participating in events like a fashion styling competition.
In fact, the festival was so successful that there are plans to host one in Battambang at the end of this year. The Phnom Penh version will be also coming back next year, with Liu adding one new challenge: "My goal is to have food represented from different provinces of Cambodia."