Sin San had retired from teaching and taken up a life of religion, spending days at a local pagoda and nights at home with his family, when his old bosses came calling. The ruling Cambodian People's Party (CPP) wanted him to become a village chief, if only until the next local elections. His daughters talked him into taking the job.
"I saw the way the old village chief worked was not helpful to the people," he said at his two-storey house on a main street in Donkeo City, the capital of Takeo province. His predecessor, in the role since 1979, was ill, he said, with his organs and eyesight failing. But the locals were also sick of him.
San said people lost land and businesses during his predecessor's decades as village chief – the lowest rung of public office, which falls under elected commune chiefs and politically appointed district chiefs and provincial governors. Residents also had to pay for documents – death certificates, for example – that were supposed to be free, and those who didn't support the CPP struggled to get his signature at all. "The way he treated the people was painful," San said.
Wearing an almost-matching grey outfit and occasionally rifling through a stack of administrative papers, San looked the part of a village chief, but the 68-year-old was not making much of an effort to help campaign for the country's local elections, which are set for 4 June. "Right now the CPP is very busy asking members to hold more meetings to get people to vote," San said. "I tell them I have to go to Poipet or the provinces to take care of some business."
San, like many in this rural province now dotted with garment factories, blamed a culture of greed in provincial politics largely on Sok An, Prime Minister Hun Sen's top deputy and head of the ruling party in Takeo, who amassed an unparalleled portfolio of government positions and a vast personal fortune before passing away in March.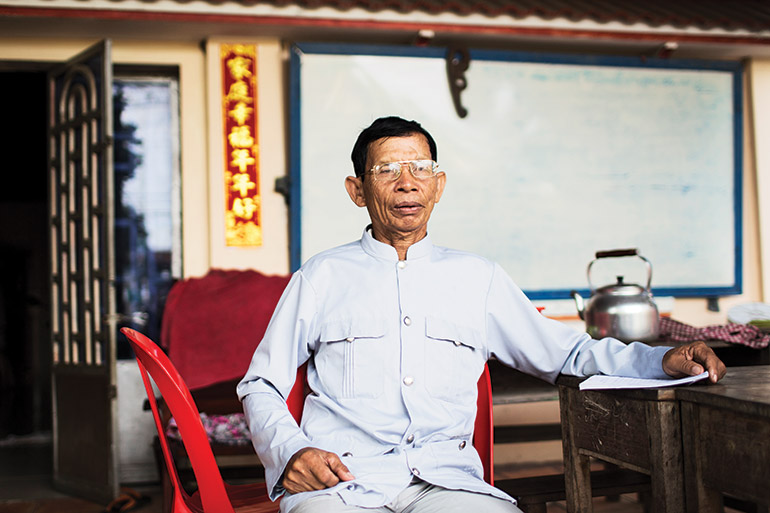 "I don't want to talk too much about politics or I will get myself killed," San said.
Death has been a prevailing force in the province over the past year. Three of Takeo's most famous sons – Kem Ley, a political analyst and subversive raconteur; Pen Sovann, the country's first prime minister after the Khmer Rouge; and Sok An, who personified the centralisation of power under the CPP – have passed on. Pen Sovann and Sok An by way of age and illness; Kem Ley in a brazen daylight assassination.
With Hun Sen and his long-ruling party facing one of their toughest political tests ever in the national election set for 2018, the question is whether it's all a bad omen; whether the CPP's time has also passed.
What has Sok An done for us? The ruling party have built roads and hospitals. But when it comes to trying to survive, they have no idea"
An impossibly long wall lines the road on the way to Sok An's farm in Takeo. This is not just a city slicker's hobby garden. It's an industrial outfit run by his son, where cows graze next to sprawling orchards of organic coconuts and mangoes that are sold under the Soma brand in Phnom Penh, less than two hours away. Sok An delighted in escaping to his rural estate and tending to his orchids, an aviary housing his collection of rare birds and, most famously, his prized fighting cocks.
His life's work, however, was as a chief strategist and a top administrator of an empire headed by Hun Sen. With each passing decade in Cambodian politics, the network has expanded, adding new patrons and clients from the Khmer Rouge when it disarmed, from the royalist Funcinpec party as it crumbled, and anyone else useful in a system that critics say operates above the law and in the service of a powerful few. Sok An's three sons either declined to be interviewed or could not be reached.
Cheang Nget lives on a road named after Sok An; no one in her community had a say in the matter. The 47-year-old's son worked for a year on his farm making $80 a month, about half the salary of a garment factory worker. Nget wonders why a man with so much money didn't try harder to help ordinary people like her.
"What has Sok An done for us?" she asked, sitting under her wooden house alongside Khaou Phat, a neighbour who is two years younger and shares the troubles of being an uneducated woman raising children in rural Cambodia.
"They have built roads and hospitals," Phat said of the CPP leaders. "But when it comes to trying to survive, they have no idea."
Nget and Phat were wary of talking openly or honestly about politics, but didn't hide their inclinations. "I just don't want to give my vote to this party any more," Nget said.
Despite the CPP's domination of local elections in 2012, when it won the vote in more than 97% of 1,633 communes, signs are pointing to significant losses this year, or even an all-out defeat, analysts say.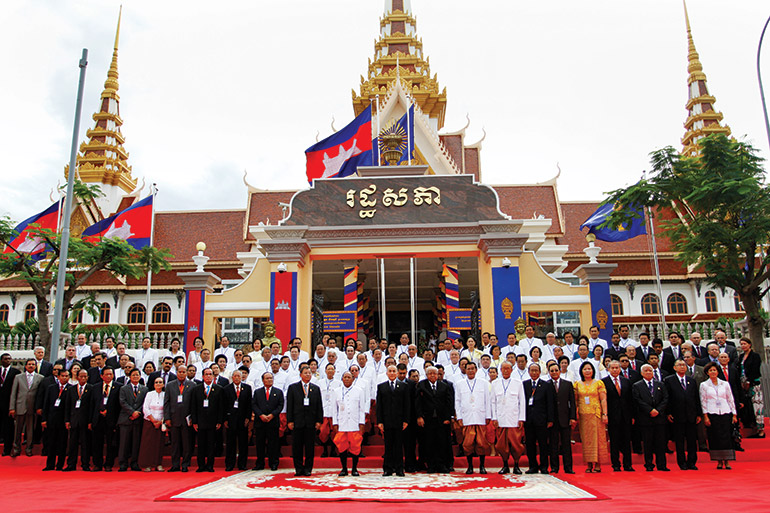 They see an electorate that is only getting younger and more removed from a political brand burnished decades ago, as well as an ever-increasing number of Khmer-language websites that now inform voters through cheap smartphones with cheap internet connections. The discontent expressed by voters four years ago, when the CPP narrowly won a disputed national ballot, has shown no sign of abating, and people are placing blame for social ills squarely on Hun Sen and his ageing comrades atop the ruling party, said Lao Mong Hay, a political analyst in Phnom Penh and former legal advisor to opposition leader Kem Sokha.
With nepotism, corruption, the promotion of the son of this or that minister, it creates frustration, resentment"
"The system is so centralised in terms of allocation of resources," he said. The most powerful CPP officials head committees that supersede the government all the way down to the village level. "But they are not delivering services to the people," he added. "They are digging canals and then not making any system to manage them."
Just as worrying for the CPP are those inside the party who are also feeling neglected, stuck in place, or ready for a new boss, said Mong Hay: "With nepotism, corruption, the promotion of the son of this or that minister, it creates frustration, resentment." Similarly, the system of favours that has brought people of varied political leanings under Hun Sen's tent has, over time, left many well off and unbound from their patrons in the party. "They are less and less dependent on the whims and wishes of their bosses," he said.
Since their eyes were supposedly opened by the last election result, CPP leaders have devoted most of their energy to destroying the opposition and silencing critics, rather than improving public services and tending to the people's demands, said Cham Bunthet, a political analyst and university lecturer in Phnom Penh.
Hun Sen is not only ruling the country through fear – jailing dissidents and warning of civil war if his party loses – he is also deeply fearful, Bunthet said. The premier knows that corrupt and self-interested public officials are eating away at his party's popularity but is too scared to stop them, he added.
"The problem is he has no one using their authority and power to get things done. He just says things but won't act because he's afraid those people will run away from him and join the opposition," Bunthet said. "You can't change in the face of fear."
It's been two decades since Hun Sen faced such an uncertain political future – when he crushed his royalist rivals in factional fighting on the streets of Phnom Penh in July 1997. It was in the days after that battle that Hav Pheak said he met Pen Sovann, Cambodia's first post-Khmer Rouge prime minister. Pheak would become Sovann's personal bodyguard and marry his adopted daughter.
After Sovann's death in October, which brought thousands to the streets in mourning of the opposition lawmaker, Pheak has been looking after his house in Takeo, which sits across from the King Club, among the flashiest of a number of karaoke bars that line a main drag heading out of Donkeo City.
The ruling party is now in overdrive ahead of the election, travelling to all corners of the province, holding meetings and handing out gifts in exchange for voters' support, or at the very least some of their time and outward appreciation, according to Pheak. "For the CNRP, the people pay their own money to come and listen," he said of the political opposition.
Though the CPP knows about the problems people face, and its slipping popularity for failing to address them, the party is incapable of changing its ways, Pheak said. If lower level officials followed instructions from Hun Sen to change their corrupt practices and serve the people, they would be crippled in the very system that has made those in its upper echelon filthy rich, he added.
"People don't follow what he says because they have to make money. And that money supports the party," Pheak said. Some of that money is then used to fund campaigns heavy on handouts, he added, but that wasn't winning votes any more. "They don't give them what they want. They give them things they don't want."
A few minutes away, CPP officials were spending the morning in a meeting at the party's provincial headquarters, setting out their election plans. Kin Net, whose business card reads "Chairman of the Standing Committee of the Permanent Committee of the CPP Takeo Provincial Committee", invited Southeast Asia Globe into his spacious office after finishing lunch.
"I think we are going to win, and win by a lot," he said, punctuating his remarks by rapping his hands on a hardwood conference table. Net said the notion that the CPP had failed the province over the past few decades was shared by an ungrateful few. He also rebuffed the most common complaints among locals: land insecurity, job scarcity, indebtedness and a broken justice system.
"Everything our group does is always what the people want. That is my opinion and the real situation as well," he said. "People who say this and that – there are no jobs or that business is bad – it's because they don't work to move up."
If dogged determination is the only way up in Takeo, Kem Ley offered an inspiring example. He got top marks in high school, went to university in Phnom Penh, returned to Takeo as a medical doctor and eventually got a position at the Ministry of Health. But he was not content.
Kem Ley left the government to do social research, mostly for NGOs. He rose to national prominence after the disputed 2013 election as a steady voice of reason during volatile times. He appeared often on the radio to discuss politics and current events, posted enlightening stories and scathing satire on Facebook and started the Khmer for Khmer advocacy group, which launched the Grassroots Democracy Party.
His assassination in July at a gas station convenience store in Phnom Penh, carried out by a former soldier believed to be a hired gun, is widely assumed to have been orchestrated by the CPP, and to many epitomised the danger of speaking truth to power in Cambodia.
Kem Ley's childhood home in Donkeo City has been turned into something of a pilgrimage site since his body was laid to rest there. A massive sign bearing his smiling face is planted along the road. His mother, Phok Se, spends her days next to her son's grave, meeting with those who come to pay their respects.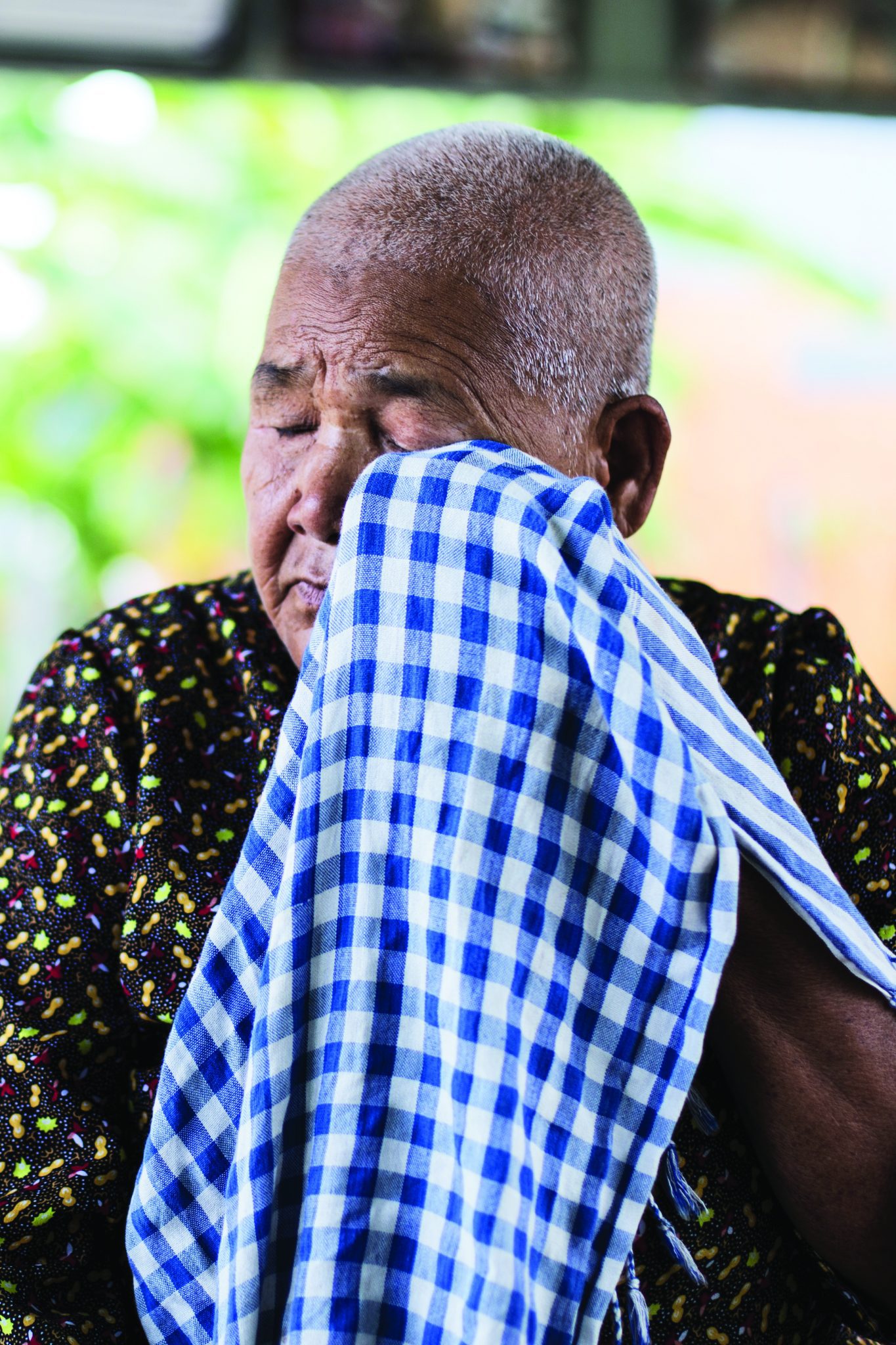 She doesn't look at the photographs lined up above her, showing eight different angles of the same scene: her son's lifeless body lying in a pool of blood. "Some people around here said people should see his body to be reminded there is no justice," she said.
Phok Sambo, a cousin who lives next door, said he didn't realise Kem Ley was famous until he was shot dead. As the CPP village chief since 1993, he has found the situation particularly vexing.
"It's hard for me to say what I feel and think," Sambo said of working for a party widely blamed for murdering his own cousin. His wife and daughter sell coffee and simple lunches from their busy little roadside restaurant in front of their house, and his son-in law makes decent money moving dirt in his dump truck. Sambo wasn't inclined to thank his bosses.
"Sok An has done nothing with this province; he just built schools with his name on them," he said. Asked who he planned to vote for this year, he laughed, noting that he used to go around the village asking people the same question ahead of elections. "Others in the party are saying: 'I guess you're going to vote for the CNRP because you are Kem Ley's cousin.' I say: 'Guess whatever you want if you want to start a fight.'"
"There will be change," he added. "But what kind of change? It's hard to say whether it's going to be peaceful."