Creation Mother wades through the clear, flowing creeks of the Stone Country, woven bags hanging from her head. Namarrkon, the lightning man, cuts a frightening, alien figure as he claps his stone axes together, bringing thunderheads rolling in across the rocky escarpment.
In a small arts centre by a picturesque lake in Australia's far north, images from these ancient yet vivid Aboriginal dreamtime stories are being hand-printed onto long rolls of fabric.
"It all comes back to the rock art," says Injalak Arts co-founder Gabriel Maralngurra. The printed designs are drawn from ochre paintings found in the rock formations strewn across a stone plateau that rises dramatically from the northern floodplains of Arnhem Land – a 97,000-square-kilometre area of Aboriginal-owned lands in Australia's Northern Territory.
Nestled at the very western edge of Arnhem Land is the Indigenous community of Gunbalanya, home to Injalak Arts and a population of 1,200 mainly Kunwinjku people.
Today, the swollen waters of the nearby lake have flooded the red dirt road behind Injalak Arts centre. A saltwater crocodile has been spotted walking the streets close by. Inside, master printers Virgil Nalorlman, Rueben Managku and assistant Daniel Nawirridj are at work on an intricate design featuring a possum by Kunwinjku artist Graham Badari. Mixing bright pink and white inks directly onto a stencilled screen, the printers stroke the colours back and forth across the linen.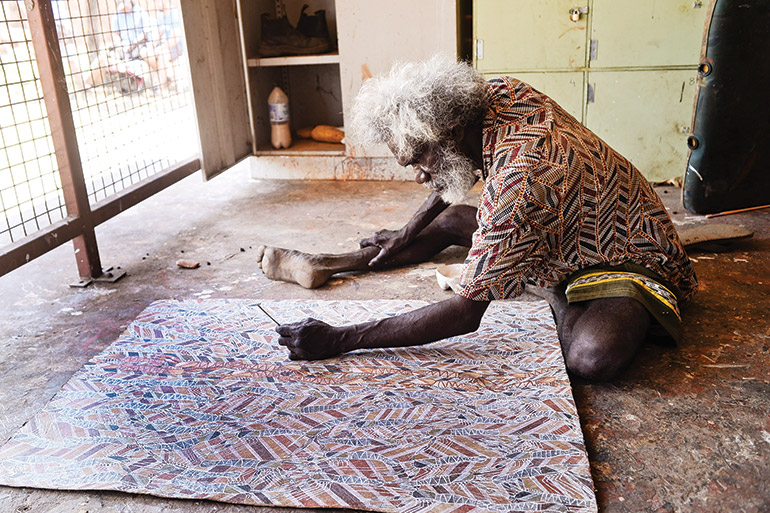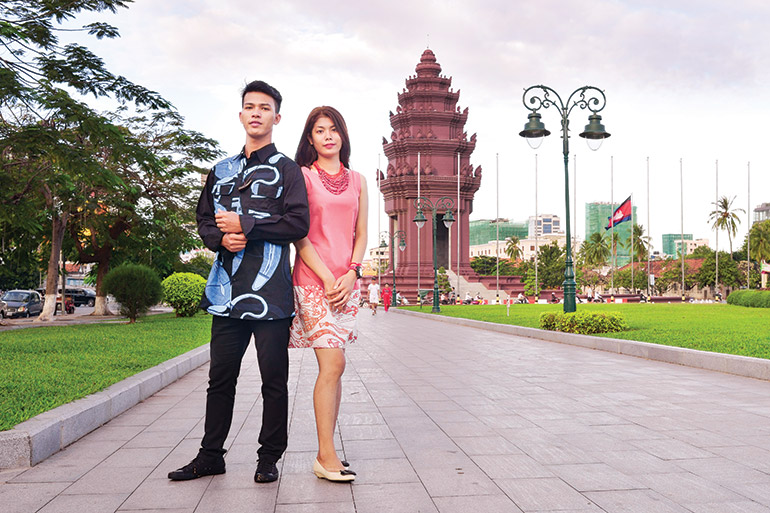 "We are getting more younger ones involved, getting the up-and-coming artists."
The finished roll is destined for Phnom Penh, part of a collaboration between the Arnhem Land artists and a talented group of designers and garment workers in Cambodia. Maralngurra says the cross-cultural project is proving an economic success for all involved.
"We are proud of our culture and happy about what we came up with, adapting the rock art to screen printing," he says. For him, the project provides not only a steady source of income, but rich succour to Kunwinjku culture, feeding into a traditional art practice being handed down from one generation to the next: "We are getting more younger ones involved, getting the up-and-coming artists."
When Kunwinjku artists say a rock painting is waralkurrmerrinj, it means an ancestral being placed its spirit upon the stone in the form of a picture. Using white clay, coloured ochres and charcoal, the rock art tells the stories of these spirits. Stories of the creation time, of bush medicine, foods, the seasons – even of first contact with Europeans; their strange ships, animals and weapons.
These days, Injalak artists are mastering new techniques to tell their traditional stories, using light-sensitive emulsions, silk screens and acrylic paints. Nawirridj takes up a hairdryer, readying the printed fabric for its cross-cultural journey.
In a small sewing workshop behind a boutique on Phnom Penh's Street 240, one of the capital's quirkier shopping enclaves, seamstress Pich Sophee cuts a dress from one of the Australian fabrics. Sophee is part of a closely knit team at A.N.D. Fair Trade, a Cambodian fashion brand that works with local artisans. Along with fellow social enterprises Villageworks, Watthan Artisans and Kravan House, A.N.D. transforms Injalak's rolls into wearable art: handbags, tote bags, backpacks, shirts, tops, dresses and accessories.
In a country where low-wage jobs at garment factories are often the best option for those joining the workforce, these small-scale enterprises try to make a difference to the lives of a few Cambodians. Their workshops offer better pay and conditions than the factories, and many of their artisans work from home.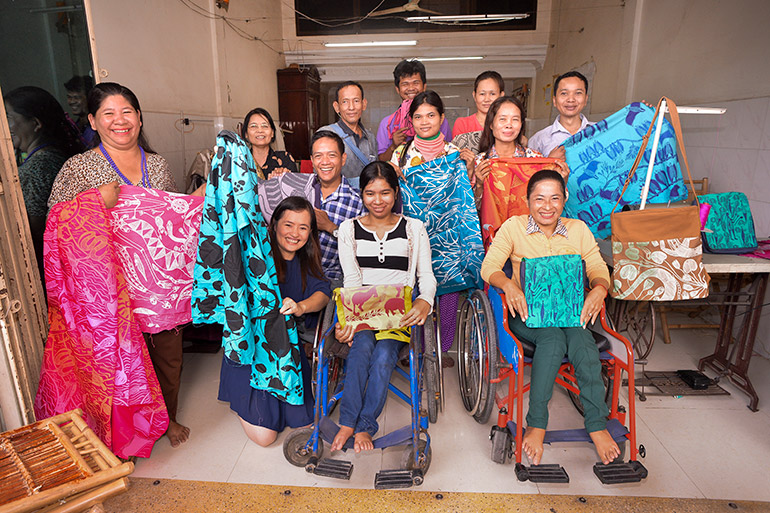 In the city's northwestern neighbourhood of Tuol Kork, workers from Kravan House are piecing together the latest creations for Injalak. Witnessing their deftness of touch, it comes as a surprise to learn that all of these employees have a disability.
Kravan House founder Hok Thanan is a disabled person herself, with malformed hands from the napalm used in the Vietnam War. From a young age, Thanan was told she would always be reliant on handouts. "When I was young they said I am disabled, that I cannot do anything," she recalls. "I listened to them, but I said one day I will earn income myself, help disabled people and bring change."
In the late 1990s, a number of charity organisations were helping disabled people with training and skills, but no real market existed for their products or abilities. So, in 2003, Thanan set up Kravan House.
"I set up the shop and provided a market," she says. "If disabled people have good skills… it means they can stand on their own and show the public they can support themselves and their family."
The collaboration with Injalak has been a boon for Kravan House workers, who take a keen interest in the cross-cultural product. "They ask first, what is the type of animal, what is the story," Thanan says. "I tell them these are from the original people of Australia; the drawings from their rock art. I love this project because Injalak provides a chance for us to give work to people here – and to promote relationships between Cambodians and Australians."
Back on the streets of Gunbalanya, the arrival of the first Cambodian-made garments causes quite a stir. Injalak Arts co-manager Isaiah Nagurrgurrba recalls seeing the clothes sewn from their fabrics for the first time, as Injalak artists paraded about town in their work shirts.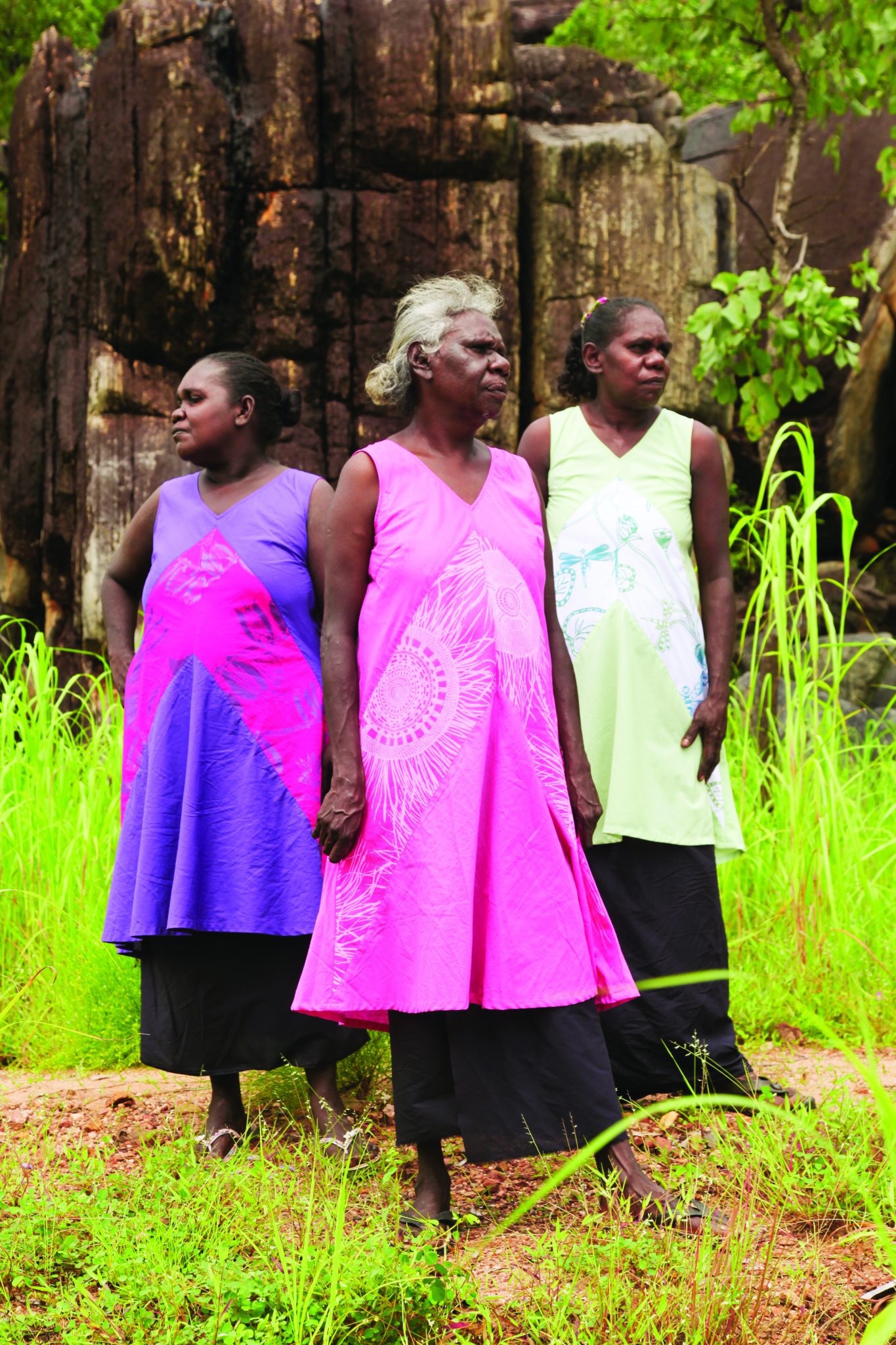 "People were really happy when they first saw them, when they see us mob wearing the shirts," Nagurrgurrba says. "Everybody was saying: 'Can I please have one?' Everybody started coming here, looking at us, going through the shop – and there were some changes."
Changes include a burgeoning social media profile, clothing and fabric orders pouring in from Injalak's online store, and the launch last February of a project called Get It On, where clothing designers and makers create wearable items from the hand-printed fabrics for an exhibition in Darwin in August. It's all part of a social network buzz that keeps Injalak's online store going through the lean wet season months from December to April.
"When it's dry season, this place, us mob, we are working flat out, because now everybody knows Injalak," says Nagurrgurrba, an artist and printer who is also a tour guide, bringing visitors from nearby Kakadu National Park to the arts centre. Here, woven mats, baskets, barks and canvasses line the walls in a visual tumult that is both ancient and stunningly contemporary.
"People who come here, we are all families, people can talk and try to teach the young people to do the painting and printing,"
"They come here and start looking this way – especially the women – they start looking at this dress," Isaiah says, pointing at the Cambodian-made silk dress displayed amongst the storyboarded history of Kunwinjku art. Visitors are taking a keen interest in this new direction, he says, in wearable garments borne from a rich mixture of cultural styles.
In the shade outside, a handful of daluk, or local women, are weaving fibre baskets and mats. Many of these women are also artists and screenprinters who work collaboratively on their designs. On the opposite side of the building, country music plays on the radio, Maralngurra is cooking up a feed of buffalo steaks and the men are at work on new paintings.
Isaiah motions around the workshop space, with its simple cinder-block walls and floor covered in paint. "People who come here, we are all families, people can talk and try to teach the young people to do the painting and printing," he says, invoking the spirits of the ancestors. "This is where the old people taught us, when I was learning."
It's early in the year, still wet season, and many of the roads around Injalak Arts remain flooded. The croc-filled waters of the nearby East Alligator river swirl, swollen from monsoonal rains. In the print room, two female artists are bundling up fabric designs bound for Cambodia, and life rolls on.