Up a dimly lit concrete stairwell in Singapore's Chinatown lies a small company in the business of love. Its office is typical of startups: minimalist (one could even describe it as bare). But appearances shouldn't fool anyone. For this is the home of Paktor, one of the region's biggest dating apps, boasting more than six million users in six key Asian markets.
The rise of dating apps has been a worldwide phenomenon. The introduction of smartphones, coupled with better connectivity, has created opportunities for mobile-based businesses, from music to games to taxi booking. The art of romance has been no different.
"We do most of our things on mobile right now, and hence it's not surprising that dating has followed the same trend," says Paktor's chief executive officer, Joseph Phua. "With the advent of smart and mobile phones, and how small and handy they've become, we've just shifted our lives to the mobile world."
Southeast Asian users have caught on to the trend, with a host of local dating apps – such as Thailand-based Noonswoon, Peekawoo in the Philippines, Indonesia's Wavoo and Singapore's LunchClick – now operating in the region.
However, Paktor, meaning 'dating' in Hokkien, is undoubtedly one of the best known, with reach in Singapore, Indonesia, Malaysia, Thailand, Taiwan and Vietnam. The app allows users to review profiles, swiping left or right to indicate interest. Users are matched if positive reviews are mutual.
Alongside its 20-strong Singaporean team, the company has 40 more employees spread across Indonesia, Taiwan and Vietnam, plus freelance developers in countries such as Russia and Croatia. In July, it concluded its Series-B funding round, raising $10 million to strengthen its brand in existing markets as well as expand into new ones, such as Japan and Korea.
"The idea of a dating app is no longer revolutionary – it's time business owners ask themselves the exact reason that people want to download a dating app."

Benny Ong, Startup Academy
Yet competition is fierce. According to Phua, Paktor is the only dating app out of 13 that entered the Southeast Asian market at the same time that is still standing. And with established global brands such as US-based Tinder also used regionally, experts say it's essential to stand out from the crowd.
Benny Ong, a strategist at the Singapore-based incubator Startup Academy, sees the challenges faced by dating apps as similar to those of most startups. "Business owners need to identify a niche space or promote a certain value that has not been established, or problems that have yet to be solved by the existing apps, as this gives consumers the value they are searching for," he says. "The idea of a dating app is no longer revolutionary – it's time business owners ask themselves the exact reason that people want to download a dating app."
Indeed, in an effort to distinguish themselves from competition and cater to specific needs and preferences, Asean-based companies have adopted a variety of unique business models.
In Thailand, the chief executive officer of Noonswoon, Mickey Asavanant, explains that the app, which suggests a single match to users at noon each day, is the number one player in the country, capturing about 5% of Thai singles. "Our users are young professionals who aren't keen on being a member of regular dating sites/apps where you becomes a choice among another hundred profiles," he said.
As with most such apps, the basic service is free, but Noonswoon currently monetises by offering extra matches at $1 each. Users who would like an additional layer of vetting can also pay a monthly subscription fee of $19.99 to get their profiles verified. Verified users can then be matched with each other, with options to chat freely.
In contrast, Singapore's LunchClick, which also offers a daily match and has market appeal among 28- to 40-year-olds, provides a question-and-answer system. Users select questions from a bank and send them on to the other party, who chooses an answer from the choices offered.
"Singles have also given feedback that the lack of a free chat makes conversation on their first date better, because they're not in the situation where they've been chatting extensively via the app for a few weeks, and find that they run out of topics when they actually meet face to face," explains Violet Lim, its chief executive officer.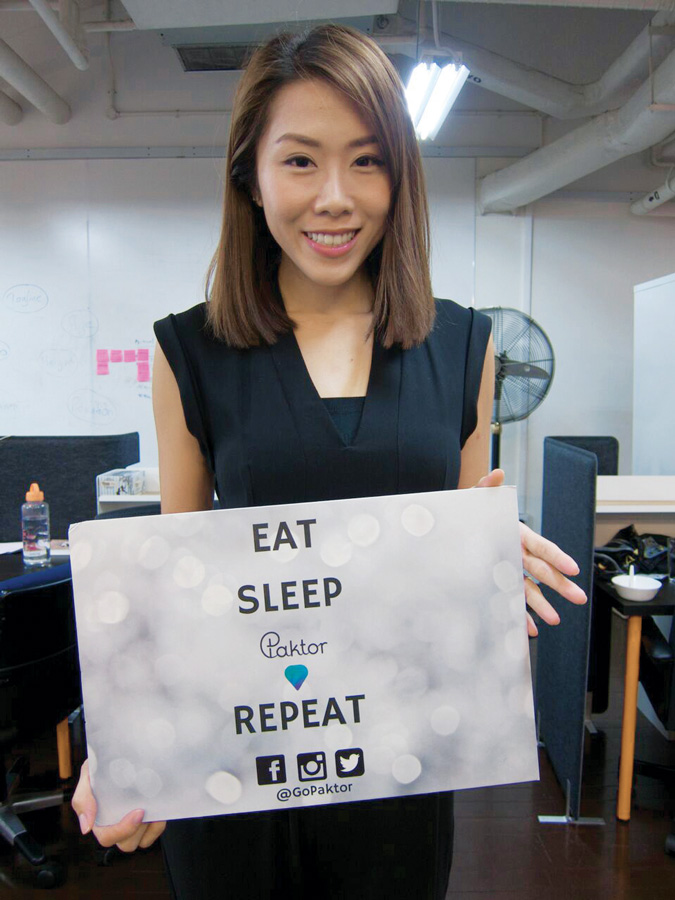 Largely catering to professionals, LunchClick draws on Lim's experience running Lunch Actually, an offline dating service. It also positions itself as a "female-centric dating app", marketing itself to women looking for more than casual hook-ups, and offering packages ranging from $77 to $462 that provide a more personalised service, including assistance from dating consultants.
For Paktor, with a market 'sweet spot' of those aged 25 to 30, targeted marketing is key to keeping ahead of the pack, particularly against established apps such as Tinder. In a region as diverse as Southeast Asia, capturing market share involves understanding and working with the social norms of each country.
For instance, while most of Paktor's advertising in Singapore appears online and on social media platforms, regional marketing director Shn Juay says the company adopted a different tack in Indonesia.
"We go into university campuses and identify people who could be influencers, such as those who hold positions in clubs and societies. We get them to try the app, and then share it through word of mouth," she said. "It's slower, but it gives us a lot more credibility."
The company, which offers a translating feature on its app, has also begun to explore other opportunities. It now operates a 'freemium' model where users can subscribe every month for 'Paktor Points' that unlock special features, such as allowing users to filter profiles by height, education or occupation, or to buy virtual gifts. The company also has its sights set on more diverse services, moving beyond romantic hook-ups to provide more opportunities for general socialising.
"More often than not if you ask your friends how you met their significant other, it will be through a gathering, through work, through meeting with friends who brought friends," said Phua. "We're going to try to tie that in… create opportunities for people to socialise with groups of other people where they could potentially meet somebody."
The service is currently still in development, but Paktor has already introduced an in-app group chat feature to allow people with similar interests to get in touch. It has also seen fit to move in a different direction.
In late 2014, Paktor launched an offline dating agency called GaiGai, providing matchmaking services but also style and fashion advice. Paid members work with a relationship manager and are guaranteed dates, while free members are simply screened and remain in a pool where they might be matched to paid members if deemed suitable.
"Current clients are still on the app, and we work together," said Dolly Chua from GaiGai's operations team. "That's what makes GaiGai unique – we have the Paktor users."
This ties in well with Phua's own view on dating services. "It's great that our target audience has both offline and online choices," he said. "We service different needs within the same target audience and it's mostly complementary."
Asavanant also sees the same opportunities within the market, not just for apps but also for the dating industry as a whole.
"We are just tapping the tip of the iceberg," he said.
"Apps will be just one part of the whole dating experience. There are many more pieces in the game of love."