Introducing a young urban generation to a traditional rural material
By Gregory Pellechi
Bamboo enjoys a long and illustrious history in Southeast Asia, where it has been used in construction since time immemorial. The material has largely gone out of fashion in urban areas in recent times, but six Finnish architecture students are seeking to reverse that development with the construction of a new youth centre in Phnom Penh.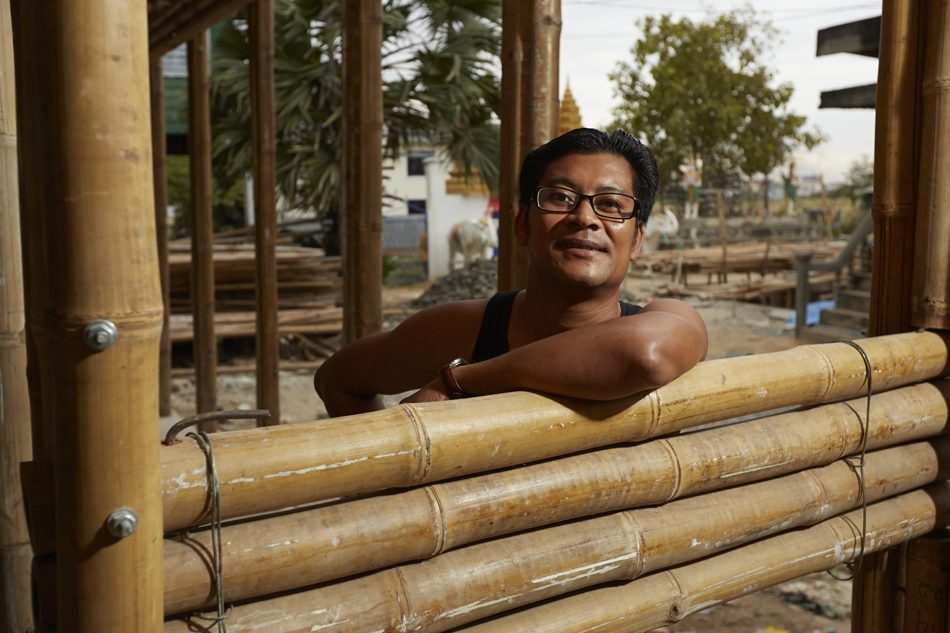 Versatile, strong, flexible, sustainable and cheap – few materials can boast as impressive an array of adjectives as bamboo. These attributes are also among the reasons for its continued use by much of Southeast Asia's rural populations. Inspired by the humble grass, when Komitu Architects decided to build a youth centre in Phnom Penh they envisioned doing more than simply constructing a building for those in need.
Helsinki, from where the Komitu team set out for a student field trip first in 2009 and again in 2010, is a far cry from Phnom Penh. As part of renowned Aalto University's 'City in Crisis' course, the six women behind the studio got to know the Cambodian capital primarily from the perspective of the city's poor and marginalised. The aim of the course was to introduce the students to the real problems faced by architects and designers worldwide; the six women took it a step further and decided to realise the youth centre they had designed as part of the course.
"Good architecture should not be merely a luxury – sustainable architecture should be even more prominent in areas with a significant number of resources, like Cambodia," explains Inari Virkkala of Komitu. Flush with as sustainable and fashionable a material as bamboo, Cambodia should be at the forefront of design that utilises such resources. Sadly, it is not.
Construction started in 2010 in Kouk Khleang, one of Phnom Penh's relocation sites situated on the outskirts of the city and home to many of the city's Khmer Krom population. The design and consultation phases included the Kouk Khleang community, with support from Khmer Kampuchea Krom for Human Rights and Development Association (KKKHRDA) and Cambodian Volunteers for Society (CVS). Komitu, as a member of the Finnish NGO Ukumbi, which aims to alleviate poverty through participatory architecture, wanted to steep their design and the materials used in Cambodian culture, sourcing as much as possible from the country.
To assist in realising the Kouk Khleang Youth Centre, Komitu flew in Kevin Rowell of The Natural Builders, a world-renowned specialist in using natural and sustainable materials. Last March he conducted a site visit and provided training for the architects and community. The purpose was to instruct Komitu and the community in the "treatment, selection and processing of bamboo into the final building elements used in the youth centre", says Rowell, who is based in California.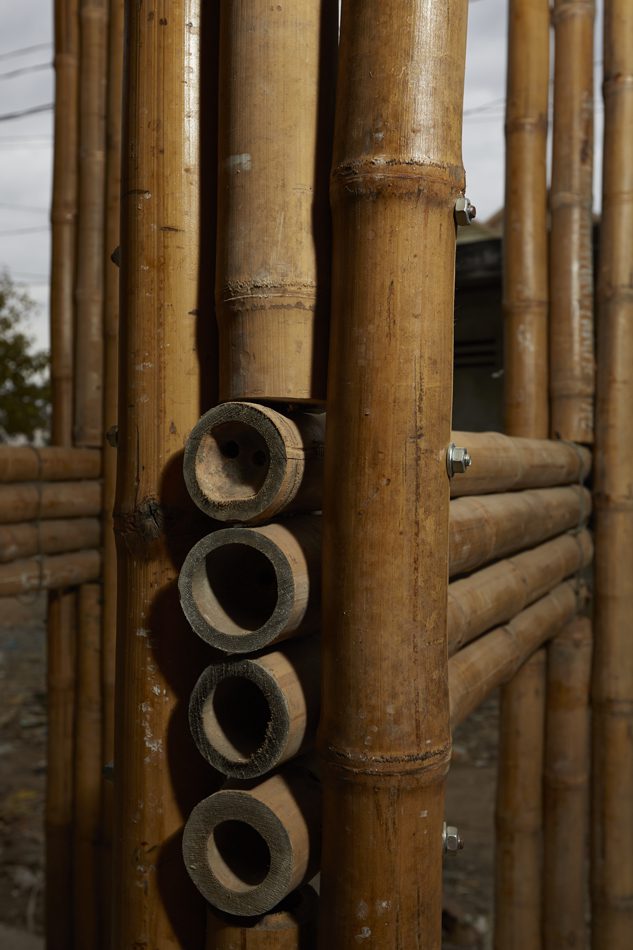 "In addition we covered a basic introduction to techniques of earthen construction and finishing and treatment of the earthen walls," he adds.
Given that there are more than 1,200 species of bamboo in the world, and Cambodia offers an excellent selection, Rowell's advice was priceless, says Elina Tenho of Komitu: "He guided us through the selection process of a good species of bamboo [via] us sending him photos and him naming and rating them by email… and revising the design to make it even more suitable for the material."
"Bamboo is a beautiful natural material, but [one that is] little used in modern Cambodian buildings, due partly to attitudes that deem it a poor man's timber and partly to a lack of knowledge of how to use and treat it to last," adds Tuuli Kassi of Komitu.
However, attitudes towards bamboo are changing in the community. "Even though it was made from bamboo and earthen bricks, it has a new look that is rare in Cambodia," says Chum Chuon, programme director of KKKHRDA, which is working with CVS to run the youth centre. "Most of the community members and the neighbours when they come across the centre always say, 'That's a very good design and the style is one which we've never seen before.'"
The centre, set to open this spring, should provide inspiration for those from outside the neighbourhood as it will provide a place for "young people from poor families and communities from the provinces pursuing their university studies in Phnom Penh to stay", along with CVS volunteers and others, according to Chum Chuon. Their experience of the centre and its use of bamboo will be carried back to their own communities and, in time, may influence greater use of sustainable materials.
"A beautiful, new building is a very powerful manifestation of a better tomorrow and the importance of development," explains Virkkala, "especially in a poor neighbourhood like Kouk Khleang."