The Bersih 5.0 rally, set to kick off in Kuala Lumpur tomorrow, could lead to clashes between Malaysia's 'red shirts' and 'yellow shirts'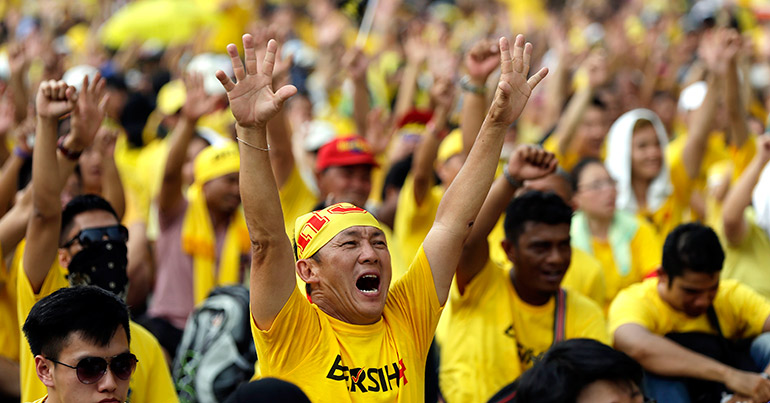 Tomorrow's Bersih 5.0 rally in Kuala Lumpur is expected to be a historic, and potentially violent, exercise in democracy, according to experts.
Bersih is a coalition of NGOs seeking to reform the electoral system in Malaysia. Key demands include the resignation of Prime Minister Najib Razak and changes to the country's political system. They say the government's current structure limits democratic participation and grants the prime minister an inordinate level of power.
Its first rally, held in November 2007, attracted about 100,000 protestors. And the latest Bersih rally, held in August 2015, saw nearly 200,000 protesters gather in Kuala Lumpur demanding electoral change.
Malaysia's political climate has been tense in the run-up to the protests. Yesterday, deputy prime minister Ahmad Zahid Hamidi warned those associated with Bersih, which has been branded an illegal movement by the government, that they should "stand down", or risk a response from police which could include the use of tear gas.
"The police will not compromise with anyone when it comes to the type of action that will be taken," he told reporters in the lobby of the country's parliament, according to Free Malaysia Today.
In a video released earlier this week, former Malaysian prime minister Mahathir Mohamad, wearing a yellow Bersih shirt, urged Malaysians to participate in this weekend's rally.
And last night, the Kuala Lumpur High Court dismissed an injunction filed by three Malay traders' groups against Bersih to stop Saturday's protest from taking place.
Jayum Jawan, a senior professor at Ohio University who specialises in Malaysian politics, said the protests would likely lead to a clash between Bersih, often referred to as 'yellow shirts', and pro-government 'red shirts' planning to hold a counter-rally.
"This meeting of the two groups should not happen because protests are one form of democratic expressions intended to register messages to the ruling party and not against each other," he said.
"It is not about yellow shirts versus red shirts. Each group should hold their separate protest if they have messages they want to communicate to ruling parties. One group does not have the right to try to stop the other from expressing their aspiration."
The significance of the protests, according to Helen Ting Mu Hung, a senior fellow at the Institute of Malaysian and International Studies, is more of a symbolic gesture of democracy than a predictor of Malaysia's general elections, which could be held as early as next year.
"It is an important channel of expression of people's dissatisfaction, and further repressive measures on the freedom of assembly would render people even more upset," she said.
"It is hoped that the law enforcers would ensure that the whole event takes place peacefully and orderly. There is fear that the red shirt protesters may resort to some form of violence. A determinant factor would be the impartiality and effectiveness of the police forces in restraining those who are out to create trouble."
Tomorrow's rally has been preceded by a seven-week tour of 246 Malaysian cities and towns as part of the Global Bersih movement.