The case of jailed opposition heavyweight Anwar Ibrahim has never been far from Malaysia's consciousness, but a new pact with former prime minister Mahathir Mohamad has returned him to the spotlight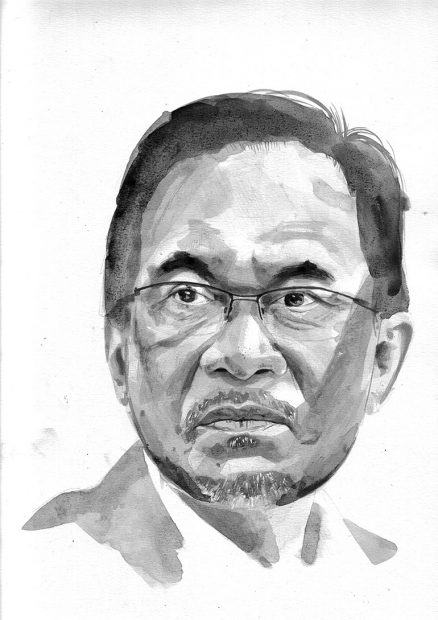 It was an incongruous scene: imprisoned Malaysian opposition figure Anwar Ibrahim, with his hands clasped around those of Mahathir Mohamad, the former prime minister who was also his jailer.
Sentenced to prison in 1999 after being accused of corruption and sodomy by Mahathir, Anwar was freed in 2004 after the Supreme Court overturned his conviction. But, following a legal battle, another sodomy charge sent him back to jail in February 2015 where he has been held since.
That he was willing to pursue a détente in September with Mahathir – who had once been Anwar's ally before turning on him in the 1990s – demonstrated just how disordered Malaysian politics has become.
The pair, not seen together in public since 1998, have been reunited over their "shared belief that they have a much larger mutual enemy" in Prime Minister Najib Razak, said Amrita Malhi, a visiting research fellow at the University of Adelaide. "Both want him out and they are willing to combine their powers to achieve their goal."
In a statement from his cell, Anwar said Najib had "wreaked havoc", calling the 1MDB scandal – in which the prime minister is accused of financial mismanagement and corruption – the "most severe" in Malaysia's history. "We must together chart a new way forward to save our beloved nation," he had said a few months before his reunion with Mahathir.
After serving nearly two years in jail, where he is reportedly suffering ill health, the resultant headlines have brought the former opposition leader back into the spotlight. There is much sympathy for his plight, according to Murdoch University's Malaysia research fellow Greg Lopez, who says Anwar could be best placed to unite
a fractured opposition against Najib.
"The majority of Malaysians still do believe that he would make the best prime minister given the current cohort of Malay leaders from all sides," Lopez said.
"The majority of Malaysians are already against Najib Razak," he added. "The problem has been that the opposition parties have not been able to cooperate meaningfully against Najib [and his party] the UMNO [United Malays National Organisation]. An Anwar-Mahathir compromise could set the tone for other leaders to cooperate meaningfully."
James Chin, director of the University of Tasmania's Asia Institute, agreed that urban Malays and sections of the middle class see Anwar as "the best person to kick BN [Barisan Nasional, the UMNO-led coalition] from power".
But Chin countered that without the support of the Pan-Malaysian Islamic Party (PAS), which broke away from the opposition coalition last year after proposing stricter shariah punishments in the northern state of Kelantan, Anwar and Mahathir lack the ability to unite Malaysians against Najib.
"PAS will not sign up, and they play a crucial part in the rural areas. My understanding is that PAS's leader, Hadi Awang, will support the UMNO indirectly because he really hates the Democratic Action Party [social democrats popular with Chinese voters]."
At the time of writing, all opposition parties with the exception of PAS had formally agreed to present a united front at the next general election. Nevertheless, others believe that Mahathir, who created his own political party, Bersatu, in August and has long been popular with traditional UMNO voters in rural areas, could hold enough sway to negate the absence of PAS.
Not all of Anwar's supporters, however, feel comfortable with the political pact he is signing up to with Mahathir. Chin said his understanding was that many in Anwar's People's Justice Party do not fully support the move, while Malhi said the terms of the reconciliation remain "a matter of active negotiation between their supporters".
Yet it seems the pair are determined to put aside their differences. "Both sides have acknowledged that Anwar's family has had a rough time accepting this development, but his daughters' public statements, in particular, have been growing increasingly supportive," said Malhi. "Both sides are saying that they are thinking of the greater good."