Who is 'Malaysian Official 1'? The question has been on the minds of many in Malaysia since July, when a lawsuit brought by the US Department of Justice over the 1MDB scandal referenced the individual 36 times, accusing him or her of receiving $731m in misappropriated funds, though returning $620m of it.
In September, Abdul Rahman Dahlan, strategic communications director of the ruling Barisan Nasional (BN)coalition, told the BBC that, of course, 'Malaysian Official 1' was none other than Prime Minister Najib Razak. But, Abdul said, Najib was not referred to by name because he was not part of the investigation.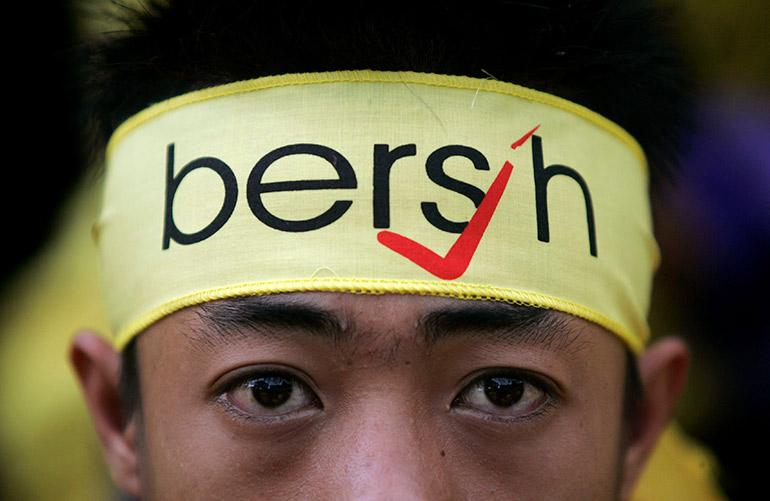 The admission surprised few Malaysians, and certainly not the organisers of Bersih, a coalition of 94 civil society organisations that have been making noise about Najib's alleged role in the 1MDB scandal for years and demanding electoral change since the group's first rally in November 2007.
Bersih, which translates to 'clean', is short for Gabungan Pilihanraya Bersih dan Adil (Coalition for Clean and Fair Elections). It is often called Bersih 2.0, since it was relaunched in 2010 to make it entirely an non-governmental organisation, though it retains close ties with opposition parties.
An estimated 100,000 people took part in its first rally, while estimates ranged between 6,000 and 50,000 for its second, in July 2011. An August 2015 rally saw almost 200,000 people descend on Kuala Lumpur to protest for change, despite the government branding it an illegal organisation.
Another Kuala Lumpur street rally is slated for 19 November, preceded by a seven-week tour of 246 cities and towns calling for Najib's resignation and changes to the political system, which, the organisation contends, curtails democracy and gives the prime minister an excessive amount of power.
James Chin, director of the Asia Institute at the University of Tasmania, says Bersih has achieved three important aims in its ten-year history: showing that mass demonstrations in urban areas can be successful; creating a large coalition of NGOs, "when previously they were working separately"; and attracting multi-racial crowds to earlier protests, "when previously rallies tended to [be] mono-racial".
It became clear the only way for change was a regime change, and the only way for that was to get rid of the prime minister
John Funston, visiting fellow at the Australian National University's College of Asia and the Pacific, adds another: the realisation that "without a levelling of the electoral playing field, democratic political change [is] impossible".
In an interview with Southeast Asia Globe in May, Bersih chairperson Maria Chin Abdullah urged Malaysians to recognise "awareness is the first step towards reform and change". She added: "Bersih to a large extent provides that hope for change and unites concerned Malaysians for a common cause."
'Hope' might be the illustrative word in this sentence, since questions remain over whether Bersih – or civil society more generally – can bring about change in Malaysia. In a 2015 paper, "Challenging electoral authoritarianism in Malaysia", academics Sandra Smeltzer and Daniel Pare wrote that there is "no direct link between citizens' increased participation in embodied political activities in public spaces and the establishment of more liberal-oriented institutional structures".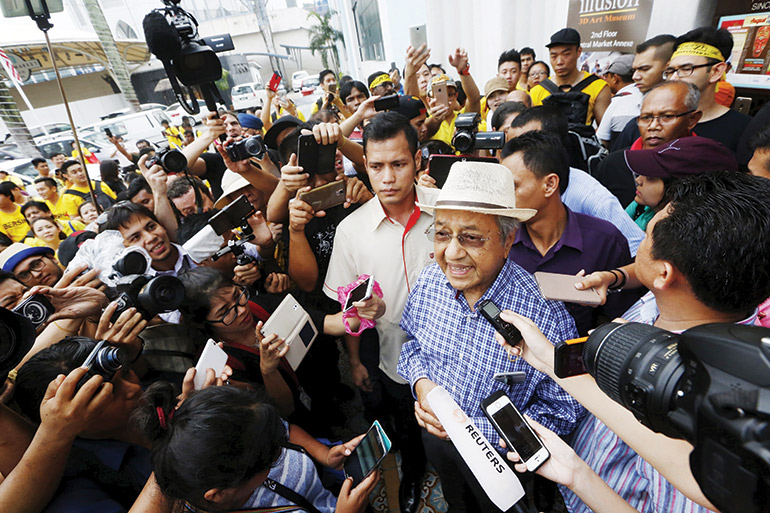 And, according to Chin, "a lot of the urban middle-class wanted to express their disaffection with the political system, and before Bersih, they had to go through one of the main political parties to do so. With Bersih, they had an alternative." The problem, though, is that the only means of political change in Malaysia is through party politics, "because parliament has to change the laws".
Most commentators would agree that such changes are unlikely under a government controlled by Najib's United Malays National Organisation (UMNO), which has been in power for as long as Malaysia has existed. But to improve governmental institutions and rid the country of corruption on the scale of 1MDB, Bersih contends, Najib must go.
Yet whichever way one views Malaysia's current political scene, the inescapable fact remains that Najib and his UMNO government are in a stronger position than in past years. Or, rather, the political opposition is weaker than it has been in more than a decade.
At the 2008 elections, the BN coalition, led by UMNO, lost 58 seats while the opposition Pakatan Rakyat (PR) coalition gained 61. In the popular vote, the BN achieved only 300,000 more votes than the opposition. This was reversed five years later when the popular vote went to the PR for the first time in Malaysian history, though the country's first-past-the-post electoral system allowed the BN to win 133 seats to the PR's 89. Still, the election result was dire for Najib and UMNO, and for the last three years the prime minister has set about regaining supporters and destroying his opponents.
It began with purges of the ruling coalition. In June 2015, Najib fired his deputy prime minister and four other cabinet ministers. Also dismissed was Mukhriz Mahathir, the son of former Prime Minister Mahathir Mohamad, now Najib's fiercest critic. Today, the government is filled with Najib loyalists, many of whom have been rewarded with cushy cabinet positions.
Meanwhile, the opposition has been cleaved apart. In March 2014, the government announced that parliament would debate the introduction of hudud – strict Islamic criminal codes that allow for the use of controversial punishments such as whipping – in the northern state of Kelantan.
Many believe UMNO's support for the hudud bill, which it had long opposed, was designed to divide the opposition. And it worked. The PR coalition collapsed in June 2015 when the Pan-Malaysian Islamic Party (PAS) – an ardent supporter of hudud – severed ties with the coalition, reportedly after its coalition partner, the centre-left Democratic Action Party, opposed the bill. Months later, the PAS broke up when several politicians and activists left to form the National Trust Party (PAN), which rejoined the PR's partners to establish a new coalition, Pakatan Harapan.
Add to this the jailing of opposition figurehead Anwar Ibrahim early last year and the death of PAS spiritual leader Haron Din in September, and a shaken, fragmented opposition remains. The impact was visible in June when UMNO won two parliamentary by-elections with sizeable margins; if PAS and PAN had remained united, they would have surpassed UMNO.
Looking ahead to the next general election, expected to take place in 2018, Funston predicts that votes for UMNO are unlikely to increase, but a weakened and divided opposition may hand victory to the government by default.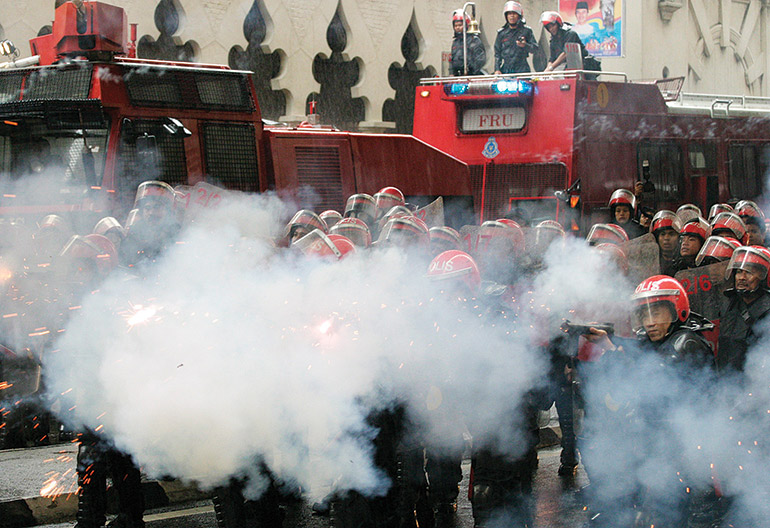 Nevertheless, two years is a long time in Malaysian politics, and the Bersih rallies could provide a catalyst for bringing together disparate opposition parties on a common, anti-Najib platform. "Bersih has a huge task, but is needed more than ever," says Funston.
Chin says the movement "received a boost" when last month the electoral commission, which is selected by the government, announced it will redraw electoral boundaries in 112 parliamentary seats, almost half of the national tally. Opposition politicians have labelled this gerrymandering; breaking up UMNO-controlled seats into smaller constituencies will give the party more MPs – a simple tactic for Najib to ensure victory at the next election. "People can see just how blatant electoral manipulation is," says Chin, who predicts the upcoming rallies will attract large numbers, including many first-time participants.
However, Bersih is not a revolutionary force, nor can it directly bring about change. Yet, says Chin, "it is very successful at highlighting the crooked election system in Malaysia". This is more important than ever as Najib seeks to alter political institutions to retain his grip on power.
Bringing about change will demand more from Malaysia's opposition parties in the coming years, and they will have to recapture the upward trajectory of the 2008 and 2013 elections. As Chin says, it became obvious after Bersih's massive 2015 rally that "the only way for change was a regime change, and the only way for that was to get rid of the prime minister"