Photography by Stev Bonhage
There is blood soaking through the wraps around his hands, and blood staining the white canvas of the ring and blood sluicing from the swollen gash that splits his brow. The unseen orchestra picks up the slap of fist against flesh and whips it to a droning frenzy as the stadium trembles with the fury of the crowd. A full head and shoulders shorter than his opponent, local Lethwei fighter Saw Darwait is struggling to stay on his feet. He locks arms with his foe, his eyes far away, before wrenching his head to the side in a vicious headbutt that tears a groan from the eager audience.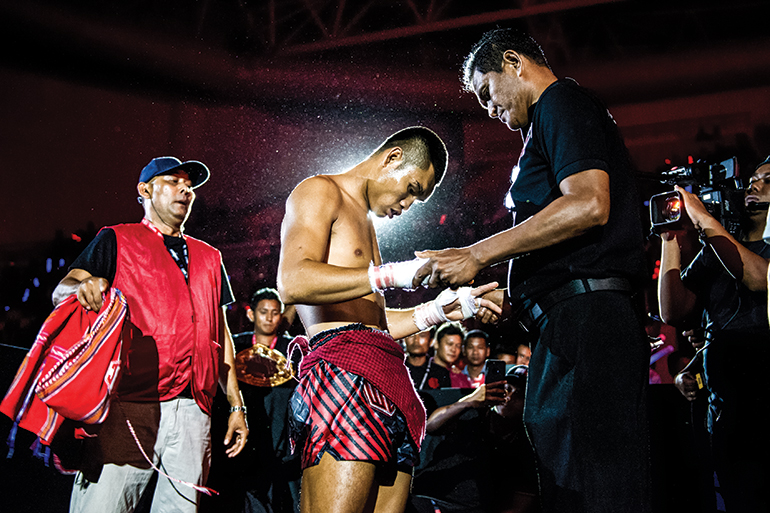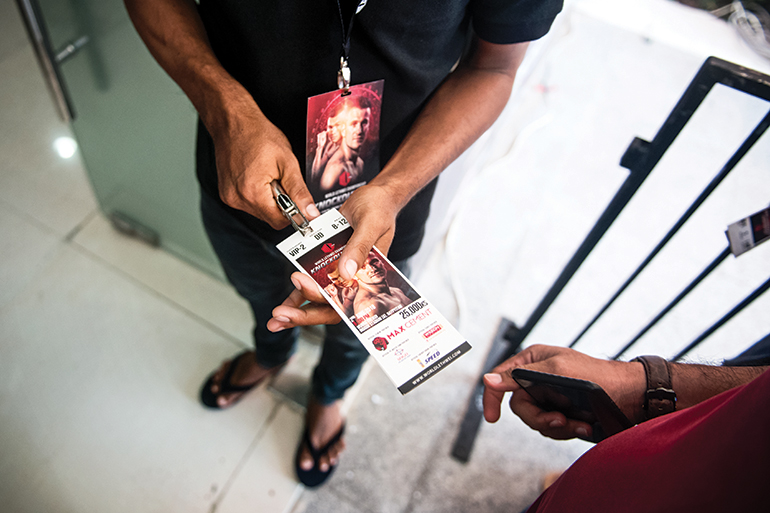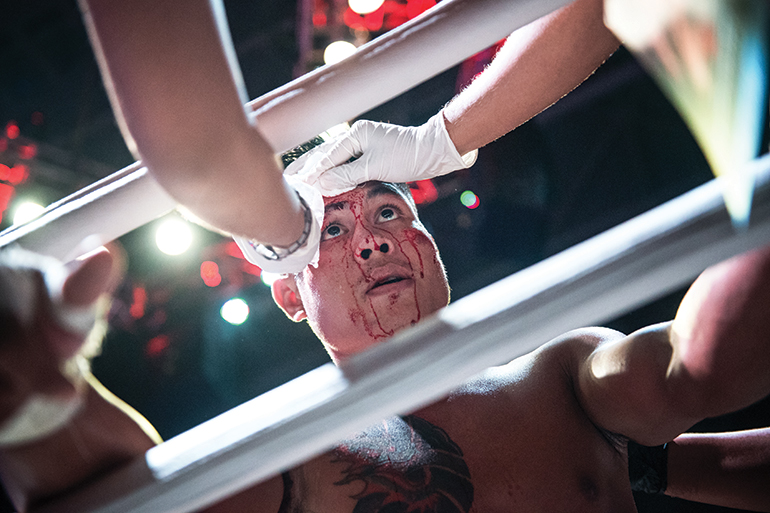 This is the World Lethwei Championship (WLC) Knockout War, and the gloves are off.
WLC, backed by a local property conglomerate and drawing talent from Singapore-based combat sports titan ONE Championship, is on a mission to launch the traditional Myanmar martial art of Lethwei to the fame – or infamy – of Southeast Asian sports such as neighbouring Muay Thai.
And with mixed martial arts fighters from as far afield as Poland and Portugal eager to bloody their knuckles against the best warriors Myanmar has to offer, it's little surprise that the once-unknown sport is going from strength to strength.
Australian fighter and former kickboxing champion Michael Badato is here in the empty city of Naypyidaw, he says, for a good time, not a long time. Speaking to Southeast Asia Globe before his match in the sparsely populated capital's Wunna Theikdi Stadium, the Muay Thai master grins ruefully as he twists tape around his fingers.
"It's definitely different when you're fighting bareknuckle," he said. "The sting of a punch is more shocking, so probably more distance, more combos, more timing – it doesn't need to be a hard punch, it just has to be a snappy punch."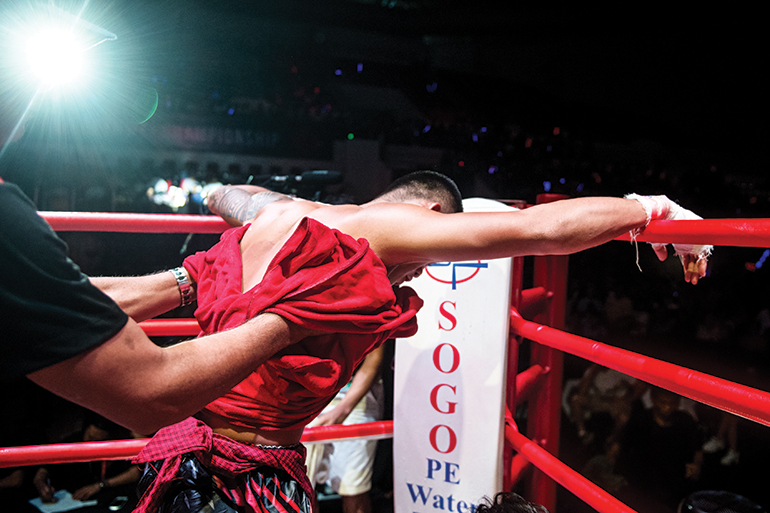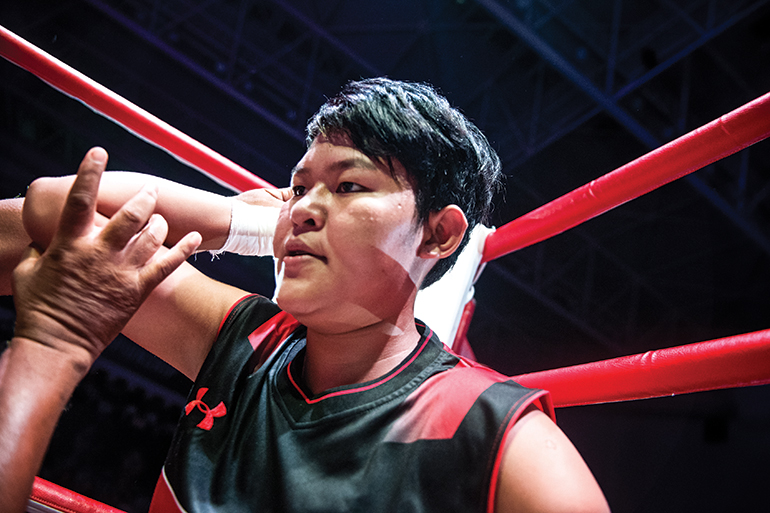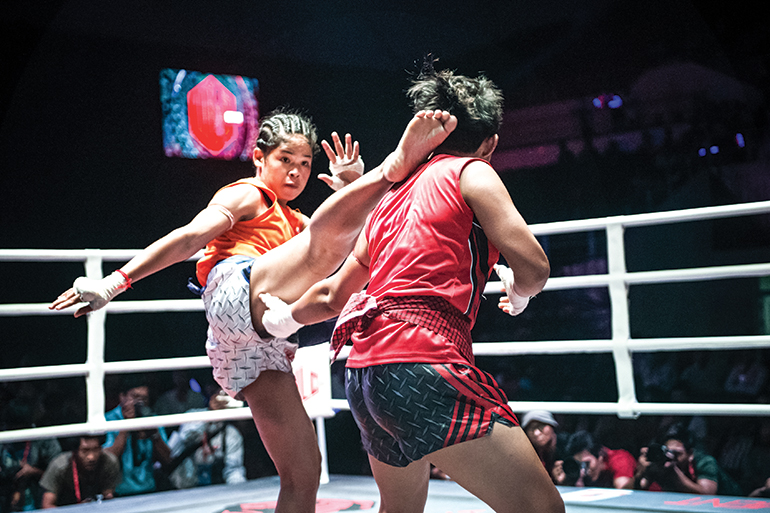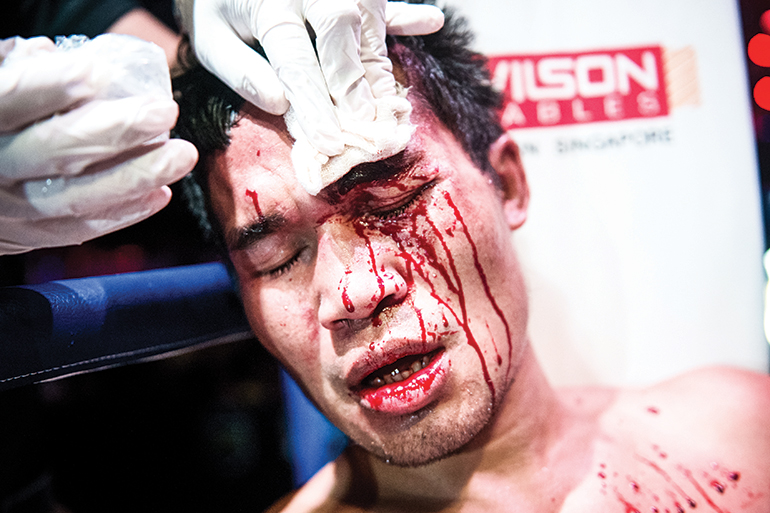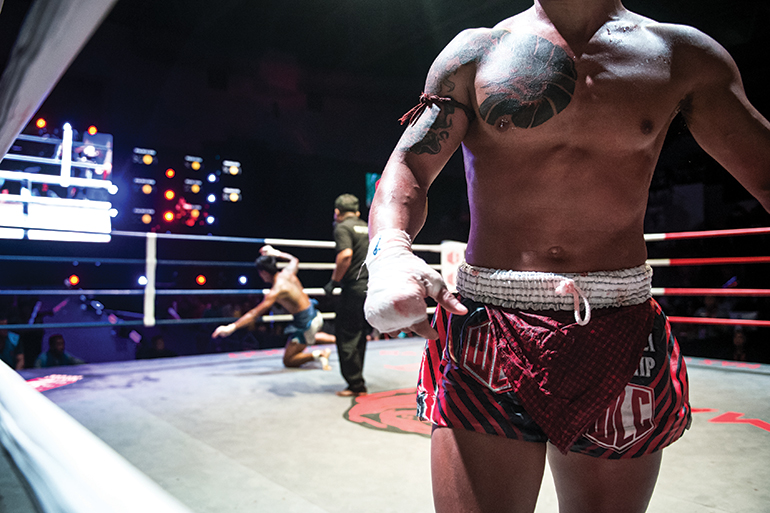 Carved into the murals of the ancient temples of Bagan more than a millennium ago, Lethwei – known as the art of nine limbs for allowing its athletes to lash out with their head as well as the elbows, knees, feet and fists that fill out the arsenal of most Southeast Asian martial arts – has long been relegated to Myanmar's rural hinterlands as the people's favoured bloodsport. Now, draped in the trappings of a professional martial arts championship, the sport has found its way beneath the unflinching eyes of international audiences around the world.
"The entertainment is different, more bloody," Badato said. "The sport is very unforgiving. People love to see that. People love to see raw emotions, nothing edited. Fair enough – you've got MMA and your kickboxing and Muay Thai, but when you're up there, when someone makes a mistake, whether it comes from a counterpunch or a kick or just tiredness, they really do feel the pain and suffer. People love to see contact, knockouts. And it sells. UFC and MMA are the biggest and fastest-growing sports in the world… It's a really bloody sport, and people like to see that."
Brooklyn-born Chan Reach, now based in the Cambodian capital of Phnom Penh, moved to his parents' homeland seven years ago with 13 professional MMA fights under his belt to train a new generation of Cambodian champions. Speaking behind the scenes at last month's championship, he described how Lethwei's notorious violence had drawn in crowds looking for some primal quality that more polished sports such as kickboxing are lacking.
"Lethwei is in its rawest form," he said. "It's like a street fight but with rules and with professional fighters. Before, Lethwei was known only in Myanmar – but now they have WLC; it gives a chance to the local Lethwei fighters to have international competitions and show the world their culture."
Nou Srey Pov, 22, a Cambodian fighter schooled in the traditional martial art of Kun Khmer and a pupil of Reach's, became the first woman to win a WLC match, in February. Speaking with Southeast Asia Globe hours before her fight against Shwe Nadi – the daughter of a local Lethwei legend – she said that adapting to the Myanmar fighters' unorthodox style was a challenge.
"But in terms of it being dangerous – it's just as dangerous as Muay Thai or Kun Khmer, it's just the same. The only difference is the headbutts."

Chan Reach
"The first time, I wasn't used to it yet," she said. "I heard about it, but I didn't expect it to go the way it went. I won, but I didn't expect the headbutts and all that stuff. I just pretty much used Cambodian martial arts to negate Lethwei: a lot of elbows, a lot of knees and a lot of punches. And kicks also. So I just used elbows to negate the headbutts."
That evening, after three rounds of vicious back-and-forth, Srey Pov was again crowned the victor in a unanimous decision from the judges. This, too, is a legacy of WLC's programme to professionalise the sport: for millennia, Lethwei athletes have been expected to fight to the last man standing.
"In the local show, there's no point system," Reach said. "You have the knockout or it's a draw. But with the WLC, they do the points system here. For some Myanmar fighters, it's new to them, but for foreign fighters, it's what we need. But in terms of it being dangerous – it's just as dangerous as Muay Thai or Kun Khmer, it's just the same. The only difference is the headbutts. The headbutts can do a lot of damage – not only to the opponent but to yourself. In terms of long-term damage, I think Lethwei is up there."
Artur Saladiak, a Polish Muay Thai practitioner living in London, has fought against some of the fiercest fighters Southeast Asia has to offer. That night, he would be fighting for the title of world champion in his weight range – and not without some trepidation.
"I was shocked by how strong they are, how tough they are, and I've been preparing to fight all five rounds because I knew that to stop them before the time [runs out, at which point the judges deliver the winner], it would be very hard," he said. "You have more weapons, and that makes Lethwei a little bit more dangerous."
People like violence and people like when blood is coming out of the face of another fighter, and that's why people will prefer to watch Lethwei in the future
Saladiak's opponent would never see the fifth round. After ten minutes of a match that at times seemed more dance than dogfight, the Polish fighter flung the Karen-born Saw Ba Oo against the ring ropes and kept him there with a vicious kick to the chest that left Ba Oo winded on the canvas. Keen to observe the ancient protocols of his adopted sport, the newly crowned light-middleweight Lethwei world champion prostrated himself before his fallen foe before launching into a traditional dance of triumph.
Saw Nga Man, who's known as "Saw Shark" and hails from a Karen village famous for its Lethwei lineage, said that fighters such as Saladiak and Badato were bringing much-needed attention to his country's culture.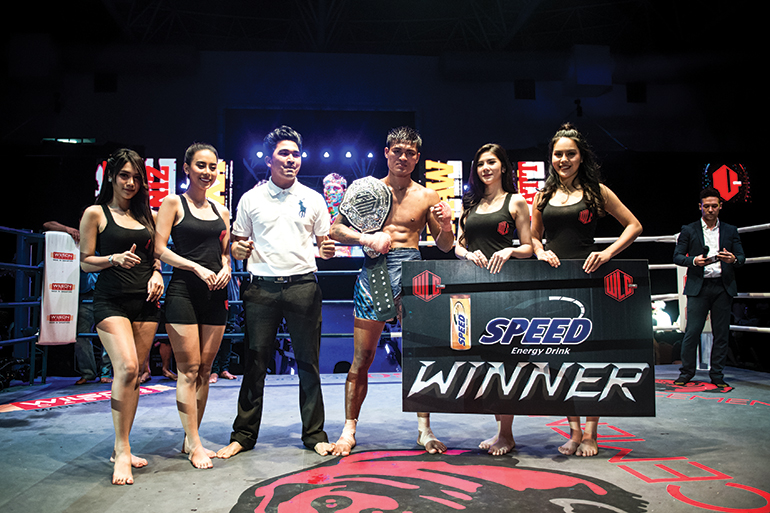 "International fighters can fight in Lethwei, so we are very glad to see the kind of fighters that come and fight here," he said. "Lethwei is now developing and developing, so later we hope that Lethwei can overcome Muay Thai."
For Saladiak, the ferocity and intensity of Myanmar's bareknuckle boxing has proven a winning combination.
"This sport is something new, but something that people will like," he said. "People like violence and people like when blood is coming out of the face of another fighter, and that's why people will prefer to watch Lethwei in the future."