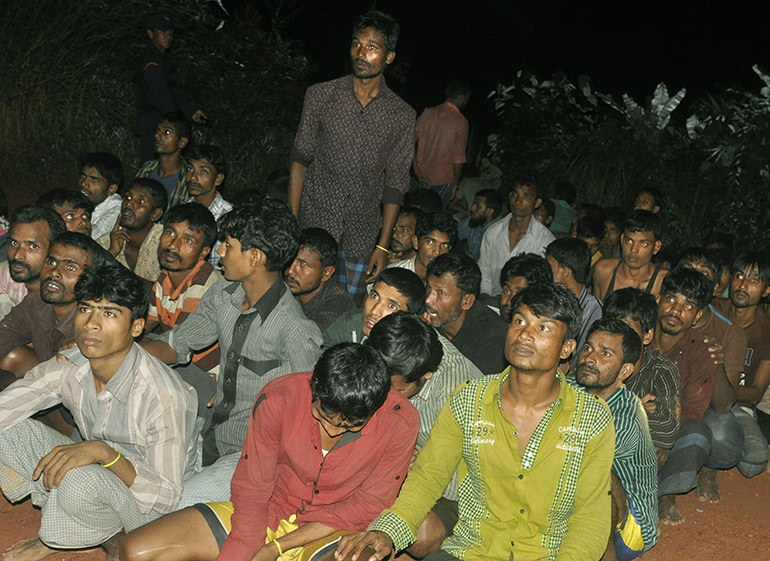 Thailand has agreed to extradite ten Malaysian nationals suspected to have orchestrated human trafficking across the two countries' borders, according to media reports.
The suspects are accused of involvement in trafficking more than 100 Rohingya migrant workers whose bodies were found in mass graves along the Thailand-Malaysia border in May and August last year.
Malaysian deputy prime minister Ahmad Zahid Hamidi said that, during a trip to Bangkok earlier this month, he requested on behalf of the government that the ten suspects be extradited to Malaysia.
"Not all ten suspects are in Thai police custody. Some of them are still at large," Ahmad told reporters after a meeting yesterday with Thai defense minister Prawit Wongsuwan.
Ahmad also said the international community had accused Malaysia of not taking enough action when the mass graves of human trafficking victims were discovered last year.
Billy Tai, a human rights consultant based in Phnom Penh, said that while the extradition of those involved in human trafficking is necessary, increased cooperation between ASEAN nations was required to regulate the flow of migrant workers.
"You have freedom of travel," Tai said, referring to a proposed Asean policy to allow free movement of labour between member nations, "but then you don't have protection mechanisms that protect these people who come into work."
Tai added that discourse within Asean would likely make the eradication of regional human trafficking difficult. "[A]t the moment, there's a lot of minor political tension that's preventing this cooperation from going ahead," Tai said, referencing territorial disputes in the South China Sea as an example.
Though human trafficking is largely viewed to be endemic in Southeast Asia, accurate data remains difficult to obtain, Bangkok-based anthropologist and former United Nations official David Feingold told RFA earlier this year. "Many of the figures have little or no provenance, and achieve currency from repetition," he said.