At a time of significant geopolitical upheaval, Australia's interests are increasingly tied to the stability and prosperity of its northern neighbours
For the first time in history, Australia will host a summit with the Association of Southeast Asian Nations (Asean) this weekend.
Amid growing concerns that global terror group Isis, also known as Islamic State, will seek to establish a stronghold in Southeast Asia to compensate for its heavy losses in Iraq and Syria, leaders of all but one of the Asean countries, along with the secretary general of the regional bloc, will gather in Sydney to discuss regional trade, investment and security.
Following a five month-long siege of the Philippine city of Marawi by the Isis-affiliated Maute Group, Australian Prime Minister Malcolm Turnbull has spoken of the need for greater collaboration between Australia and Asean member states to tackle the rising threat posed by the region's terrorist networks, which will be the focus of a dedicated conference at the summit.
In fact, the conflict in Marawi has already led to enhanced regional security cooperation.
Indonesia, Malaysia, the Philippines, Singapore, Thailand and Brunei recently signed up to an intelligence sharing initiative that requires defence officials from the six countries to meet every two weeks to trade information on terrorists, while Australia is expected to sign a memorandum of understanding with Asean leaders during the summit that will commit it to providing technical and regulatory assistance to develop "best practice" counter-terrorism legislation across Asia.
But while counter-terrorism will occupy a central position at the summit, onlookers would be wrong to gloss over the economic issues at play, according to Graeme Dobell, journalist fellow at the the Australian Strategic Policy Institute.
Money talks 
"Given Asean is now Australia's third largest trading partner… the economic dimensions of the meeting shouldn't be underestimated," he said. "And it's not just us looking at what we can do in the Asean market, but, increasingly, what a growing middle class in Asean is going to mean for Australia."
Bilateral trade between Australia and Asean currently sits at $93 billion, having grown in the past decade by over $25 billion.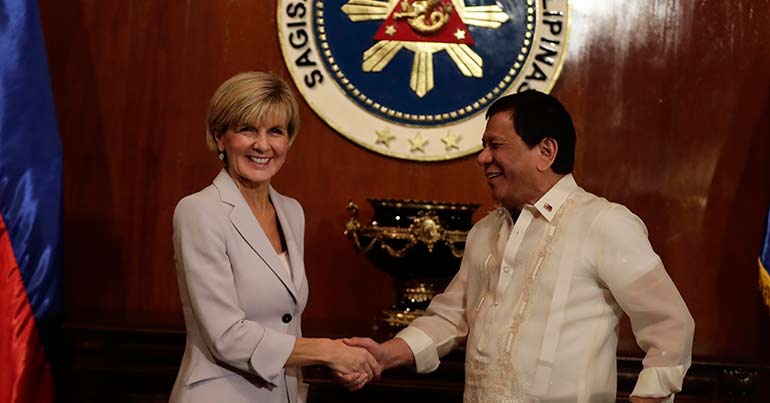 Australia's two-way trade with the region now eclipses its trade with the United States and Japan, accounting for 11.5% of Australian exports and 16.1% of imports, with education-related travel and crude petroleum respectively Australia's largest export and largest goods export to Asean, according to data from the Australian government.
And economic ties will only deepen in the coming years as Asean continues its impressive economic transformation from one of the poorest regions in the world to one projected to become the fourth-largest market after the EU, US, and China by 2030.
Enticed by the region's burgeoning middle-class, economic integration and ongoing efforts to upgrade its infrastructure, 87% of Australian firms surveyed by the Australian-Asean Chamber of Commerce plan to increase their trade and investment over the next five years in Asean's ten member nations, with 44% set to "significantly" increase their presence.
Southeast Asia is not Asean
But while all roads lead to deeper ties with Southeast Asia, the interim director of the Australian National University's Coral Bell School of Asia-Pacific Affairs Matthew Davies warned against conflating Australia's stronger regional relationships with greater engagement with Asean as an institution, the efficacy of which he said still remains to be seen.
"Asean is not the totality of what these countries do and, of course, there's all sorts of diversity and differences between the ten members, in terms of their political structures, economic systems and foreign policy priorities," he said.
"From the Australia side, there's a default hope as it were that Asean can be a meaningful – perhaps even a single actor – that Australia can work in partnership with, but we also have to be very honest about whether or not that's possible, whether or not that's what the Asean members actually want… there is still a lingering ambiguity around what Asean can actually achieve."
Catching up with @realDonaldTrump & President Xi at #APEC2017; working together to secure our region's safety & prosperity pic.twitter.com/ZUrb0w174u

— Malcolm Turnbull (@TurnbullMalcolm) November 11, 2017
The balance of power
That the region is of great strategic importance to Australia's future, however, is beyond doubt.
Released in November, the Australian Government's 2017 Foreign Policy White Paper emphasised that Australia's interests were inextricably linked to the maintenance of "an open, inclusive and prosperous Indo–Pacific region," something that can no longer be assumed given recent shifts in the region's balance of power.
An unprecedented trillion-dollar global infrastructure initiative and rampant island building activities in the South China Sea point to an increasingly assertive China intent on superseding the United States as the region's predominant power. Every Asian country now trades more with China than the US, often by a factor of two to one – and Trump-era isolationism, as demonstrated by Washington's decision to pull out of the Trans-Pacific Partnership, all but guarantees that that imbalance will grow in the coming months and years.
In a recent op-ed penned for the Sydney Morning Herald, Turnbull argued that the region's ongoing geopolitical reconfiguration should not make Australia feel "anxious" but "ambitious", emboldening it to create a Southeast Asia after its own image.
"Australia has the strength to shape our future," he wrote. "We must take responsibility for our own security and prosperity, while recognising that we are stronger when we share the burden of leadership with trusted partners. Asean is vital to this ambition."
Coupled with Southeast Asia's rapidly growing economies, the redistribution of the regional balance of power is leading to a growing convergence between Australian and Asean interests. As a middle power grouping, Asean must walk a tightrope between Beijing and Washington. In this regard at least, the foreign policy challenge facing Australia is no different.
Should Australia join Asean?
According to Dobell, that the economic and political interests of Australia are in many ways now consonant with those of Asean means that Australia should double down on its growing relationship with Asean and join the regional bloc.
"The times, I think, suit a discussion about what Australian membership of Asean would look like because the times are tough for Asean," he said. "Asean can't just stick to the traditional nostrums and say that they are going to keep ticking over as they have done in the past… Tough times mean that Asean has to start thinking about how it needs to change, and what extra dimensions it needs to start building."
Australia would lose the freedom to criticise what's happening in Myanmar…
In a report published last month, Dobell argued Australian membership of Asean would be "the best way to give full expression to [Australia's] future in Southeast Asia and in Asia more broadly".
But for many, Asean's commitment to the policy of non-interference in the internal affairs of its member states serves as an insurmountable hurdle to Australian membership of the regional bloc.
By joining Asean, Australia would lose the ability to criticise foreign regimes for failing to uphold its professed values of democracy, human rights and the rule of law.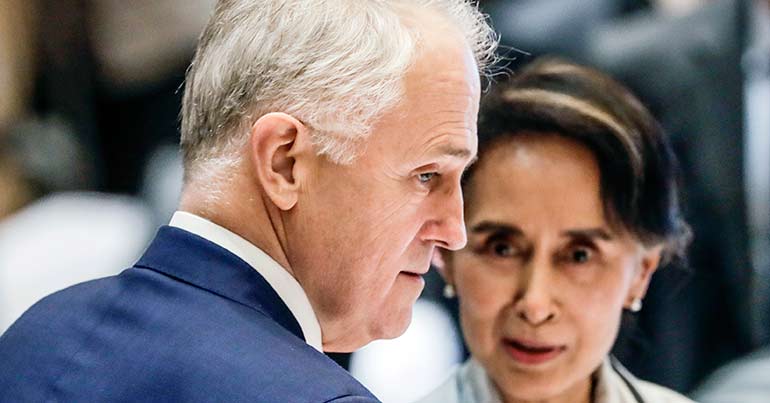 For Davies, it's simply a sacrifice not worth making.
"Australia would lose the freedom to criticise what's happening in Myanmar, it would lose its ability to talk to Asean as an outsider and say, 'hey, this is something we really need from you'," he said.
"All the good things associated with deepening relations I think can be achieved without joining Asean. I think Australia should instead aim to become 'Asean's closest external friend'… The question then becomes, 'how we do institutionalise some sort of special relationship between Canberra and Jakarta that gives Australia the freedom to articulate its opinions but also demonstrates that Asean is particularly important to us."
According to Davies, if Australia is serious about deepening its ties with Asean, it must focus as much effort on enhancing understanding of its northern neighbours domestically ­– through government initiatives such as the New Colombo plan, which provides Australian undergraduates with academic scholarships and work opportunities in the Indo-Pacific – as building bridges externally.
"So much of the news cycle is taken up with news from the US and UK, which of course is understandable. But it is picked up on. It is understood as signifying something to Southeast Asia," he said.
"If there is a strategic goal on behalf of the Australian government to move closer towards Southeast Asia or really articulate ourselves as an Asian nation beyond rhetoric, part of that has to be an introspective, internal process of thinking about what that means in Australian society and politics – and only when that conversation is advanced do I think the political elite and public of Southeast Asia will start to view Australia in a different way."
Related reading: