Businesses are getting creative in Myanmar's commercial capital
By Bridget Di Certo
Does your office boast a customised fruit cart that serves freshly ground coffee and cocktails? No? Maybe you should move to Yangon, Myanmar's commercial capital, where businesses have had to take an 'anything goes' approach to workplaces.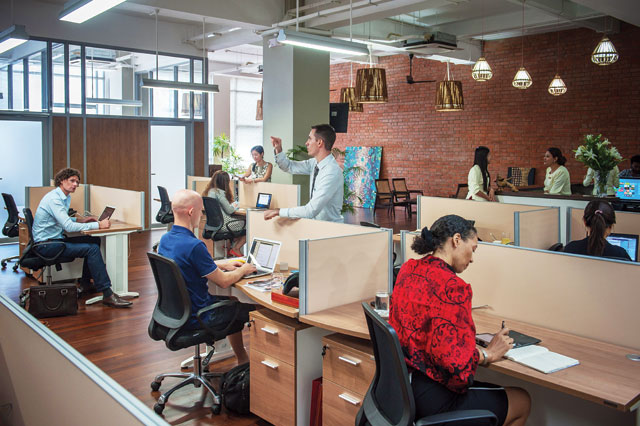 As the country's nascent democratic government opens the door to foreign investment, speculators are moving in and setting up shop in one of Southeast Asia's least developed nations. However, skewed supply and demand economics in the once-isolated city has seen rental prices for the limited office space skyrocket by up to 1,000% year-on-year in some Yangon townships, fuelling demand for office space alternatives.
Growing foreign demand and a burgeoning startup scene have increased demand for rental properties by about 15% year-on-year, creating an unyielding economy of scale of exorbitant rental prices and conditions.
To meet this demand, a number of executive serviced business centres offering flexible rental terms and more affordable rents have blossomed in the city.
Catherine Smith, director of the recently opened Hintha Business Centre in downtown Yangon, said that such modern office arrangements would find an increased following in the busy city.
"Yangon has less than 60,000 square-metres of Grade A office space suitable for international firms," Smith said. "Average monthly rentals are about $80 per square-metre – higher than in Singapore and other Asean countries. It's not just high rents that create a barrier to entry, the (often-asked-for) requirement to pay 12 months' rent in advance is also prohibitive to many companies."
The requirement of upfront payment imposes an arduous burden on startups and speculators who may not have the capital or the inclination to commit to one year. This rental arrangement exists for both office and residential space, where businesses often try to convert condos into offices.
Hintha Business Centre sprung up quickly to answer the demand for a range of flexible renting options in terms of availability and affordability. From monthly to weekly or even daily rental, the centre has offices, hot desks, conference rooms and virtual office space available for as little as $100 a month – a steal in a city that sees iconic office towers such as Sakura Tower in downtown Yangon rent space at more than $96 per square-metre a month.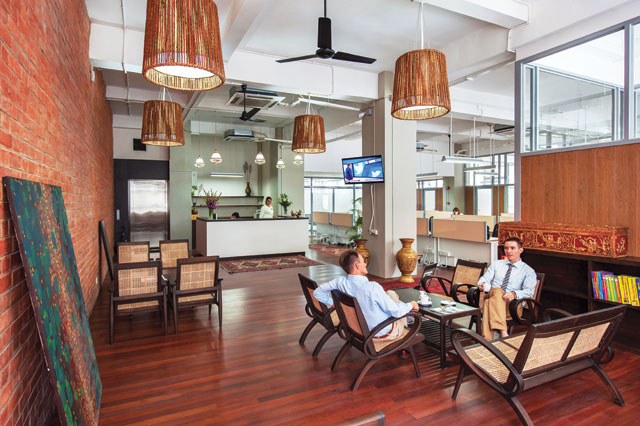 Having a centre that provides a one-stop shop for business needs, from reception to internet and cleaners to security, has been a major draw for foreign firms that lack the recruitment capacity to hire the full spectrum of office assistants.
Another newly opened executive business centre, My Yangon Office, has also experienced a rush of interest in flexible renting terms for office space, according to manager Wai Me Han. "[Business centres] are popular as the supply of quality office space is so limited – you have to make do with what you have," she said. "We have noticed the prices [in Yangon] are generally very high compared to what you get in other markets around the world."
The main draw of business centres for corporations looking for initial, temporary or even expanding office space is the flexible lease terms offered, Wai Me Han said. "[It is] a comprehensive, full-service option for clients that need to rent temporarily or require more assistance than can be obtained from a regular office setup," she added.
As well as providing a business community atmosphere with increased assistance for startups, Project Hub director Allison Morris said networking opportunities were a plus afforded by this approach to office space. "We don't have a typical member profile. We've got small teams that are starting non-profit organisations, freelance consultants working on peace-building in Myanmar, tech startups, journalists and private-sector consultants," she said of the $150-a-month share office space at Project Hub. "[It] suits them because it's the most affordable option in town and we provide them with networking opportunities and other events that help them get connected in Yangon."
Several Grade A office space projects have been approved by the municipal government, but with completion dates as far as two or three years away, demand for office space alternatives will continue.
Keep reading:
"Partying for Panglong" – Celebrating Shan National Day at the mountaintop headquarters of the Shan State Army-South
"At the mercy of the winds" – Artisans fear their skills won't survive the onslaught of time and increasing modernity in Myanmar