From Discover Magazine: Why let Cambodia's professional chefs have all the fun? Khmer cooking classes provide great insights into an undervalued cuisine
By Daniel Otis     Photography by Sam Jam
Pisey plucks a sprig of lemongrass growing alongside a pathway in the lush Treak village on the outskirts of Siem Reap. "When a boy and girl want to get married," she says, "they take two pieces of lemongrass, plant them upside down, then pray to the Buddha for good weather on their wedding day."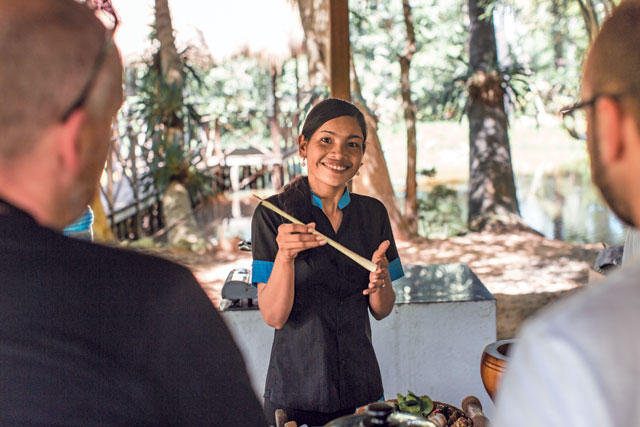 Teacher's pet: students are guided through an array of Khmer ingredients before getting their hands dirty in the kitchen. Photo by Sam Jam

She points out trees heavy with mangos, papayas and custard apples. We enter a shaded plot guarded by fragrant kaffir lime trees. "Many villagers plant these to keep snakes away," Pisey, our guide and fount of ethnoculinary knowledge, says with a smile. "Snakes hate the smell."
We tour a village home, talking to its friendly owner about traditional cooking methods and her favourite dishes. Pisey tells us that a portion of our class fees will go back to the community. So far, she says, they have been able to install 83 water filters in the village.
After chatting, we take a short walk to our kitchen: a thatch gazebo set amidst a serene garden of banana plants. Whereas locals cook on small wood-burning stoves, our fan-cooled kitchen is outfitted with modern utensils, gas appliances and an immaculate granite countertop.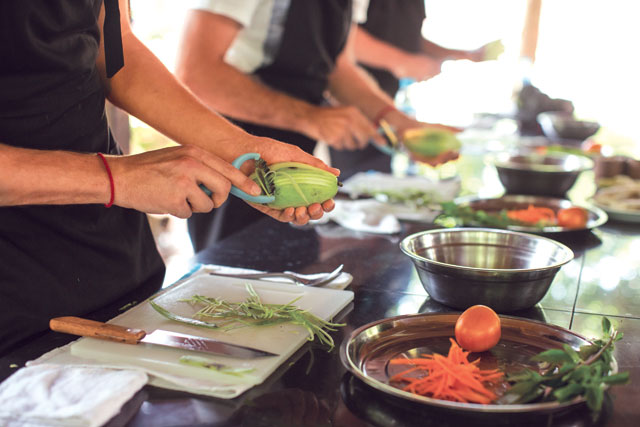 Chef Channey and Pisey trade gentle banter as we get to work. Today's menu is quintessentially Cambodian: Khmer mango salad, the popular coconut fish curry known as amok, and palm sugar-filled sticky rice balls.
"I have a lot of experience cooking Thai food, but Cambodian cuisine is little-known back home in the UK," says one of my classmates. "The food I've had in Cambodia has been so delicious. I had to try cooking it."
Under Channey's watchful eyes, we begin slicing and dicing ingredients. Most of the aspirant chefs whirl through the preparations, while the novices among us work slowly with Channey's friendly encouragement. "Beginner or master, this class is for everyone," she says with a laugh.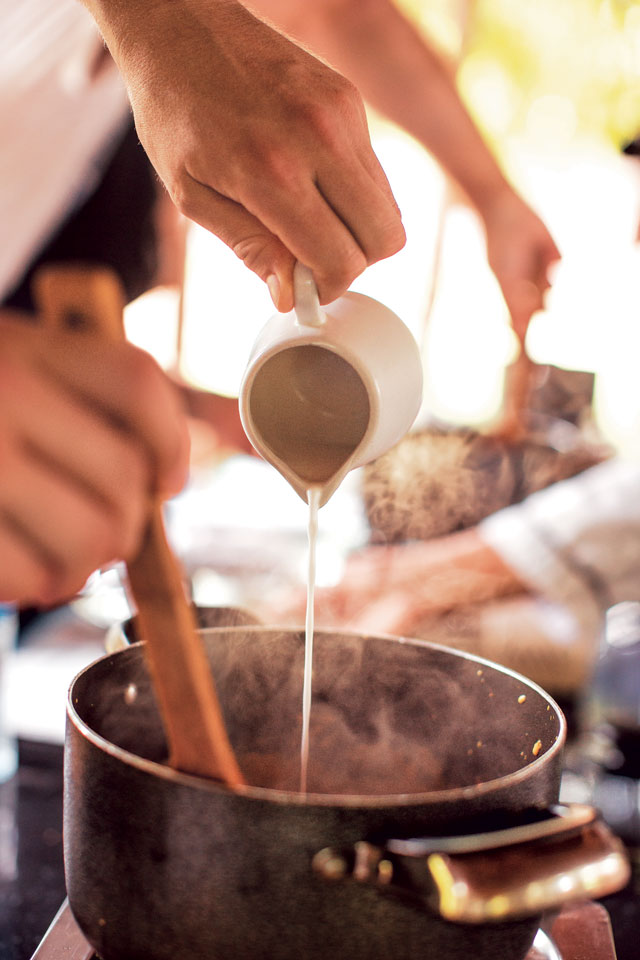 Over the course of the morning, we grind herbs into kroeung – a paste used in various Cambodian dishes – simmer our curries, grate green mangos and roll rice flour into balls in our hands. Channey explains the various uses of each ingredient. Some, such as coconut cream and garlic, are familiar, while others, such as galangal and kaffir lime leaves, are more exotic. Channey suggests alternatives for items that we might not be able to find in Western grocery stores. The thick ngor leaves used in the fish amok, for example, can be replaced with thinly sliced broccoli leaves; the palm sugar placed in the centre of the sticky rice balls can easily be substituted with cubes of brown sugar. Some of the more pungent ingredients – such as fish sauce and shrimp paste – result in wrinkled noses, but all trepidations disappear as soon as we begin sampling our dishes.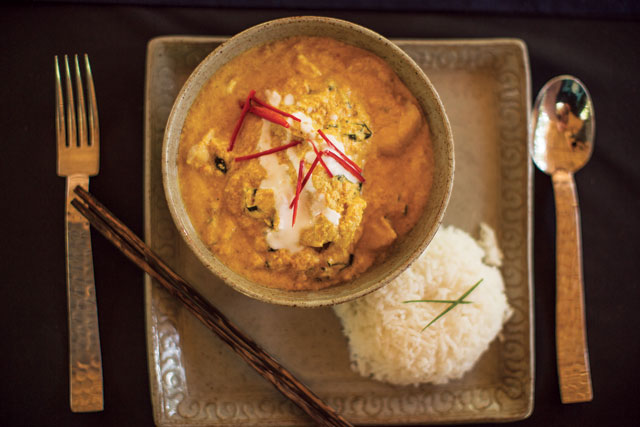 When the cooking is finished, Channey and Pisey arrange and garnish everything with expert ease before serving us at a neatly set table in the shade of a delightful pavilion, which stands in the centre of a fish-filled pond. Cracking cold sodas and beers, we toast a morning well spent, then proudly dive into our succulent creations: each an exemplary example of Cambodia's subtle yet complex cuisine.
Beyond Unique Escapes offers both half- and full-day cooking classes in Siem Reap. Groups are small and all participants take home detailed recipe cards. For more information, visit beyonduniqueescapes.com