Bribery is stunting the nation's education system and sending undeserving students to the top of the class
By Pham Bac
When junior students approach Nguyen Duc Hung, a feeling of trepidation shudders through his body. Often they will be searching for something this final-year university student cannot provide: help. Hung struggles to answer their questions despite passing most of his classes.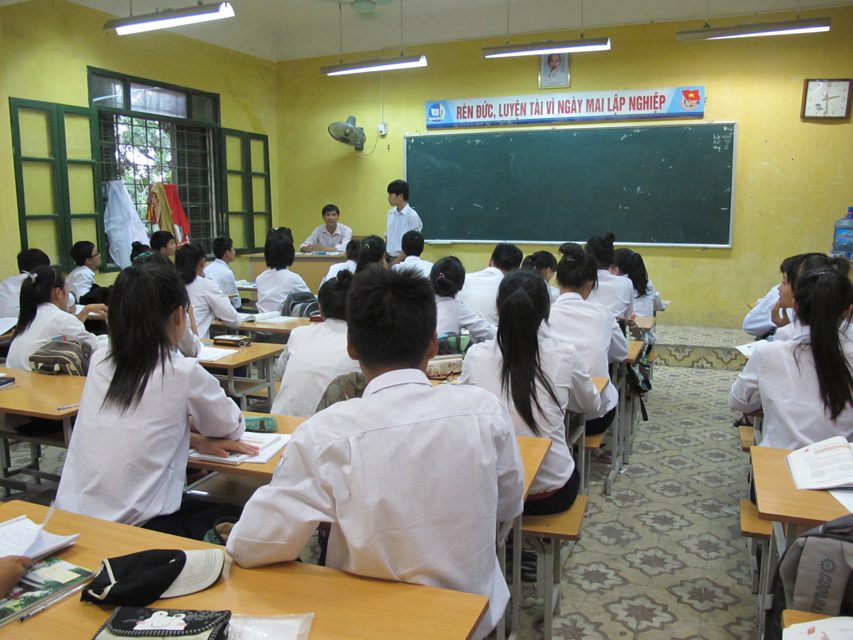 "I don't understand anything about that subject," the civil engineering student said. "I made a lot of mistakes on that subject in my class test, so I gave my teacher one million dong ($50) to ask for his help. He returned my original test and allowed me to correct it at his house."
Hung said that when he first started at his university in Hanoi, which he declined to name, he studied hard but in some exams he received low marks compared with other students he thought were lazier than him. He said he later found out those students were bribing their teachers in exchange for good marks.
"It's really sad because bribery in exams is very common now," he said. "If I didn't bribe my teachers, I would be isolated even though I don't want to do it."
Media reports say that in September last year 22 teachers and staff were criticised or given written warnings at the Hanoi University of Agriculture for inflating the marks of 180 students so they could pass their exams. The case was discovered after some students said they had to pay teachers for better grades – a practice that is becoming an open secret in Vietnam.
Bribery not only discourages young people from learning, but it also has a wider impact on society, said Nguyen Quoc Binh, principal of the Vietnam-German High School in Hanoi.
"Bribery in exams makes students lazy," he said. "They don't have real knowledge, so after graduating, they need to be retrained or change jobs, which causes a waste of resources for society."
According to anti-corruption activist Le Hien Duc, the problem is widespread.
"Even high-ranking government officials who are sent to study in top universities do the same, bribing teachers in exchange for high grades," she said. "I know some officials buy doctorates through fraudulent exams and by giving teachers money."
The criticism is being levelled just as the ruling Communist Party is planning education reform. Experts charged at a September conference in Hanoi that the education system was substandard and called on the government to make wide-ranging improvements.
The experts targeted low quality teaching, saying many teachers do not meet professional requirements, and outdated curricula at universities, saying the problems are leading to a shrinking skilled workforce.
In 2006, the government launched a campaign to crack down on "negative phenomena", including corruption and bribery, but observers said it seems to have had little effect in schools.
Whistleblower Do Viet Khoa, now 44, a maths teacher in a village near Hanoi, said he has been ostracised by other teachers and repeatedly denied promotions after exposing bribe-taking by teachers supervising final exams at the school in 2006.
Despite receiving a government award for speaking out against the practice, he has since quit his job and now works in another school far from his home.
Parents also often pay bribes to ensure their children get into top-notch schools, Duc said.
"Bribery in schools is on an upward trend and is not confined to the university level," said Nguyen Minh Thuyet, former vice-chairman of the National Assembly's Culture, Education, Youth and Children Committee. "It is very sad to see students become lazy and lack knowledge."
Thuyet, who is also former deputy director of the Hanoi University of Social Sciences and Humanities, said the resulting low level of skills is not attractive to employers.
"Besides giving bribes to teachers, students also have to give bribes to get jobs after graduating," he added.
Hung, who just finished his final exams, admitted he hasn't learned much during his four years at university. "I'm not sure I can get a job after graduation," he said.
Duc is also pessimistic about the future. "Our education system is going downhill," she said. "If this trend continues, we will only have stupid officials and cunning people."
Also view
"Parlez-vous Anglais?" – Despite France's best attempts, Cambodia's higher education system is embracing English