The automatic doors slide open to a 'brave new world'. For Cambodians who were used to picking through seconds at the Russian Market or getting their fashion fixes at international brand stores on Phnom Penh's busy Sihanouk Boulevard, the recent opening of Aeon Mall represents a new level of opportunity for conspicuous consumerism. British brands such as shoemaker Clarks and coffee connoisseurs Costa stand alongside international heavyweights including Levi's and Mango.
The fact that Aeon, Japan's largest shopping-mall developer and operator, chose Cambodia for its latest foray into the Southeast Asian mall market – following Vietnam and Malaysia – says much about the Kingdom's economic vitality and confidence. Economic growth has been strong and stable, and year-on-year GDP increases of about 7% are considered by most analysts to be the norm in the years ahead.
According to Chris Hobden, surveyor and analyst at CBRE, an international property-management business, such economic growth is "driving the consumer class in Cambodia", with the expansion of key sectors such as tourism, garment manufacturing and professional services generating higher disposable incomes. Average disposable income per Cambodian household has increased significantly in recent years to $282.50 in 2013, from approximately $180 per month in 2009, an increase of 43%.
Meanwhile, Aeon's market research data reveals that the average monthly household income within a one-km radius of the sprawling mall's central Phnom Penh location is far higher than the national average – 61% bring home between $800-$2,000, while 14% earn more than $2,000 a month. Average monthly household expenditures of the same group run to $165 on clothing, $226 on eating out and $291 on entertainment. Spread the 'catchment area' to a five-km radius of Aeon Mall and the numbers are $71, $94 and $85 respectively.
"Household income and wages are increasing in Phnom Penh and people are getting more job opportunities because many new companies are entering the market," says Shinobu Washizawa, managing director of Aeon Cambodia. "Consumers are showing us their needs and wants. They are becoming more conscious … [about] their shopping, demanding greater enjoyment, more convenience and better value."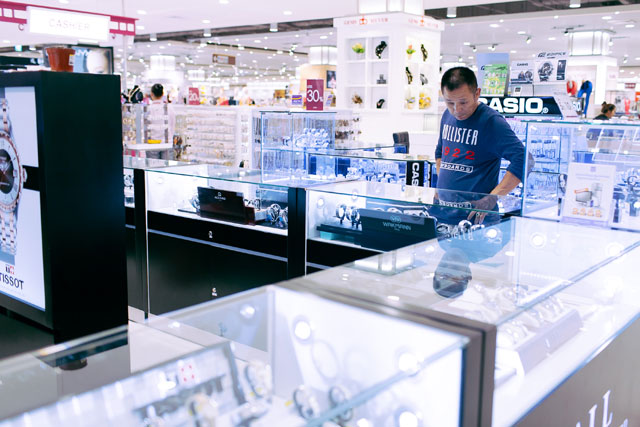 Modern Phnom Penh is certainly evolving into an agreeable environment for retailers. According to Emerging Markets Consulting, middle- and high-income Cambodians of both sexes aged 23 and under show little concern for saving, spending almost all of their disposable incomes. Singles aged over 23 may save about 10-20% of their disposable incomes, but that means they still tend toward spending rather than saving.
"Retail brands can capitalise on the opportunity by ensuring that they focus on their target consumers and by choosing their store locations carefully," says Hobden. "Retailers are now fortunate to have a range of accommodation options, from high-end, boutique retail destinations, such as Vattanac Capital Tower, to large-scale shopping complexes, such as Aeon. For standalone or high-street retail outlets, positioning and location are absolutely key.
According to Hobden, food and beverage brands are strongly positioned and will likely account for the highest proportion of the new entrants into the market, but he points to branded fashion and other luxury goods as being in a good position to capitalise on Cambodia's economic growth. Without doubt, residents of Phnom Penh, in particular, are beginning to place greater significance on what they buy, where they are seen and the way they look. A glance around Aeon Mall attests to that – young families immaculately turned out, the younger shoppers kitted out in the worldwide teenage uniform of skinny jeans and retro sneakers.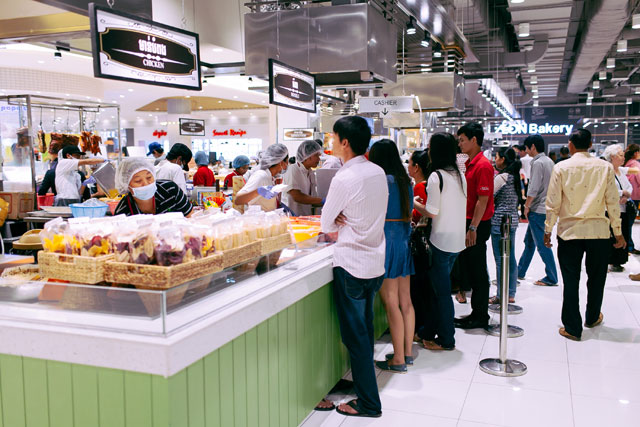 Meanwhile, with increasing disposable incomes come equally impressive outgoings on Household Final Consumption Expenditure (HFCE, the market value of all goods and services purchased by households). David Totten, head of Emerging Markets Consulting's Cambodian office, says that HFCE tripled between the years 2000 and 2011 from $3.2 billion to $10.6 billion. With continued growth at the same rate, HFCE is expected to double again to $21.9 billion by 2020.
"One of the key drivers of Cambodia's consumer class is the availability of a large number of global and regional players trying to catch neighbouring frontier markets on the economic upswing," says Totten. Of these, Totten adds, it is to be expected that strong regional players will have the advantage because they are likely to be more familiar with the local market, while also enjoying greater familiarity in the eyes of local consumers.
All the same, the new generation of moneyed Cambodians is highly receptive to international brands entering the market. Asia's consumer markets are famously brand-crazy, which is a particularly promising feature of the Cambodia market, according to Hobden.
"Cambodia offers the appealing combination of a population responsive to new brands, an industrious labour force and opportunity for further expansion as the economy continues to grow," he says.