The islands of Indonesia are home to some of the region's most diverse and intriguing cultures. Melding pyrotechnics, waterworks, elaborate costumes and a mixtape of tunes, one Bali show gives audiences the best of the archipelago in a vivid 90-minute performance
By Jemma Galvin
Bored with following their Bali tour guide's wagging flag and being surrounded by sunburnt holidaymakers, two young children decide to ditch the oldies and go in search of a real adventure. The pair clambers up the side of a mist-covered cliff and atop it they discover an intricately carved treasure chest filled with precious artefacts from the far reaches of the sprawling Indonesian archipelago.
From Bali to Sumatra, Java, Borneo and Papua, the youngsters can't believe their eager peepers as they pick out trinket after trinket that represent the uniquely diverse cultures of the island nation.
While two kidlets alone on a Balinese mountaintop sifting through artefacts of national importance might normally arouse some alarm, in this instance it's all for show – the Devdan show, more specifically.
The word devdan comes from the Sanskrit deva and dhana, meaning 'God's grace' and this elaborate narrative performance, held at the Nusa Dua Theatre in Bali, aims to throw the spotlight on the ancient and contemporary traditions of Indonesia.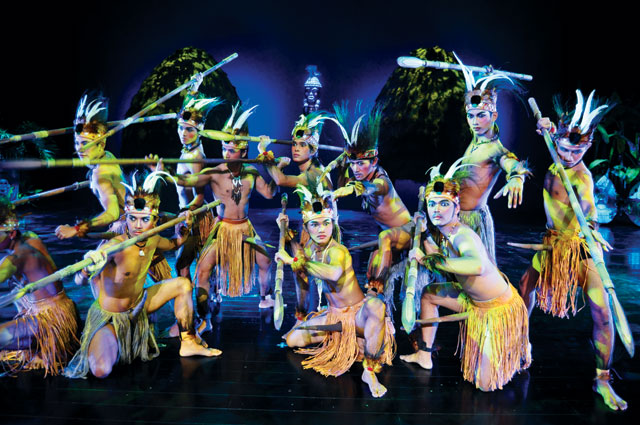 More than 300 ethnic groups inhabit the nation, while each province boasts different languages, ethnic make-up, religions and history. Yet Indonesia has a strong commitment to its national motto, "Bhinneka Tunggal Ika", literally meaning "many, but one" or "unity in diversity", and this sentiment underpins Devdan at every turn.
The show bursts into action with a jaunt through Java when the children wield a Unesco-listed kris, a Javanese weapon that symbolises social power, masculinity and mystical prowess, from the treasure chest. Traditional architecture is recreated on stage and warrior, virginal and hip-hop dancing as well as shadow puppetry all feature before an almighty toot is let out from the top of the children's cliff. They've got their paws on an Aeroplane Mussel Horn, which is made of a single whopping shell and is intrinsic to coastal life.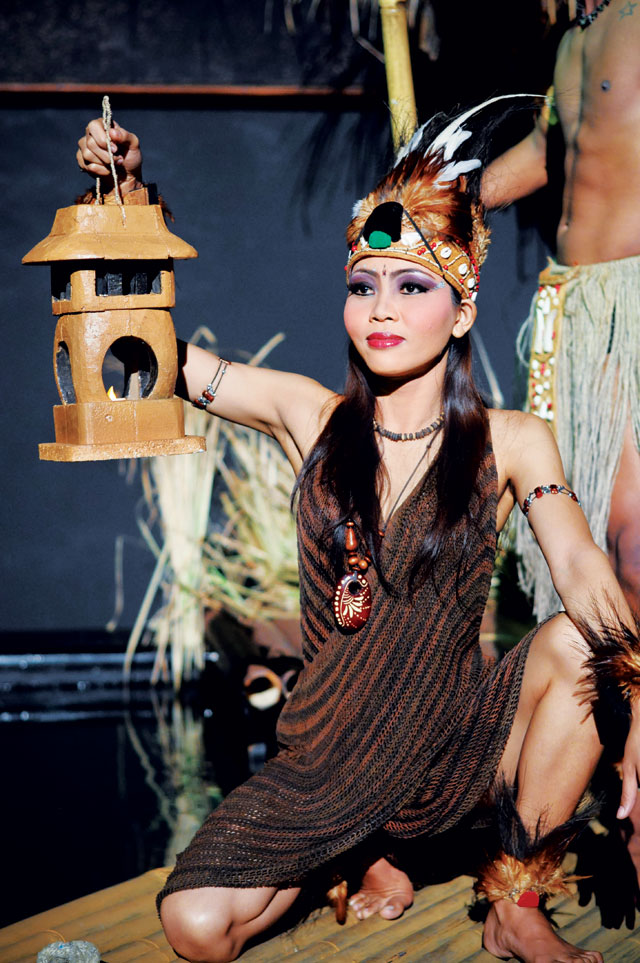 Probably the most captivating of all the scenes, the Borneo segment sees wet t-shirt-clad women splashing about in an on-stage grotto, a troop of 'monkeys' terrorising the audience with piercing shrieks and giggles and an ethereal aerial ballet performed by a couple of lovers with breathtaking grace.
The male half of the pair is Suryo,  27, who is commonly referred to as the star of Devdan. "He is so romantic when he dances," says Vina Agustine Koeswanto, Devdan's public relations manager, prior to the show. She explains that each dancer – of which there are 38 – undergoes six months of intensive training before starring in the Devdan production. They are usually scouted from dance schools, competitions or found through an audition process. Once recruited they are under the tutelage of Ari, 36, the lead choreographer.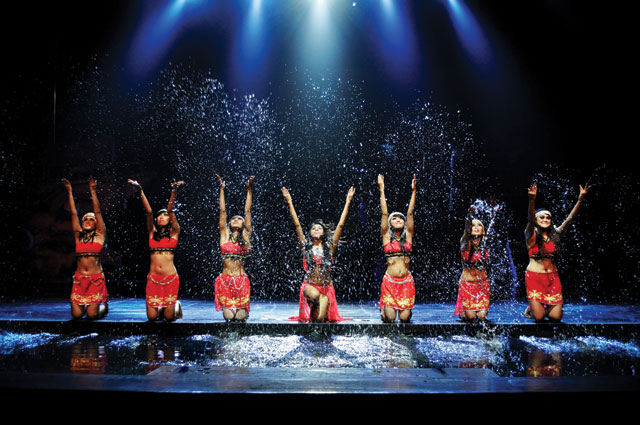 Backstage, surrounded by dancers in various stages of undress and applying a heavy layer of foundation to his face, Ari explains that while performing is in his blood, a lot of initiative and hard work has got him to where he is today.
"I began learning dance in high school before going to an arts academy in Yogyakarta. Today I watch a lot of YouTube to keep up with what's new and I really admire Cirque du Soleil."
As the lights dim, thoughts may again turn to calling child services as the cliff-top kiddies whip a Papuan koteka out of the seemingly bottomless treasure chest. The koteka, or penis gourd, is what Papuan men have worn in lieu of clothing for centuries and such traditions are treated wonderfully in the ensuing performance, as drum beats and tribal dancing make the 700-seat theatre vibrate with energy. The segment is Suryo's favourite, too. "I love this scene's originality, how it showcases this culture of Indonesia and the very attractive movements it features," he says.
Indonesia's most famous tourist spot, Bali, is covered next, following the children's discovery of a udeng – the folded men's headdress which is worn as a symbol of religious and cultural identity. A floor-thumping dance performed by housewives is followed by an appearance by the goddess Uma, a symbol of fertility who is depicted riding a white cow.
A smoke machine billows as the stage is flooded with a thick mist and the young explorers let a songket, or woven textile, fly, and its manic fluttering ushers in an energetic, acrobatic flag dance and another impressive aerial performance, though this time it's solo. 
The contemporary elements of Devdan, which Koeswanto says "people love because they're fresh", juxtaposed with the diverse traditional symbols and rituals, captures the Indonesia that many identify with today. According to Mari Elka Pangestu, Indonesia's minister of tourism and creative economy: "The national identity and character are well wrapped up [in Devdan] in a contemporary and entertaining way, yet [the show] is still able to capture the richness of so many varieties of Indonesian culture."
Keep reading:
"Between heaven and earth" – Samabe Bali Suites and Villas occupies a tranquil seaside pocket of southern Nusa Dua, where the ancient secrets of Balinese culture are written in the vast open sky and rolling blue ocean