Christian vigilantes have taken Myanmar's drug problems into their own hands
Pat Jasan was formed two years ago and is comprised of mostly ethnic Kachin recruits with ties to the Kachin Baptist Church, as well as to leaders in local Roman Catholic churches. It boasts more than 100,000 members and, until the past few months, spent most of its time raiding drug dens, seizing shipments of methamphetamine and harassing drug users – often flogging addicts until they repent.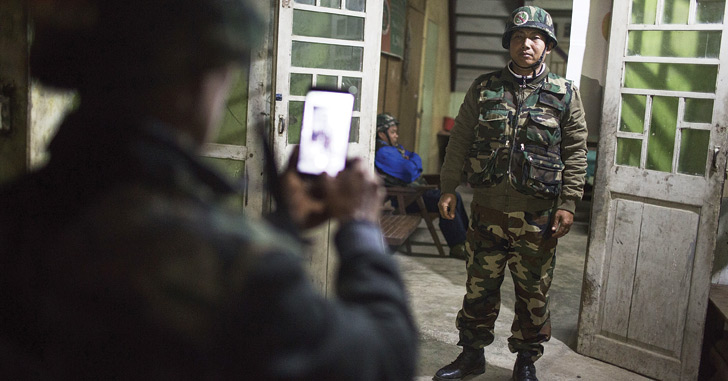 However, in recent months, the group has engaged in even more militant vigilante activities, such as raiding poppy farms, with its members dressed in military fatigues, brandishing batons.
In late February, a standoff ensued between the anti-drug vigilantes and the police of Kachin State's Waingmaw township. Pat Jasan members were attempting to raid local poppy farms, but the police intervened, claiming it was for the activists' security after farmers stated they would respond with violence.

A few days later, Myanmar's lower house of parliament passed a resolution for government authorities to support Pat Jasan's efforts, and the raid took place. Nearly three dozen people were injured as farmers and local militias responded to the anti-drug vigilantes with force.
Myanmar is the world's second-largest producer of opium, which is also used to make heroin. Since 2006, opium production has tripled in the country, after decades of decline, according to the UN Office for Drugs and Crime. 
Many farmers in the region turn to opium production due to poverty and the significant money that can be made.
A recent article in GlobalPost described Pat Jasan's efforts as one of Myanmar's "largest civilian uprising[s] in nearly a decade", although it added that the issue has often been ignored by the recently elected National League for Democracy and its leader Aung San Suu Kyi, as well as by the international media. "Many of the country's biggest drug syndicates are, in fact, armed units controlled by the military. That makes Pat Jasan the largest civilian movement actively mobilising against Myanmar's all-powerful armed forces," it said.
Indeed, while Pat Jasan are often seen as mere anti-drug vigilantes, they are actually trying to "end the reign of army-backed crime syndicates, which run parts of Myanmar like little dictatorships", GlobalPost stated.
Keep reading:
"Vice city: Myanmar" – From flagrant prostitution to brazen wildlife hawking, Southeast Asia Globe explores Mong La, one of the region's most lawless towns