As a 19-year-old, Yunalis Mat Zara'ai auditioned for a reality television show, One in a Million, that was searching for singing talent in Malaysia.
Timid and sweet-natured, she introduced herself as Alis before giving a solid rendition of Queen's "Bohemian Rhapsody" – a choice the judges said was overly ambitious. She progressed to the next round but was eventually knocked out of the competition, failing to make it into the top 20.
The teenager, who was studying to become a lawyer, soon began building a following on social media by posting her music on MySpace – the platform of choice at the time. She also started performing her own guitar-based songs in cafés and playing live gigs, splitting the trifling fees with her band.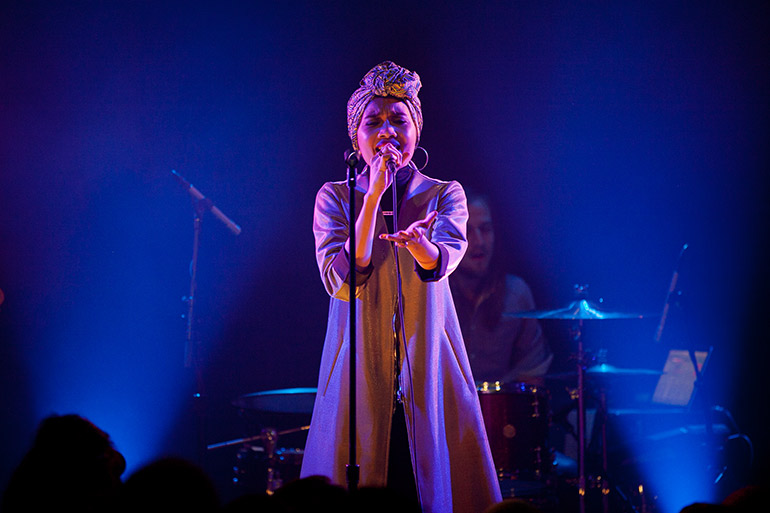 A decade on, the international pop sensation now known as Yuna is the most successful singer ever to come out of Malaysia.
Currently basking in the success of her third studio album, Chapters, which was released in May, her hit single "Crush" saw her teaming up with Usher – a "dream come true" she said. Although she has been grafting in the music industry for several years, the song was her first Billboard entry, reaching number 39 on the US music chart, and gaining global attention.
I don't wear revealing clothes. People see that I practise modesty. I love fashion, but i have my limits
"I still feel like I'm new to the industry," she told Southeast Asia Globe over the phone from her Los Angeles home, where she was resting up following a string of US tour dates to support the album.
In 2011, five years after her television appearance, Yuna caught the attention of US management company Indie-Pop Music, who found her music online and convinced her to relocate to LA and pursue an international music career. The Kedah-born singer-songwriter was soon working with Pharrell Williams, after they both signed to Fader Label (Yuna moved to Verve in 2013), and his mentorship helped her transition from acoustic guitar-tinged tracks to smooth soul. "I think he really changed the way I make music," she said. "Before, I never used to work with any producers, so working with him was a really cool experience because it was pretty much a crash course."
"I learned how to just be creative and try something new. I remember just not feeling comfortable trying to write 'Live Your Life' because it just wasn't my genre." But she said that Pharrell was always supportive. "He is always pushing me to try something new: 'OK, I know you're not from the R&B world but try, try and see what you can do with it.' So I did. It was really, really cool. I feel like, after that, I could produce with just anyone. EDM, pop, country, R&B, rap producers, I can do it."
It is not only Yuna's sound that has evolved in recent years. From a shy teen dressed in a plain lilac shirt, clashing orange headscarf and simple jeans at her One in a Million audition, she has become a noted style icon. "When I first started out, I wasn't the typical sexy singer on stage… I was literally the girl who wore very little makeup or none," said Yuna. "I used to wear classy shirts and jeans and sneakers. It wasn't a very typical girl artist/popstar. I guess a lot of girls can relate to [not fitting the ideal] because a lot of them have been raised in a world where the standard of beauty is what you see in the magazines."
These days Yuna often substitutes her hijab for a turban, paired with a flourish of bright lipstick and modest yet modern outfits. In 2014 the New York Times declared her a "poster girl for 'young hijabsters'" – the fashionable young Muslim women who wear their modest clothing with serious flair – and she was profiled in fashion bible Vogue this March, earning praise for covering up, with the magazine describing it as a "defiantly demure statement in what feels like the year of the naked selfie".
"I think, as an artist, fashion is important and style is important. It shows you are unique and have your own way," Yuna said. But she's not willing to compromise her beliefs in order to get ahead. "I don't wear anything sexy – I don't wear revealing clothes. People see that I practise modesty. I love fashion and I like to be creative, but I have my limits. I don't wear anything that I am uncomfortable with." And the practice is clearly working for her. "I think with fashion, it is a lot about… how comfortable you are in your own skin. It is just you and how you present yourself," she added.
Yuna is now carving out a space for herself in the fashion world, with her Kuala Lumpur store November Culture a well-established shopping boutique, and the launch of clothing line Hatta x Yuna with a friend earlier this year. "I really enjoy experimenting with fashion, and I really want to create something with what I know and the people that I know," she says. "It is a collaboration between two artists. She's a fashion designer, I'm a singer, but we both love fashion. We create clothes all the time and we tried to create a collection for our fans."
It is pretty crazy. I'm just a girl from Malaysia who writes music, and I'm touring America
As well as gaining legions of fans in Southeast Asia, particularly in Malaysia, Singapore and Indonesia, Yuna has been recognised with a number of awards and nominations, including three MTV Europe Music Award nominations. But the attention she receives is not always positive. After a video was posted online in June that showed her hugging Usher after a live duet, some passed judgement on her for not adhering to the 'boundaries and limits' of a 'good' Malay Muslim woman. Yuna responded on social media, saying she would not be cowed by the uninvited commentary. "This is me," she wrote on Instagram. "I will wear whatever I want. I will show my appreciation whether it's a handshake, or a hug, to my friends… Save your mediocre downgrading religious preach to yourself, they have no meaning to me."
In half a decade in the US, she has never felt stereotyped by Americans for being
a Muslim, she told Southeast Asia Globe. "Obviously I get questions like: 'Why do you wear a headscarf all the time? We want to see your hair,' or whatever. For those who are just finding out about me, and when they find out I'm a Muslim, they say: 'Oh, that's cool.' They are super respectful." It was also in the US where she began to realise the beauty of her darker skin tone, after years of being exposed to pro-whitening views in Malaysia. "I got criticised when I first came out [as a singer] – people said I was not beautiful because I was dark, dumb stuff like that," Yuna said, adding that she regularly counsels young fans who have been the target of the same prejudices.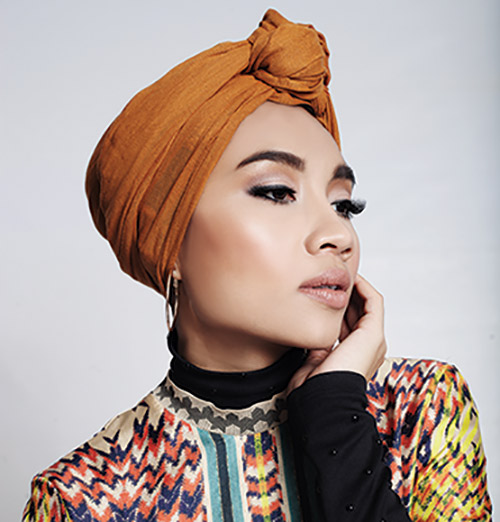 "I have had girls reach out to me and ask how I stay strong – it is heartbreaking. I say they shouldn't worry about it. In some parts of the world, being brown is part of the goal of being beautiful. People out there, they pay to have skin like ours. They pay money for that. I try to talk to girls to make them feel like they can see they are beautiful. They just need to embrace their identity and individual beauty even though it is hard, and very clichéd to say that. But it's true that once you find yourself and you are comfortable, you will believe that, and people will see that confidence that you have. You won't have to believe in that standard of beauty."
Click here to check out Yuna's video, "On Ghost Ridge", which is currently in 
the running for an Oscar nomination. 
Despite criticism from some quarters at home, most Malaysians are supportive. Along with fashion designer Jimmy Choo, Yuna was made a tourism ambassador for the country in 2015, and she has collaborated with national carrier Malaysia Airlines on projects. She visits Malaysia every couple of months and is now so well known that she often gets recognised on the street. "It's not really crazy, but it can get pretty hectic during events and things like that because if I am expected to show up, people just go crazy," she said. "But if I'm just shopping or whatever, I'm pretty comfortable just going to the mall, going around and hanging out with my friends, watching movies. Once in a while, people will come and want to take photos, but that's it. I'm really comfortable being in my city just doing my own thing because I love my people. They are really important and supportive, so whenever I go out, it comes with the job."
When former record producer Paul Moss told Yuna all those years ago on One in a Million that she struck him as "something special", he was not wrong. But he likely had no idea just how far she would go.
"It is pretty crazy when you think about it," said Yuna. "I'm just a girl from Malaysia who writes music, and I'm touring America and you see people coming out to [listen to] my music. It's awesome."