It has long been joked that people read Playboy only for the articles. The hundreds of rock-throwing Indonesian militants who descended on the famously risqué and provocative magazine's local office a week after its 2006 launch may have missed the punchline.
The entrance of the magazine into the world's largest Muslim nation was met with fierce demonstrations from hardline Islamist groups, including the Islamic Defenders Front (known by its Indonesian acronym FPI), a strident group of self-appointed moral guardians who were aggressively pressuring the government to pass anti-pornography legislation in parliament. More than 300 men, stirred into a frenzy by rhetoric denouncing the magazine as the of Western moral decay, laid siege to the publication's Jakarta office armed with clubs and rocks – even though this edition contained no nudity.
For former editor Erwin Arnada, the sight of an angry mob hurling rocks through the windows of his workplace would haunt him for some time – and signalled the beginning of a campaign that would hound him into a prison cell.
Speaking with Southeast Asia Globe from his home in Bali, the man who once faced that furious mob is frank in his assessment of Indonesia's media landscape.
"I don't see freedom of expression, freedom of the press, doing well in Indonesia. That's bullshit," he said. "These groups are still going strong, and our media is very careful and wary of them. Because hundreds of people, they bring sticks, they bring spears, and everybody's afraid. So public discussion cannot happen. It's always like that – whether it's film screenings, discussions of books, anything that we can do with regards to freedom of expression."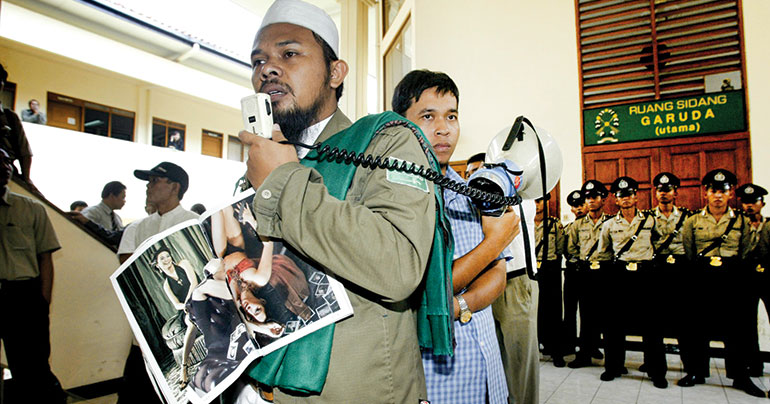 Arnada said that groups like FPI cynically stirred up moral outrage to advance their own political agenda.
"Before I published the magazine, I had my friends warning me: 'Be careful, because somebody will use you to advance their political purpose'," he said. "They used Playboy to push the government and all the political parties to agree with their anti-pornography rules. Because the moment Playboy came out, they started to develop the rules to make it illegal."
I showed them the dummy concept of the magazine, and that's why they kept supporting and defending me. They knew it wasn't pornography – it was journalism."

Erwin Arnada
Although the idea of bringing the infamous Playboy bunny logo to the world's largest Muslim nation may seem something of a hare-brained scheme, Arnada maintains that it was Playboy's long history of publishing freethinking, outspoken voices like those of Margaret Atwood, Gabriel Garcia Marquez and Ray Bradbury that drew him to the brand.
"My concept for Playboy was to deal with good articles, not nude pictures," he said. "I was very strict with the concept – we wanted winning journalism. It's about the articles, economics, politics, culture – the content. The Press Council in Indonesia already knew when I presented the concept that I didn't want nude pictures or anything. I showed them the dummy concept of the magazine, and that's why they kept supporting and defending me. They knew it wasn't pornography – it was journalism."
Indonesia's ultra-conservative Muslim groups were less clear on the distinction. Condemning Arnada as a "moral terrorist", the FPI lobbied the authorities to press charges against him. Later that year, he was arrested for public indecency.
But despite being cleared of all charges in 2007, Arnada's hard-won freedom wouldn't last. The FPI lodged a furious appeal with the nation's Supreme Court, which found him guilty of public indecency. The former editor was arrested in Bali and sentenced to two years in jail.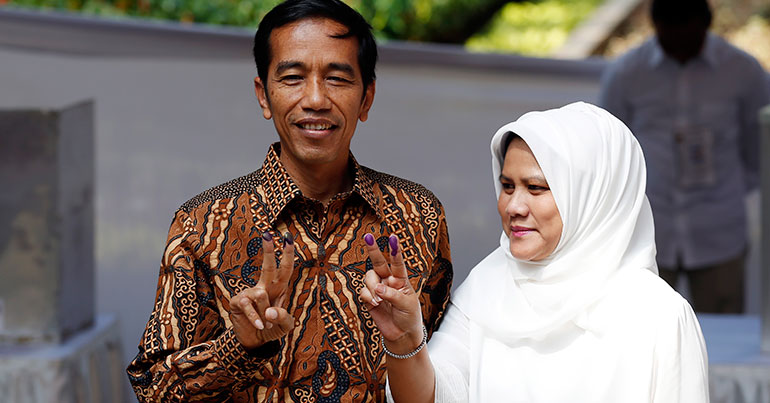 More than ten years after the first issue of Playboy Indonesia hit shelves, though, hardline Islamist groups such as the FPI have continued to flex their power in the once famously moderate Muslim nation.
"Even after more than ten years, it's getting worse in terms of the reaction – it's more sensitive," Arnada said. "They trap themselves with symbols. It's easy to have anger, it's easy to react in that way – even if you're just discussing books, they just get angry. On so many occasions in terms of public discussion, in terms of education, these groups just get angry when they think their symbols are no longer being treated as sacred."
Nowhere, he said, has this been more evident than in last year's gubernatorial campaign in Jakarta. Incumbent governor Basuki 'Ahok' Tjahaja Purnama, a staunch ally of progressive Indonesian President Joko 'Jokowi' Widodo and an ethnic Chinese Christian, was targeted by the FPI and other hardline Muslim groups after a video circulated depicting the politician commenting on a Quranic verse interpreted by his opponents to decree that Muslims could not serve under non-Muslim political leadership. After months of vicious protests, the once-popular candidate found himself not only losing out to conservative Muslim candidate Anies Baswedan, but sentenced to a shocking two years in prison on blasphemy charges.
Arnada said that the ferocity of the anti-Ahok camp did not surprise him.
"No – I think that was nothing new," he said. "Because I always predicted that once they had success with those pressure groups, like what happened to me, putting me in jail, they would keep doing the same things. So five or six years before the election, I already predicted that religion would be used for political ends. Because the political party the PKS [the Islam-based Prosperous Justice Party] has a lot of support – and it's getting bigger and bigger. And they rely on these pressure groups to attack the government."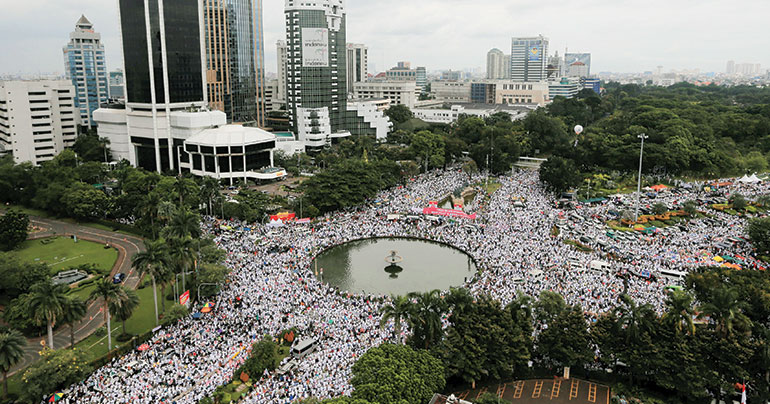 It is a tactic, Arnada said, that will likely rear its head again in next year's presidential election, which is predicted to pit Jokowi against establishment Gerindra Party candidate Prabowo Subianto in a rematch of the bitterly fought 2014 election.
"It will be the same pattern [in 2019]," he said. "Because it's useful, it's powerful – they'll do it just the same, only better this time. It's easy to sell religion to influence the community, for our citizens, our people. When you use poverty, when you use religion to frame an issue, our people buy it. Religion is a commodity right now in Indonesia. It can be sold for political ends."
Although Arnada has left journalism behind, he continues to advocate for tolerance and freedom of expression in Indonesia. Since his release from prison in 2011, Arnada has written, directed and produced a number of films exploring the social and religious divides in Indonesia – and the struggle to overcome them. His most famous film, the award-winning The House at a Thousand Waves, is based on his prison writings and depicts the lives of two young boys overcoming a shared history of trauma that brings them together despite their different faiths. The filmmaker also lectures at universities in Bali and Jakarta on the importance of the free press.
"I keep telling them that being a journalist is a very, very powerful thing, being a filmmaker as well," Arnada said. "Because you can create a statement, and a statement can be useful in influencing people in a positive way – building motivation, confidence. We have the courage to speak in accordance with our thoughts and principles, and we have to fight the negative in cases such as terrorism. When we know that religion is being used for political purposes, we can speak against that."
Arnada believes that if the Indonesian people are to avoid repeating the repressive mistakes of the nation's past, they must first study it.
"Some people have told me that I'm a victim of the politicisation of religion, and that I went to jail as a victim," he said. "People tell me I'm a martyr for journalism because after me, nobody could use the criminal law against journalists. But I always tell them I'm not a hero and I'm not a victim – I'm just another version of history. They can remember me, they can learn something from my fate, but I'm not a victim or a hero – just another version of history like them."