Southeast Asia Globe runs through some of the key takeaways from the three-day summit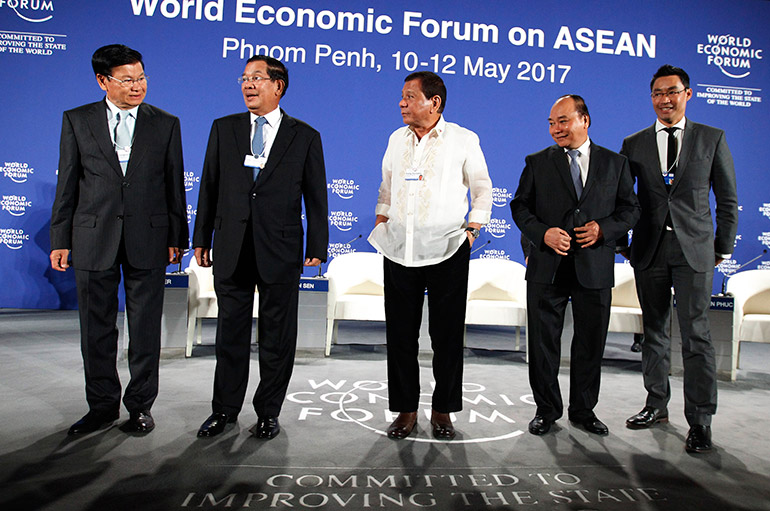 Fourth Industrial Revolution
The Fourth industrial revolution, defined by WEF as the "fusion of technologies that is blurring the lines between the physical, digital, and biological spheres", is changing the world of work at lightning speed.
It means difficult changes, but also presents myriad opportunities – to the tune of $1 trillion of incremental GDP, according to Naveen Menon, President for Cisco Systems in Southeast Asia. But Asean must address issues with cybersecurity and overhaul its education systems to "help drive massive value-creation for Asean by 2025," he said.
Tony Fernandes, CEO of Air Asia, said artificial intelligence was a huge opportunity for Asean and urged its young population to "get into that technology while it's still early".
"It's going to disrupt all of us, but that doesn't mean that jobs are going to be lost," he said during the Open Forum that kicked off the official events. "We shouldn't be fearful of technology taking our jobs. We should move up the curve."

Philippines Peddles 'Dutertenomics'
"Winning the campaign against hard drug traffickers & violators, working for inclusive growth and peace," read the cover of the press packet handed out for an event outlining the economic policies of President Rodrigo Duterte, a firebrand whose deadly war on drugs has drawn global condemnation.
But it was his $173 billion infrastructure programme that was the focus of a full squad of ministers who made the pitch to WEF participants and members of the media.
"It is now time for us to level up and take the next big step in our national development," said presidential communications secretary Martin Andanar. "Dutertenomics underlies our six-year development plan to achieve high middle-income status by the time our president leaves office. Within a generation we aim to eliminate poverty and rank among the 30 largest economies in the world. To do this we will invest $160 billion in our physical infrastructure. We plan to build, build, build."
Asean's leapfrogging potential
"In Asean right now, we are very, very fortunate to be in a position to leapfrog," said Tan Hooi Ling, co-founder of Southeast Asia's leading ride-hailing application. "For example, with Grab, we've leapfrogged from street-hailing, we leapfrogged from radio calls to mobile technology."
That many of the Western world's technological advancements were never fully embraced by the region should not be seen as a hindrance to its development, but a springboard for success, Ling argued. There are less barriers to innovation in Asean, as consumers need to be enticed away from fewer pre-existing technologies.
Cambodia's financial technology industry offers a prime example of 'leapfrogging'. The vast majority of the country has never owned a bank account, which has meant companies have been able to successfully introduce mobile money transfer and other modern banking solutions with relative ease. The country also skipped landline telephones, making it one of the first countries to have a majority of phone users mobile.
Plugging into youth power
In a region where half of the population is under 30, youth must not only be engaged, but placed at the center of future plans for countries being forced to adapt to global trends in technology and manufacturing.
While social media offers a powerful tool to connect with the population, governments need to come up with new ways to reach out to youth and give them opportunities to compete in a global marketplace, said panelists at the "East, West and the Fusion of Ideas" roundtable.
"One of the big trends is inequality. It plays out almost everywhere you look," said Wolfgang Jamann, CEO of Care International. "I has a lot of interaction with Cambodian youth earlier this week. When you speak to them they are highly globalized. Obviously, they love their country, but they also realize there is a big danger of them to be left behind. If you don't take care of these inequalities you have the danger of losing a whole generation for the collective, the common good."
These issues were also at the center of the forum titled "What If: The Youth of ASEAN Run the Region?" and "Issue Briefing: ASEAN Youth Survey."
Cambodia's leader lambasts local media
In a bizarre turn of events, Southeast Asia's longest-serving leader chose to respond to questions about his government's plan to prepare Cambodia's youth for the Fourth Industrial Revolution and China's One Belt, One Road policy by denouncing Radio Free Asia and the Cambodia Daily as "servants of foreigners".
According to political commentator Cham Bunteth, the premier attacked the media in order to draw attention away from his administration's shortcomings. "I think our prime minister is learning from Donald Trump, by painting some media as fake news or against the government," he told the Phnom Penh Post.
Hun Sen has often surprised foreign visitors during international conferences hosted in Phnom Penh. An unscripted rant caught some reporters off guard during the Asean Summit in 2012.
"Deriding his critics as 'crazy analysts' and 'stupid philosophers,' Mr. Hun Sen jarred awake an international press corps of about 200 reporters that had steeled themselves for sunny talk of regional harmony and bland pronouncements on such Asean perennials as customs cooperation," read a Wall Street Journal article written at the time.