A group of graduates in Cambodia is wielding the power of social media to connect their peers across the country and share educational opportunities abroad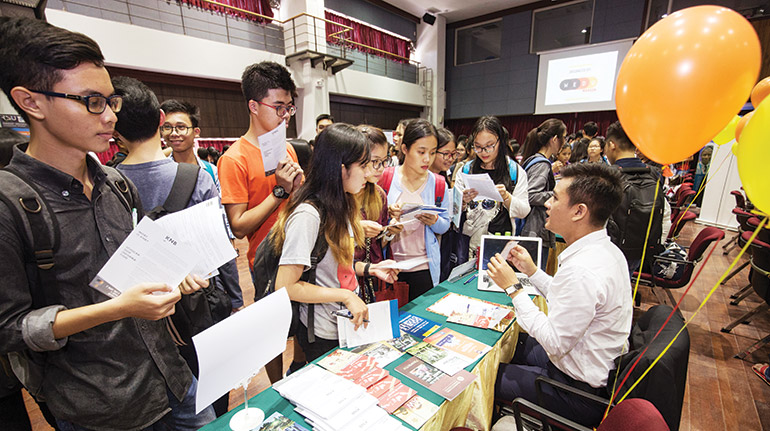 This article was published in the June​ edition of Southeast Asia Globe magazine. For full access, subscribe here. 
In his travels around Cambodia over the past few years, Boromey Sreang saw more and more students with smartphones flicking through Facebook, but it didn't seem that having the digital world in the palm of their hands was making much of a difference to their future prospects. In a society where opportunities to move up the economic ladder are scarce, Sreang felt like the spread of social media should be doing more to change the status quo.
Drawing on his own experience, having studied at a few universities in Phnom Penh and then at the University of Connecticut in the US, the 23-year-old business major launched WEduShare last year with Otdom Sreang and Ly Samphors, who are both 25. The Facebook page, which has more than 70,000 followers, offers a platform for sharing opportunities for advancement – scholarships, workshops, internships and exchange programmes.
"Back in my generation, most of the students that got scholarships, internships or opportunities abroad were mostly from higher middle-income families. Those who were from lower-income families struggled to even find information," Sreang told Southeast Asia Globe. "We saw the gap that we need to fill."
The rise of Facebook has been a global phenomenon, of course, but in Cambodia it has brought about an information revolution in line with the recent spread of smartphones, even among rural and poor populations. Apart from exponentially expanding entertainment options, the internet, which is essentially synonymous with Facebook in the country, this year became the top source for news. Sreang and his team saw an opportunity to use the digital space to expand the horizons of their peers.
In its first year, WEduShare says it has shared more than 3,000 opportunities at some 50 universities or organisations throughout the region or as far away as Belgium and the US.
On 7 May, at least 1,000 students turned out for its first study abroad event in Phnom Penh, and it is working on a purpose-built smartphone app.
"When people go abroad, even for a short time, it changes them; they can learn a lot of soft skills," said Sreang. "We believe these opportunities and information are the pathway to help human resource development, because it can help broaden Cambodian students' views and expose them to new societies."
The group behind WEduShare also hopes to eventually start hosting its own training programmes, mentorship programmes and sharing sessions both in Phnom Penh and in provinces across the country to spread knowledge and forge human connections. Sreang said the site, initially set up to offer a centralised source of information about existing programmes, was also in talks with foreign universities and education associations to form partnerships catering to the WEduShare network.
While the project may not fix the fundamental problems with Cambodia's education system or the hurdles of inequality, Sreang hopes that it will allow hard-working students to start thinking about a future that just a few years ago may have seemed out of reach.